Getting struck by lightning can really ruin your day. You probably wouldn't want to get struck by today's Nice Price or Crack Pipe Ford Lightning either, but it's price may mean that you wouldn't mind buying it.
Oh the weather outside is frightful, but yesterday's 1988 Subaru Justy plow proved so delightful. Its $2,950 price turned out to be so low, a 54-percent Nice Price meant let's go, let's go, let's go. 
Yep, it's certainly beginning to look a lot like Yuletide out there. That's the Heathenry celebration of the Winter Solstice or what some people call "Christmas." Have you got all your shopping done? A new tie for dad, slippers for mom, and maybe a little something for yourself—a red hot pickup with a wicked weather-influenced name perhaps?
If a hot Ford truck is on your, or some one you really care about's gift list then you might want to direct your eyeballs over to this 2001 Ford SVT Lightning. That's because it's ready to be wrapped with a bow and slid under the tree, maybe after doing a few donuts in the living room.
G/O Media may get a commission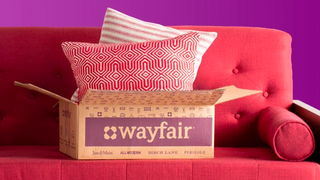 Big deals
Wayfair Surplus Sale
Actually, don't do donuts in the living room, your mom will hate that and you'll get socks for Christmas. That's not to say that this SVT-imbued Ford isn't fully capable of hanging ass for some laps around the La-Z-Boys.
Stock, these came with 380 horsepower and a massive 450 lb-ft of torque. That's up by 20 in the 2001 models and is by way of a 5.4-litre Triton V8 topped with an Eaton twin-scroll supercharger. Behind that is a diesel-sourced 4r100 automatic, which was one of the strongest slushers in Ford's pantry at the time.
The Lightning received a number of chassis improvements over the standard F150 too. Those included a 3.73 rear axle, larger driveshaft, reconfiguration of the rear shocks, and lightened alloy wheels at the corners.
On top of that sits a body with a unique driving lamp-equipped facia, side skirts punctuated by twin tail pipes on the curbside, and appropriate badging on the gate of its plastic stepside bed. This Lightning still rocks its factory wheels, although at least one shows some curb rash so there's that.
This one has all that and more, plus it comes in a seasonally appropriate red. The paint looks aces and seems to be the original factory spray. It's all pretty stock out here, save for some aftermarket headlights and tails, and a big 'ol spoiler aft of the soft tonneau.
The two-tone grey and black interior also looks to be in excellent shape, although it does feature some crazy-big amps for the stereo back behind the seats.
In fact, the ad claims this Lightning to have "many mods." There's no detail as to what all those modifications entail, but the seller claims that the truck now makes over 400 horses. Under the hood things look exceptionally tidy and very supercharger-y. There is some sort of coolant overflow in there that's not factory, and of course it has a K&N cold air intake because who doesn't enjoy the constant sucking drone those offer.
The truck comes with just 104K on the clock and the seller claims that it "runs and looks great." The title is clean, and if you're interested in a longer term relationship with the offering dealer, you can apparently get both financing and a six-month warranty on it from them.
Ford built a little over 28,000 Lightnings from '99 until the end of the model's run in 2004. Today Ford's performance pickup is represented by the off-road focused Raptor, and the company doesn't even offer something with both a bed and street cred. Maybe they will, some day down the road. Until then, it's the older Lightning that brings the thunder.
You'd have to peel $13,950 off your wad to "peal" out in this Lightning. That's near the lower end of the market for these trucks, although few out there for sale right now are as clean or come with as low of mileage.
What's your take, is this Lightning worth that $13,950 asking? Or, does that price mean a storm's a-brewing?
You decide!

Dayton, OH Craigslist, or go here if the ad disappears.
H/T to Fauxshizzle for the hookup!
Help me out with NPOCP. Click here to send a me a fixed-price tip, and remember to include your Kinja handle.