Many consider a lack of "room service" the height of roughing it. If you are less discriminating, you might find today's Nice Price or Crack Pipe camper more your cup of cowboy coffee. Let's see if it's worth paying for fewer amenities.
They say that people in America like SUVs and crossovers more than they do traditional sedans. That doesn't explain however, why a lot of you hated yesterday's 2018 Alfa Romeo Stelvio Ti, even at its third-off $31,000 asking price. In the end, that animosity couldn't overcome a steep discount and a transferable warranty a combination that brought the Alfa a narrow but decisive 52 percent Nice Price win.
That was a coup as the Stelvio doesn't get much love in general. In fact, even in a crossover-leaning market, the tall Alfa gets outsold by its Giulia sedan sister almost eight to one.
You know a truck that pretty much all of us like, though? That's right, it's the Ford Bronco. We pine for the old models enough that Ford is presently threatening to bring the name back. It's kind of horrifying to think that the company sacrificed the Focus, Fusion, and Taurus, supposedly to bring us trucks like the reconstituted Bronco. We have a few months to wait to see if it was all worth it.
Until then however, we'll have to tide ourselves over with the older Broncos. A seemingly nice one is this 1989 Bronco Eddie Baur Limited Edition, which comes with a cool pop-top camper from Hallmark RV grafted on the back.
G/O Media may get a commission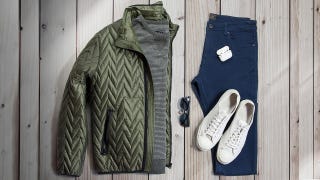 60% off
Jachs NY Fall Sale 60% Off
There's 132,000 miles on this Broncamper's clock and that was achieved by way of a fuel injected 351 Windsor V8. That big-ass small block made 210 horsepower and 315 lb-ft of torque when new. Behind the engine sits a three-speed C6, and that sends power down to a two-speed transfer case and then on to a Dana Twin Traction Beam axle in the front and solid stick in the back. The truck has been imbued with a three-inch lift and hella-big 33-inch tires.
The 33-inch spare sits out front as the the Hallmark camper takes up the space in back where it used to go. There's a door there now, and if you look closely at the pic below you might notice that there appears to be a semi-naked person waving out of it. I already love this truck.
Other camper features include an awning on the curbside, a stove and three-way fridge and a sink inside, and an extendable roof up above. It all looks quite comfortable inside, and remarkably tidy. The canvas pop-up is obviously not bear-proof, but it should keep the bugs out, and provides stand-up room when erected. That space can also be turned into sleeping quarters for the high and mighty tired.
Upholstery in the cab appears to have held up well for the years, with captains chairs on both sides and a pass-thru to the back. The A/C and heat both work and there is a separate battery system for the camper as well.
The ad notes a good bit of regular maintenance in the trucks recent history, including new exhaust manifolds and mufflers, a new radiator, and updated shocks all around. The truck's condition seems serviceable, although there does seem to be some rust bubbling up on the rocker just aft of the driver's door.
There's also, somewhat comically, no way to tell from the provided photos whether the truck's color is black or brown. Thankfully the ad notes that it is the former.
What the ad doesn't say is whether or not the Bronco's original fiberglass hardtop and tailgate are still around, or if now every moment is a Hallmark moment with the camper shell. That's a pretty permanent addition as it's bolted to the body and connected to the cab with a water-tight seal. Fortunately the pop-up aspect of the camper allows for modest height when closed and the prospect of garage-ability.
How much would it cost to put this Bronco in your garage? The asking is $11,000 and it should be noted that the Hallmark camper is a pretty rare duck on these Broncos.
Rare doesn't always equate to value however, and so it's now incumbent upon you to vote one way or the other on that price. What do you think, is this Broncamper worth that $11,000 asking? Or, does that price have you deciding to stay at home?
You decide!

Pueblo, CO Craigslist, or go here if the ad disappears.
H/T to onlytwowheels for the hookup!
Help me out with NPOCP. Hit me up at rob@jalopnik.com and send me a fixed-price tip. Remember to include your Kinja handle.