Aston Martin has announced production of 25 new continuation DB5s, modeled after the iconic car from the 1964 James Bond movie, Goldfinger. The cars will even be equipped with some of the spy's gadgets, but there's a catch—sadly, none of them will be road legal.
As a huge Bond fan, I've felt like the DB5 has been overexposed for some time, having been in seven of the movies. Following this announcement of 25 Bond-spec cars, Road & Track went so far as to declare nostalgia dead.
But what's the most bothersome about these new DB5s isn't that I'm tired of hearing about James Bond, and it isn't that they're getting some gadgets designed by long-time Bond special effects supervisor Chris Corbould; it's really annoying that they aren't road legal. Instead, Aston is presenting them as collectibles for whoever can afford the £2.75 million ($3.5 million+) plus tax price tag.
I reached out to Aston Martin's head of marketing in the U.S., Matt Clarke, to ask what exactly prevents the new DB5s from being street legal:
Not road legal because we're recreating the movie car – gadgets and all – rather than a 'regular' DB5 (if there is such a thing).


We're making 25 Goldfinger movie car replicas; what customers do with them thereafter would be their decision.
G/O Media may get a commission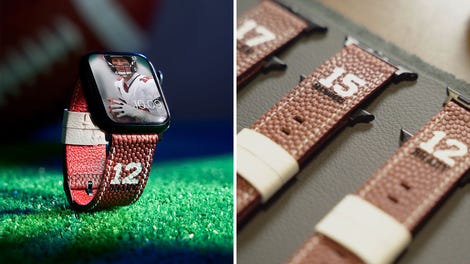 Official NFL PRODUCTS
Official NFL Apple Watch Bands
While the full details of which gadgets will actually make it on the real-world version of Bond's DB5 are yet to be revealed, it makes sense that a car with something like rotating license plates shouldn't be allowed on the road. But let's look at our options:
Revolving license plates
Hidden GPS dashboard with radio communication
Oil slick, via the center armrest
Smoke screen, via the center armrest
Front machine guns under the headlights
Rear collapsible bulletproof shield
Tire slashers that extend from the knockoff hubs
Ejector seat
Cooled champagne fridge
While, so far, we are forced to conclude that these 25 continuation cars will feature all of these gadgets, and that all of them will function as depicted on screen, it's hard to imagine Aston getting a firearm manufacturing license. At least the screen-accurate GPS system in these will be an improvement over the DB9's infotainment system.
It's not uncommon for continuation and heritage vehicles to be prohibited from road use, though. Jaguar's announced restoration of six lightweight E-Types just a few years ago are also not road legal when shipped to customers. Instead, they're more like garage jewelry, unless the owners want to find a shop and pay even more to, you know, actually drive them.
So if somebody just wanted a fresh-from-the-factory DB5, they can probably dish out the millions to Aston and then turn around and find someone to reverse engineer all of the fun movie stuff off of it.
But what good is role-playing James Bond if I don't get to leave my garage with all of my spy gadgets? Actually, Aston Martin may be doing all of us a favor.