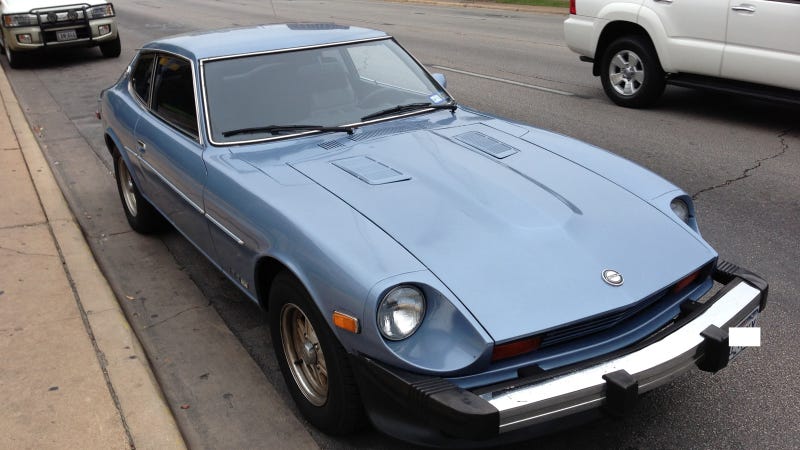 Welcome to Found Around Town, where we feature cars we find in a city where interesting ones are rare because everyone drives a Prius or rides a bicycle: Austin, Texas.
Sunday mornings are my favorite time in Austin. It's the most laid-back time of the entire week in the most laid-back city in America. Everyone's lazily going to brunch, running on the trail, coping with a hangover, or some combination of the three. Evidently, it's also when all the cool cars come out to play, too.
On one recent Sunday morning I found no less than four awesome cars to feature here on Found Around Town. All were were very unique and very different except in one way: each been cared for extremely well.
I'm starting with this Datsun 280Z 2+2 for a couple reasons. We haven't had a Japanese car on Found Around Town in quite a while; I'm a big fan of old-school Z cars; and it's timely, considering how last week we were pondering the future of Nissan's sports car line with Jay Leno.
Classic Z-Cars aren't terribly uncommon, but the good ones always stand out. This 280Z practically looked like it just rolled off the showroom floor. The paint, chrome, badges and leather interior were all in ship shape. Check out the triple gauges above the center console – the Z still has those, even today.
In his recent retro review of the 1978 Subaru GL Wagon, our own Ben Preston summed up Japanese styling from this era very well: "all of the good things American cars of the period had, but in a smaller, more tasteful package."
The same could be said of the Datsun Z, but instead of American cars, it was the Jaguar E-Type the Japanese were ripping off. You can really see that Jag influence coming through when you look at it from the side angle. The only problem with this otherwise attractive car is the horrendously ugly bumper tacked onto the front so it could meet U.S. crash standards. It's like a hot girl with headgear braces — there's something good under there, but it's a bit distracting.
The 280Z was the third and last iteration of the S30, the original Z-Car, and it ran from 1975 to 1978. The straight-six engine was upgraded to 2.8 liters from the original Z's 2.4 liters to maintain power in the face of tightening emissions requirements. Performance had dropped off with the 260Z, so with this larger engine things got a little better, according to HowStuffWorks.
The 280Z would be replaced with the more modern, more expensive but less attractive 280ZX, which also gave the world the infamous "Black Gold" ad. I'd take the 280Z, myself; I don't have the mustache for the ZX.
What's your favorite generation of Z-Car?