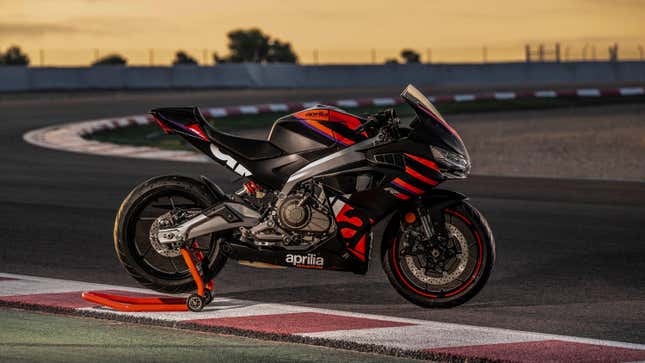 America is the Wild West for motorcyclists: You can get your learner's permit, swing a leg over a Hayabusa, and wheelie yourself into an early grave without running afoul of any pesky legal entities — it's a little thing called freedom. But over in Europe, there's something called A2 licensing, which puts strict limits on the horsepower and power-to-weight ratio for beginner motorcycles. When everything makes 46.9 horsepower, how do you build a bike that stands out?
Aprilia looked at this unenviable task, and went "Oh, that's easy." You just build a bike with the maximum legally-permitted horsepower, the minimum weight, and enough tech to go toe-to-toe with middleweight sportbikes. Then, just for kicks, you wrap it up in gorgeous fairings and give it a name that aligns it with the rest of your fastest machines: The RS 457.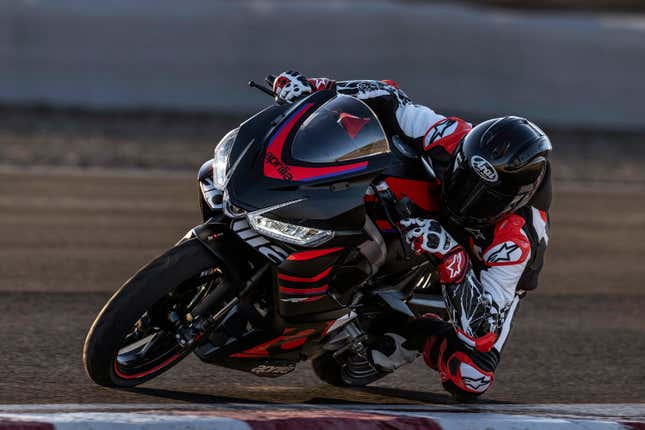 The RS 457 is Aprilia's most approachable bike, bearing an all-new parallel twin engine that makes a legally-mandated 46.9 horsepower. That engine is controlled through unexpectedly high-tier electronics — not just a two-channel ABS, with the ability to disable the rear sensor for slides, but a ride-by-wire throttle and a computer that offers up three rider modes. Given that most beginner bikes have two modes, "off" and "on," this is a real upgrade. There's even an optional quick shifter, a true rarity in the segment.
The baby RS has an aluminum twin-spar frame, reinforced with that parallel twin as a stressed member, which cuts weight down to a claimed 386 pounds fully fueled. Its suspension is adjustable for preload in both the front and the rear, and it stops with ByBre calipers on both wheels. But the RS 457's coolest feature won't be found in the engine or the suspension — it's underneath the bike.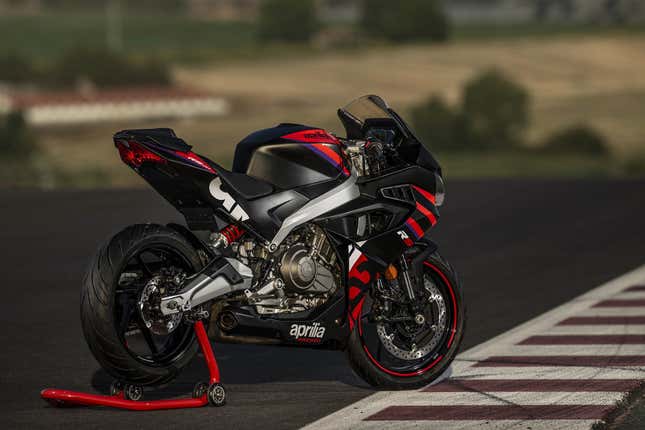 The RS 457's exhaust is mounted beneath the engine and gearbox, with the tip of its muffler resting just behind the swingarm pivot. Aprilia didn't give away its secrets and explain how the hell the company got this system past emissions, but I don't care what strings were pulled — this rules. Sure, the RC390 is likely as fast around any given track, but that bike still has an unsightly muffler hanging off the side. Ball's in your court, KTM.
Aprilia hasn't announced pricing for the RS 457 yet, but its competitors generally sit around the $6,000 mark — use that as your mental benchmark until more information comes out. Aprilia is bringing something very interesting to the A2 segment, and I for one can't wait to try it out.