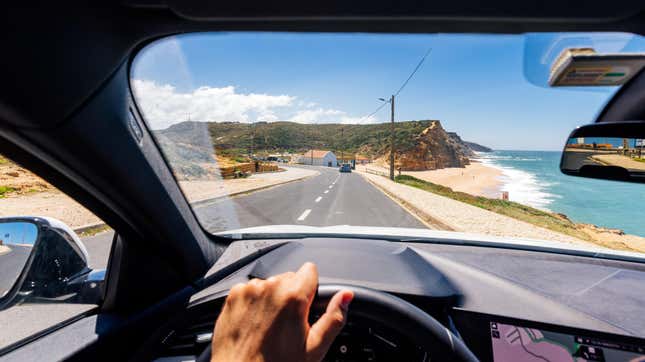 Driving is one of the few times in modern life where you aren't constantly staring at a screen. This, of course, is a flaw manufacturers have been doing their darnedest to rectify by cramming as many displays as possible onto their dashboards. But Apple thinks it has an even better solution: Just turn the entire windshield into one big screen.
The company has filed a patent, spotted by The Drive, to use car windshields as augmented reality displays. But the way Apple has decided to integrate AR tech is a decidedly tricky one — less obtrusive if done correctly, but difficult (and likely expensive) to get right.
The basic functionality of "display relevant into on windshield" is nothing novel — cars have had heads-up displays for decades now, all working on the same core concept. What shifts Apple's implementation from HUD to AR is the intention of placing virtual, projected images over real-world elements. Basically, imagine if every speed limit sign were to suddenly become one of those radar scanners that shows your actual speed compared to the limit.
This is relatively easy to do in an augmented-reality headset, but far harder with a full windshield. The issue is parallax — drivers of unequal heights will see the same objects through different parts of the same windshield, making it difficult to determine where on the windshield to project display elements. Let me explain with a picture: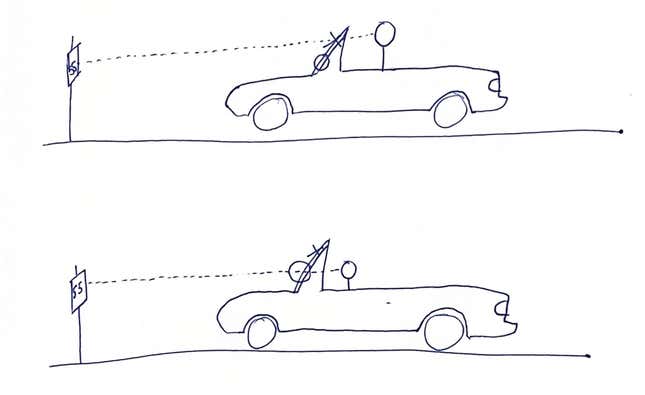 A tall person sees this speed limit sign through point X on the windshield of their horribly misshapen Mazda Miata. A short person, driving the same travesty of two-minute automotive design, sees the same speed limit sign through point O. The angles at play here, the relationship between heights and sizes and positions, changes for every person, every car, and every outside object. How is a car meant to keep it all straight?
The idea of an AR windshield is an intriguing one from a technological standpoint, sure — remove the pesky gauge cluster, but keep relevant information available at all times. But actually implementing one, in the way Apple's patents describe, is extraordinarily difficult. If the company can pull it off, it'll be massively impressive.