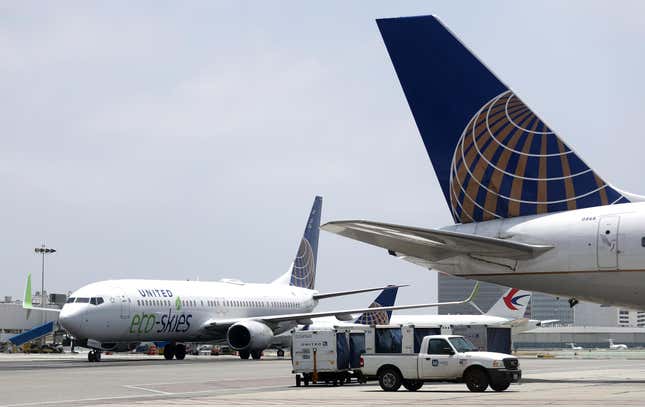 The Federal Aviation Administration is investigating after a United Airlines flight arriving at Logan Airport in Boston nearly landed while a prior arrival was still on the runway. Boston 25 News says an air traffic controller told United Flight 2267 from Chicago to perform a "go-around" a little before 11 p.m. on September 11th.
Go-arounds are pretty regular in the world of flying, and the FAA reportedly describes the maneuver as a "safe, routine procedure performed at the discretion of a pilot or an air traffic controller." Still, many of the folks on board apparently thought it was an emergency maneuver.
"People on the plane gasped at the rapid pull-up and the road of the engines as the rapid change in speed and trajectory pushed us backward into our seats and we saw the tarmac and land rapidly disappear under us," a passenger told Boston 25. "Once we were back high in the sky circling, the pilot came on the loudspeaker and something like, 'The runway… uh… was not able to be cleared of planes in time for us… uh… we had to pull up and will circle a bit and will land shortly.'"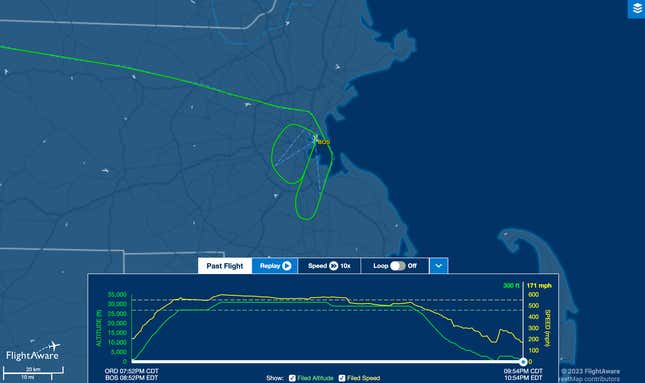 That's a pretty good pilot impression if you ask me. Anyway, in an audio recording obtained by the outlet, the air traffic controller could be heard telling the pilot, "Sorry about that. An aircraft was still on the runway."

According to Boston 25, the incident comes less than a month after the FAA announced that Logan Airport was being awarded $44.9 million in new funding with the aim of reducing the chances of "close calls" on the runway. Logan was lucky enough to get that money following a number of "close calls."
One of the most recent was when an American Airlines flight nearly collided with another plane. The incident reportedly involved an air traffic controller telling the pilot to cancel a takeoff since a Spirit Airlines flight was close to a line on the runway where plans are supposed to stop. In another situation back in February, a JetBlue pilot barely missed a private charter jet on the runway, and in March a United plane clipped a parked jet while pushing back from its gate.
So, it sounds like Logan Airport has had a bit of a rough go of it lately. Hopefully, the nearly $45 million it's getting can be put to good use. There's nothing more annoying than the person next to you on a flight gasping when a plane makes a move.