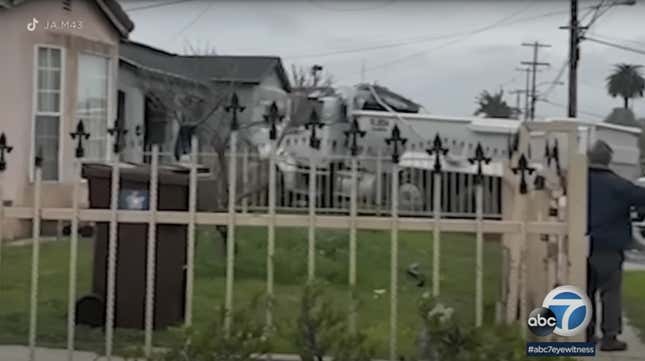 A wild scene was caught on camera in South Los Angeles as a man going through a divorce crashed a dump truck into his estranged wife's home. In the process not only did she do ample damage to her property, he also smashed a number of cars parked on the street. The whole ordeal was recorded by TikTok user ja.m43.
According to ABC7 Los Angeles, Patricia Dunn is going through a divorce with the unnamed man driving the truck, and told reporters she feared for her life. "A man under that kind of rage - who's to say what he might do? He was trying to kill me," Dunn told ABC. "He really was."
She added that the area of her house that was struck when her estranged husband drove his white Chevrolet Impala onto the lawn was her bedroom. The whole incident started on Sunday afternoon when the man crashed that Impala into the house. He then left and came back with the dump truck that caused the majority of the property damage, and according to the series of videos posted by the TikTok user, he returned for a third time once again in his Impala.
As you can see in the video, the metal fence surrounding the home, much of the landscaping and a good deal of the exterior facade were badly damaged by the man. A number of other cars on the street, like a red Ford Mustang and two separate Honda Accords were also left mangled after the rampage.
"I was just trying to stay out of the way," Dunn said. "So I don't know if he was drunk or under the influence.
Something pointed out in the series of TikTok videos is the delayed response from police. According to ABC7, the Los Angeles County Sheriff's Department says it took nearly 30 minutes for police to arrive at the scene because the initial call came in as a traffic collision and not a crime.
Dunn tells the outlet she is filing a restraining order against her estranged husband, but in case her soon-to-be-ex-husband returns, she is staying with someone else.