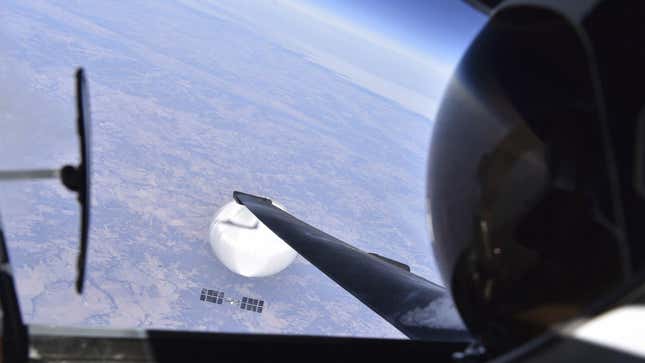 That's it. Pack your bags. We're calling it: the Chinese spy balloon selfie taken by a United States Air Force pilot is quite possibly the best selfie ever taken. You may have seen the image by now, as it's inspired a lively debate on social media with people questioning the photo's authenticity. Usually, images this satisfying and well-attuned to the zeitgeist are staged or quickly outed as hoaxes, but the Pentagon has now confirmed that the photo is indeed real, as Politico reports.
The alleged spy balloon selfie was taken on February 3 from within the canopy of a USAF Lockheed U-2 reportedly with the 94th Airlift Wing, a unit stationed at Dobbins Air Reserve Base in Marietta, Georgia.
The photo being taken by a Lockheed U-2 is ironic given the Dragon Lady's role as a reconnaissance aircraft that gathers intel of the non-weather variety. The photograph was taken at 60,000 feet somewhere over the central continental United States, according to the Department of Defense. Here it is in all it's high-resolution glory: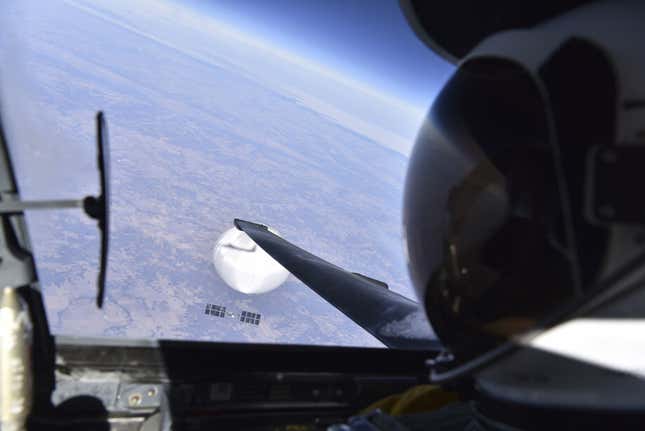 Just one day later and two thousand feet closer to sea level, a USAF F-22 Raptor shot the Chinese balloon down with a sidewinder missile, and the alleged spy balloon's debris scattered over the South Carolina coast; the Navy would later recover the wreckage and deliver a report to U.S. senators.
That report hasn't made it to the general public just yet, although the FBI will oversee its dissemination to the media. Fragments of information are nonetheless finding their way out, this selfie included. We can clearly make out some of the balloon's features in the photo, including an array of solar panels and the craft's antennae.
I can almost hear the image, the thrum of the Lockheed U-2 slicing through the quiet atmosphere. The plane's camera catches the so-called weather balloon in the crosshairs of its eye and the shutter blinks. The Chinese balloon is looking pretty suspicious in the selfie according to the Department of Defense, which says the images captured by the U-2 indicate that the balloon was "capable of conducting signals intelligence collection operations," per Politico.
Whether the U.S. can eventually build a solid case and prove the Chinese craft was a spy balloon after all is yet to be seen. But the spy plane and "spy balloon" selfie is quickly gaining "legendary" status. For the longest time, my favorite selfie was easily the image of Felix Baumgartner just before he plunged down to Earth from the edge of space, but this "spy selfie" is giving it a run for its money.