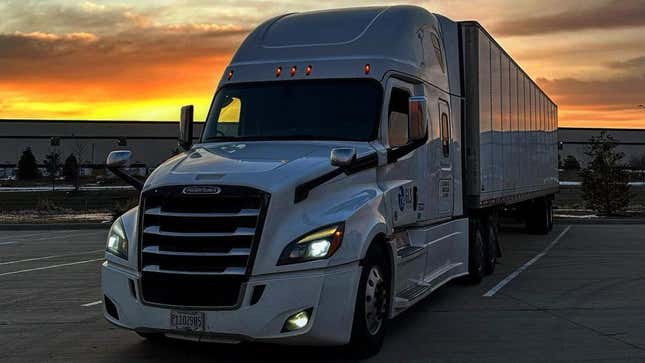 Parking is a touchy subject in the United States right now. Whether you're talking about new construction parking minimums in cities, street parking being removed in favor of bike lanes, or metered parking rates, it seems everyone has an opinion about where they put their wheels when they aren't turning. But perhaps the biggest parking crisis facing the country right now is parking for long-haul truckers.
While half of the country will lobby their local governments for more suburban and urban car parking at the expense of seemingly anything, practically nobody wants truck parking in their neighborhoods. The American Transport Research Institute issued a report in 2016 stating that the eighteen-wheel behemoths that keep the economy humming spend as much as 56 minutes per 14-hour shift hunting for a safe place to park. And when they find it, it's expensive.
Truckers have been congressionally mandated to carry an electronic logging device of their drives since 2015, confirming that they aren't driving more than their allowed time. If a driver is running low on drive time and can't search for a parking spot, they often have to park up at a highway off-ramp. That's not a great solution because there's no security, no bathroom facilities, no showers, and no food.
In any system where something (in this case parking) is in-demand and scarce, you can count on a variety of people to dream up a scheme to fill said demand. There are dozens of truck parking companies making their entry to the market right now, including everything from a gig-economy app that links existing parking lots with truckers directly to full-fledged hotel-like lots with bright lights, clean facilities, and even massage therapists. One of the companies, Realize, has partnered with the late Bruton Smith's Speedway Motorsports group to park trucks at otherwise seldom used racing facilities like Las Vegas Motor Speedway and Texas Motor Speedway.
According to Freightwaves, most of the current cost of parking with amenities is borne by the drivers. Truckers are typically paid by the mile, meaning those daily minutes searching for parking are unpaid. But beyond that, nice parking lots that provide an acceptable standard of living are expensive. Some lots cost up to $50 per night to park in, because security and clean facilities don't come free. Long-haul trucking is among the last middle-class jobs that don't require a college education, and these costs are being shoveled right to the driver. Sometimes as much as ten percent of a driver's pay and time can be lost to paying for and searching for parking.
There's a race to the bottom right now in trucking, as consumers demand faster shipping at lower costs. Margins are tiny, trucker salaries are shrinking, and safety is degrading. Any company willing to raise rates high enough to cover parking, or to cover paying to build parking infrastructure, would be abandoned by its customers in a minute.
It's a tough time to be a trucker right now, and the national disrespect paid to the people who carry our goods is appalling. It's probably time for lawmakers to step in, as they did in setting those 14-hour drive maximums, and make conditions for drivers better. Whether that's incentives paid to trucking companies for building infrastructure, or increased taxes on expedited shipping to reduce demand for speed, nobody can be sure.