Good morning! Welcome to The Morning Shift, your roundup of the auto news you crave, all in one place every weekday morning. Here are the stories you need to know.

1st Gear: Let's Make A Deal?
So, about the Trump administration's proposed 20 percent tariffs on European imported cars—you know, the ones hated by automakers, suppliers, trade officials, economists and elected officials in his own party—there may be another avenue to explore there.
That's according to Reuters, citing German newspaper Handelsblatt, which reported that in exchange for concessions on existing tariffs the Trump administration could back off on the threats that are all but certain to spark a trade war. From the story:
The U.S. ambassador to Germany has told German car bosses that President Donald Trump would suspend threats to impose tariffs on cars imported from the European Union if the bloc lifted duties on U.S. cars, a German newspaper reported on Wednesday.
Handelsblatt said Ambassador Richard Grenell told executives from Daimler (DAIGn.DE), Volkswagen (VOWG_p.DE) and BMW (BMWG.DE) during a meeting that in exchange Trump wanted the EU to annul duties on U.S. cars imported to the bloc.

[...] Handelsblatt cited people present at the meeting, which took place at the U.S. embassy in Berlin on Wednesday. It said the chief executives of Daimler, BMW and Volkswagen - Dieter Zetsche, Harald Krueger and Herbert Diess respectively - were in attendance.
G/O Media may get a commission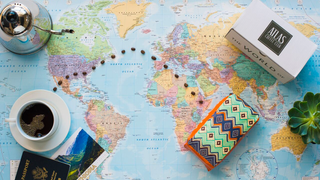 First Bag Free
Atlas Coffee Club - Free Coffee
Explore global coffee
With each bag, Atlas includes details on the coffee's tasting notes and a postcard about the region and its coffee history. And when you subscribe, you have options to tailor frequency, grind size, and roast preference of your beans, so you'll always be brewing the perfect cup.
Currently the U.S. imposes a 2.5 percent tariff on European imported cars and a 25 percent tariff on light trucks, the chicken tax. And the EU has a 10 percent tariff on imported American cars. It's the last part the U.S. wants concessions on, and it's not a reduction they want—it's zero tariffs, according to that story.
We'll see how that goes. Maybe it's worth it for the Europeans, considering how few American-built cars get imported over there anyway. But if the Trump administration thinks this will mean Cadillac and Lincoln will take Europe by storm all of a sudden, they have another thing coming.
2nd Gear: 'Hard Brexit' Could Cost Jaguar Land Rover A Shit-Ton Of Money
Speaking of trade, the British auto industry is getting awfully nervous over what's being called a "hard Brexit"—a situation where the United Kingdom exits the EU next March without any trade agreements in place.
That could cost Jaguar Land Rover 1.2 billion pounds a year, the automaker said, thanks to tariffs, general economic damage and other concerns. And the automaker fears it could threaten future production in the UK. This from Reuters:
"We urgently need greater certainty to continue to invest heavily in the UK and safeguard our suppliers, customers and 40,000 British-based employees," JLR's Chief Executive Ralf Speth said in a statement on Wednesday.

JLR joins a growing list of companies which have raised concerns about potential disruption to business if Britain crashes out of the bloc next March without a trading agreement with the European Union, a so-called hard Brexit.

"The recent statement from JLR only reaffirms this position that a Brexit which increases bureaucracy, reduces productivity and competitiveness of the UK Industry is in no-one's interest," JLR's Indian parent firm Tata Motors Ltd said in a statement here on Thursday.

Shares in Tata plunged to their lowest in more than five years on Thursday, as investors turned jittery on the company, whose biggest business is JLR, which contributed nearly 77 percent of its total revenue in the year ended March 31, 2018.
JLR has already shifted production of the new Discovery to a cheaper plant in Slovakia, and industry watchers fear more British jobs could follow.
3rd Gear: Canada's Auto Union Safe Even If Dodge And Chrysler Die 
Fiat Chrysler unveiled its big five-year plan to investors recently, and even though those things change quite a bit—I am still waiting on my damn Dodge Dart SRT—the total absence of the Dodge and Chrysler brands in those plans raised a lot of eyebrows.
But! The president of Canada's auto worker union Unifor, whose people make a lot of those cars, say everything's gonna be fine even if those brands die. Via Automotive News:
Unifor President Jerry Dias says he is confident Fiat Chrysler's Canadian assembly plants will survive even though the Chrysler and Dodge brands were left out of the company's five-year business plan, which spans from 2018 through 2022.

FCA unveiled the five-year plan in Italy in June. The automaker focused most of its attention on Jeep, Ram, Alfa Romeo and Maserati. The absence of Chrysler, Dodge and Fiat led to speculation that those brands could be on the chopping block, though the company maintains that the brands will not be eliminated.

Their omission raises questions about the future of FCA's Ontario operations. FCA's Brampton plant builds the Dodge Charger, Dodge Challenger and Chrysler 300, while the Windsor factory assembles the Chrysler Pacifica and Dodge Grand Caravan minivans. The company employs about 9,600 hourly workers at the two sites, combined.

Dias said FCA has assured him the plants will survive into the future with product commitments, though he did not say whether the company has pledged new products such as a Jeep vehicle to either factory.
Why? Because he feels FCA CEO Sergio Marchionne, a Canadian-Italian, won't ever turn on his own people:
"I take him at his word," Dias said. "I doubt very much that he would want to see the fall of those plants on his watch."
No one tell Jerry that Sergio is retiring soon.
Anyway, the fact that we even have to face such questions at all probably doesn't bode well for Dodge or Chrysler, although it's readily apparent the latter is in far more danger than the former.
4th Gear: The Next Big Thing Is Digital Dashboards
Especially as cars become increasingly electric or electrified, we're seeing an end to analog displays and dashboards in exchange for digital ones. Here's a Bloomberg story on one company that stands to benefit from this, Japan Display Inc.
While most new models usually have a center information panel for maps, entertainment and other functions, manufacturers are also increasingly replacing the dashboard facing the driver with a flat screen. Look inside the latest BMW or Mercedes-Benz, chances are Japan Display made the panel.

Replacing instrument clusters with screens is challenging, because they need to be more reliable and withstand swings in temperature, while providing critical information for the driver. That also makes them more expensive and lets display suppliers demand higher margins, making them an attractive enterprise. Japan Display, the world's biggest supplier of panels in cars, is betting that the shift to electric vehicles will make screens the key selling point for any car as drivers pay more attention to the interior aesthetics of automobiles than what's under the hood.

"It used to be all about the engine — how many cylinders, how much horse power, the sound of it — but with electric vehicles that's all gone," Holger Gerkens, who heads JDI's automotive business, said in an interview. "How do you create attraction? You can do a lot with displays."
I will miss gauges. Gauges are cool. But I get the increased flexibility of digital displays.
5th Gear: Mexico's Election Throws A Wrench In NAFTA Talks
This is a very international Morning Shift today! Anyway, we turn our attention now to Mexico and its recent election. If you haven't been paying attention to that, you should, because it's a big deal: the the left-wing National Regeneration Movement won the presidency, and that's the first time since 1929 where an election wasn't secured by either the National Action Party or the Institutional Revolutionary Party (PRI), the latter of which was in charge recently with outgoing President Enrique Peña Nieto. It's a country where people are sick of the ruling elite, the corruption and the constant violence, and the new leadership has promised to fix those things.
Besides this being a seismic shift in Mexican politics, it matters in the world of cars because re-negotiations over the North American Free Trade Agreement are coming. And as The Detroit News reports, the incoming Mexican president Andrés Manuel López Obrador has been critical of President Trump's NAFTA demands, so this could change the equation there, as well as extending the timeline for talks as the new government comes into power:
Bruce Andrews, former U.S. deputy secretary of commerce in the Obama administration, said the lengthy transition that is awaiting López Obrador will be another complication in NAFTA talks that already stretched well beyond their initial one-year time frame.

"It's going to be difficult for the outgoing Mexican administration to make commitments when the new administration is going to be the ones that have to implement them," said Andrews, who served under former Commerce Secretary Penny Pritzker.

Andrews said the politics in Mexico that swept López Obrador into office after two previous unsuccessful attempts will also make it difficult for a quick NAFTA deal.

"The U.S. has shown an interest in wanting to get a deal done, but without the U.S. being more flexible, some of the U.S. requests are for things that are politically impossible in Mexico," he said.

Andrews noted that López Obrador "ran with a lot of anti-Trump rhetoric" that could box him into hardline positions in upcoming NAFTA talks. "As a new president, he is going to feel a lot of pressure to be tough with Trump and show that he won't be pushed around."
Should be interesting to watch.
Reverse: Driver's Education
Neutral: Why Are We Doing This?

When American trade officials look at the lack of import parity between the U.S. and Europe, they don't seem to get that American automakers simply don't make the kinds of cars Europeans buy. We're all but abandoning small cars here, we don't really do diesel passenger cars, and even GM's Opel/Vauxhall subsidiary was such a cash-bleeder for decades that it had to be sold off to the French.
Will fixing tariffs change any of that?