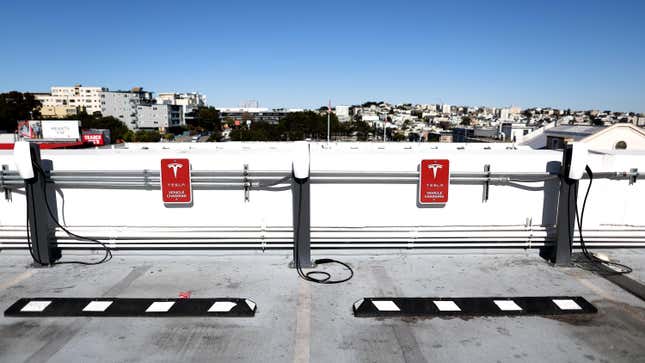 One of the biggest hurdles to widespread EV adoption in the United States is a lack of a capable charging network that any automaker can use. Where you can fill up your gas-powered car at just about any gas station, the EV charging world is littered with multiple charge point options that limit the kind of chargers you can use. That's compounded by the fact that charge stations in general are still few and far between. Tesla has proven to have the most comprehensive charging network thus far, and that's why other automakers have been converting to the company's North American Charging Standard (NACS) port.
Honda's Motocompacto Is The Ultra Portable E-Scooter That Can Fit Just About Anywhere
Right now, no one is building chargers quite like Tesla. According to the MIT Technology Review, Tesla has built over 19,000 fast chargers in America, while every other operator combined has only built 15,000. The Biden administration has set aside $7.5 billion in funding to build a more comprehensive charging network, but progress has been slow. By taking on the NACS chargers, non-Tesla automakers may believe buyers will be more likely to consider purchasing an EV, since there will be more opportunities to charge it.
As automakers begin to make this transition, it can be difficult to keep track of which automakers have converted to NACS, and which have remained with a different layout. We're here to help you remember.
Non-Tesla Automakers Converting To NACS
Ford: Beginning in the spring of 2024, Ford EV owners will be able to access Tesla Superchargers with an adapter. In 2025, Ford vehicles will have the NACS plug built in.
General Motors: GM will provide its EVs with an adapter to use Tesla's NACS network beginning in 2024; GM vehicles will be built with the NACS plug in 2025. GM also says it will continue to provide adapters, so its NACS vehicles will be able to use Combined Charging System (CCS) ports.
Honda: All Honda models will feature NACS plugs beginning in 2025 and also intends to provide adapters for its current CCS-equipped vehicles.
Mercedes-Benz: Even though Mercedes plans on building its own charging network in America, it announced that its EVs will come with NACS plugs beginning in 2025. It will provide adapters some time in 2024.
Nissan: Nissan will adopt NACS for U.S. markets in 2025, but adapters will be available in 2024.
Polestar/Volvo: Polestar and Volvo vehicles built in 2025 will come with NACS plugs. Starting next year, though, it'll offer adapters to facilitate CCS-to-NACS charging. Later, it will offer adapters to facilitate NACS-to-CCS.
Rivian: Rivan's vehicles will come with NACS ports sometime in 2025, with adapters available next year.
Fisker: Beginning in 2025, Fisker will implement the NACS charge port.
Stellantis, Volkswagen, and Hyundai have been rumored to be considering deals with Tesla to utilize NACS chargers, and two public charging networks — ChargePoint and Electrify America — will begin offering NACS plugs at its current CCS stations sometime in 2025.

We'll keep updating this list as more automakers make the conversion.