So, as we plopped down to check out the new GM ad 'Then Again, Now Again' last night — we found ourselves stunned to see a GM "mini-reveal" — it appeared to be a Caddy, and with some kind of CUV-like shape. We tried to figure out what the hell this piece of hotness the McCann Erickson team dropped into the ad at GM's behest, but were stumped — we hadn't seen it at any of this year's auto shows. Then, it dawned on one of us — isn't that the Imaj concept from the 2000 Geneva Auto Show? We don't think we're wrong — but let us know what you think — we've put both the current ad and the Imaj press release from way-back in 2000 after the jump — and then check out our pictures of the concept here.
The Cadillac Imaj, a high-tech concept car revealed at the 2000 Geneva Auto Show, extends Cadillac's philosophy of blending art and science to its logical next step: an all-wheel-drive ultra-luxury sedan with exhilarating performance and unprecedented technological applications.
With its crisp lines and sharp angles, Imaj is a direct descendant of Evoq, the concept roadster introduced in 1999 and the first embodiment of Cadillac's vision of art and science. Imaj takes its lead from Evoq in giving further tangible form to Cadillac's vision to be a uniquely American, global automotive leader in both design and ingenious technology.
Underneath the hood, Imaj features an updated version of the supercharged Northstar V8 engine that debuted on the Evoq. Featuring a liquid-to-air intercooler and continuously variable valve timing, the enhanced Northstar delivers 425 horsepower. The power is fed to all four wheels through an all-new five-speed automatic transmission.
G/O Media may get a commission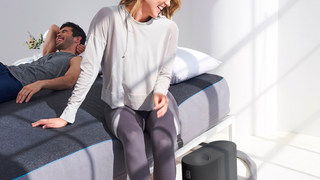 Eight Sleep Pod Cover
Imaj also features Cadillac's Night Vision system with obstacle alert signals work both in front and the rear. Adjustable pedals, seating, steering and head-up display combine with steering wheel mounted controls and shift-by-wire gear selection to create the quintessential driver-in-control environment. Adaptive cruise control manages following distances at highway speeds, while front- and rear-facing radar ease parking in close quarters.

Related:
Ad Watch: GM's Still Not Sold On FM — Then Again, Now Again [internal]