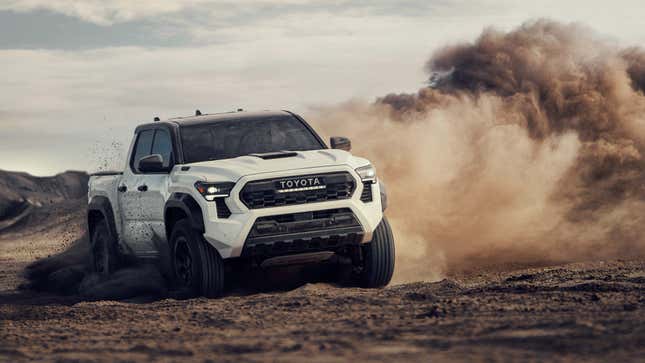 There is some big news in the truck world, Toyota has launched a substantially upgraded Tacoma. The truck looks incredible and with an available hybrid powerplant, it won't be nearly as thirsty. Another bit of good news is that you will still be able to get a Taco with three pedals, but actually scoring one is likely to be a challenge.
I've assisted hundreds of buyers with new Toyota and many of these have been "ordered" cars from the factory. But Toyota's ordering system is not like some other brands, and just because you ask for a specific trim, model, and transmission doesn't mean you are actually going to get it.
To explain this properly it's best to compare the order system for a brand like Jeep versus Toyota. If, for example, you wanted a manual Gladiator Willy's trim, you would configure your Jeep to your liking and submit the build to any Jeep dealer. The dealer, will then send that request to the factory and typically your built-to-order Gladitaor will arrive in a few months.
Toyota's system on the other hand isn't so straightforward. As an automaker, Toyota prides itself on manufacturing vehicles efficiently, and custom orders reduce that efficiency. Over the years I've spoken with several Toyota dealers and even reps from Toyota corporate about their "order" process and I've gotten inconsistent responses. What I have pieced together is an allocation process that works something like this.
The Toyota factory will periodically release an allocation batch to a dealership. In the case of the Tacoma, the factory will tell the dealer - "You will get 12 Tacomas." If a dealer has a customer that wants a specific Tacoma they will tell the factory they want a certain build, and here is where it gets interesting, if that build happens to be in the scheduled production run for that round, often the dealer will usually get the order. But, if someone were to ask for a Tacoma TRD Off-Road Double-Cab w/5ft Bed 4x4 manual in Luna Rock, and that combination is not on the schedule, the customer is out of luck until the next round of allocations gets released, and maybe the perfect truck will be in that batch. If not, they have to keep waiting until their configuration just happens to get on the schedule.
Essentially if you want a truck from Ford, Ram, Jeep, or GM the dealer tells the factory "Make us one of these like this" and as long as the allocation slot is available that request is usually granted. Whereas a Toyota dealer will say to the factory "I'd like a truck like this please" and the factory response is along the lines of "Yeah…we will see about that."
Where things get even more difficult is that Toyota will schedule the configurations that are the most popular based on previous sales data, so if not a lot of people bought the manual truck in the past few years, the factory isn't going to make a ton of manual trucks. Of course, this can create the cycle of Toyota not making things because people aren't buying them, and people aren't buying them because Toyota doesn't make that many.
Does that mean that getting a stick in this next-generation Tacoma will be impossible? Not at all, but your odds are not awesome. Currently, there are about 1,000 brand new current generation Tacomas listed for sale of those roughly 175 are listed as manuals. A 17% chance to get your three–pedal Taco isn't bad, but you probably want to start talking with your local dealer now to get on that waitlist.
---
Tom McParland is a contributing writer for Jalopnik and runs AutomatchConsulting.com. He takes the hassle out of buying or leasing a car. Got a car buying question? Send it to Tom@AutomatchConsulting.com