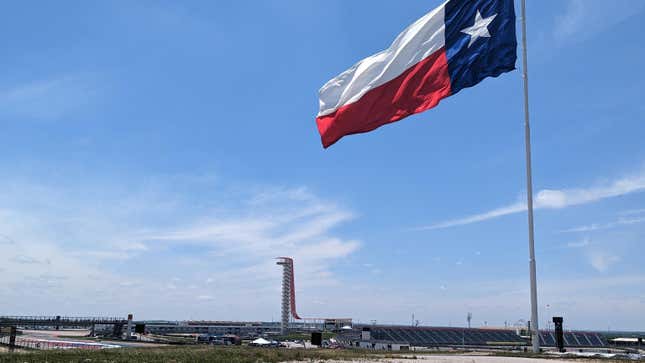 When you've done something for long enough, there comes a point when you start to wonder whether you actually really like that thing, or if you've just gotten so used to it being your job that you're going through the motions. This past weekend, though, I had the opportunity to visit the Circuit of the Americas entirely as a fan for the Fanatec GT World Challenge America series, and it was the reminder I needed that motorsport is still my passion.
Full disclosure: SRO did provide me with hospitality passes for the weekend, but I organized my own accommodations and transportation.

I definitely recognize the privilege of my position. I've been able to make a career out of something that I care deeply about, that on its worst day is still one of the coolest jobs in the world — but there's a big difference between heading to the track as a fan and as a professional.
When I'm working, I'm doing just that: I'm bouncing between interviews and events and the media center, trying to extract as much as I can from just a few days and a handful of hours of on-track action. My brain is balancing the past, present, and future as I think up questions on the fly or pursue story angles that are only just starting to develop. There's a good chance I'm not going to see much of the actual racing, not with my own two eyes. By the green flag, I'm tucked in the media center, writing away.
And that's not a bad thing; being part of the harried rush of a race weekend is one of the greatest feelings in the world. It's just odd to think back on the events I've attended in the past few years and realize I haven't actually seen much of the racing that's taken place.

For the GT World Challenge weekend, though, I decided I'd just be a fan. There were stories I could have pursued and interviews I could have conducted. There was work I could have done. But lately, I've found myself running on the ragged edge of burnout, loving what I do while still wondering why I push so damn hard to do it. I take vacation time to go to the race track and work, not to relax. I work for weeks on end to justify the few blissful moments I get to spend watching a field of cars rush by for a lap or two. I follow my nine-to-five with a five-to-nine, just to make sure I'll been able to make time for the work that really matters to me, well beyond the daily grind.
It's been difficult. I've stared in the mirror a lot lately, wondering if what I'm doing has value, if it's making me happy, if it's worth the ulcers and the 14-hour days and the sheer amount of life I've missed out on. It's been hard to answer "yes" to any of those questions.
So at COTA, I decided to just be a fan again. I walked the entire track for the first time in years, taking time to watch various different races from different points on the track. I circled the paddock with the other fans who had nabbed garage access for the weekend. I bought tacos from trackside vendors and climbed up the grandstands and felt the cars barrel on the track underneath me as I stood on the pedestrian bridges. I came home sweaty, sunburned, and dehydrated, having walked countless miles just to soak up every last bit of the event. Today, I'm still nursing a little bit of a headache, and slathering aloe vera gel on my ridiculous tan lines, and stretching out my sore legs.
But that passion had clicked into place again. I remembered why I spend my money to travel around the world for the privilege of writing stories. I remembered what it was like to watch a race as a fan, not a journalist — to be able to root for a driver, to cheer for an overtake, to crack jokes about the cars dragging pieces of bodywork around. I remember what it was like to be enthused. To smile. To let go and just have fun. The GT World Challenge America series revitalized me. It reminded me why I do this. It reminded me why I'm here.