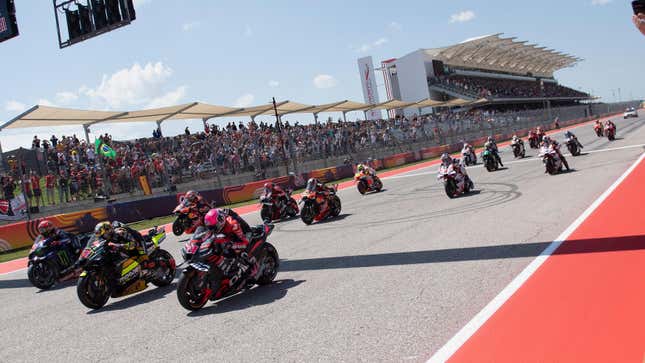 If you're a motorsport fan, you've probably heard of something that's been dubbed "the Drive to Survive effect." Essentially, the Netflix docuseries about Formula 1 has regularly been linked to a growing viewership, especially in previously underserved demographics, like younger or female audiences. However, I've started to notice that all racing series have been benefiting from increased viewership here in America, something that has been attributed to DTS as well; fans learned about motorsport and wanted to learn more across the board, not just in the realm of F1.
But I was curious: just how far has the DTS effect gone? Could I see it in action at a MotoGP event? The answer, I discovered, was yes.
On Saturday afternoon, I headed out to the fan zone at Circuit of the Americas during MotoGP's Americas Grand Prix weekend. I wanted to chat with some of the folks who had headed to the track that weekend in order to get a sense of why they were there. Were they longtime MotoGP fans? Did they travel for the event? Were they local and just wanted to see a fairly affordable race in person? I intended to find out by asking some agreeable fans how they got into motorsport and why they were at this race, specifically.
I chatted with 11 fans who had attended the race, and I discovered that about half — or, five of the 11 — were first-time race attendees who had decided to check out a live event after discovering racing through DTS during the COVID-19 pandemic. Three of the other six longtime fans were from northern Mexico and had traveled to COTA for the event, while the final three were Texas-based race fans.
The five new fans I spoke to all told a similar story: they'd been looking for something to do while in isolation in 2020, and they found DTS on Netflix. Racing was one of the first sports that really kicked off again as restrictions eased, and these fans noted that they were just looking for a way to engage with other people in real time.
"I literally never thought about racing until I watched [DTS]," said a fan named Jack D. "I'd watched, like, ball sports, but nothing was happening during COVID, so I was like, cool, I guess I'll just watch cars go in circles."
Jack, an Austin native, noted that he'd experimented with just about every form of racing he could find on television — everything from F1 to NASCAR to IndyCar. However, he hadn't seen a motorcycle race; when I asked, he was unable to tell me if he even knew if it MotoGP events aired live here in America, and he was also unsure about how to consume the sport.
"Honestly, I don't really know about this," he said, gesturing to the fan zone. "I wanted to go to F1 last year, but it was too expensive. Then I realized there were other races [at COTA], and I was like, cool, I'll just do that instead."
After just a few on-track sessions that day, Jack admitted he was hooked on motorcycle racing, pointing out how "crazy" it was to see such ultra-fast machines with exposed riders barreling down the track.
His story was similar to that of Sabrina, who asked to withhold her last name because she attended the event with her teenage daughter. Her daughter was the one who discovered DTS, gushing over the storylines and richly detailed lives of the drivers, especially in the first few seasons.
"She was like, 'mom, you have to watch this with me,'" Sabrina said. "I heard the premise, and I was like, really? You want me to watch that? I was surprised by how much I actually enjoyed it."
Sabrina and her daughter live in a small apartment in the greater Dallas-Fort Worth region and drove down for the Grand Prix of the Americas. With just the two of them living in the same few rooms, Sabrina said that DTS allowed her to bond with her daughter in a way that didn't feel like they were "stepping all over each other trying to stay entertained."
"I was working from home, and she was trying to start high school online," Sabrina explained. "We were driving each other nuts. F1 gave us something new to bond over."
But why attend a MotoGP race and not the U.S. Grand Prix? For Sabrina and her daughter, it came down to finances.
"I tried surprising her with [USGP] tickets last year, but between the price of the tickets and the hotel... it was all too much." Instead, Sabrina came to her daughter with a different proposition: "We've watched just a couple MotoGP races, but the ticket deals were so much more affordable. I asked [my daughter] if she'd want to go, and here we are. We haven't really done a vacation before, so she took some time off school, and I took some time off work, and we're making a week of it."
By Saturday afternoon, the two had found themselves as MotoGP converts, fascinated by the skills of the riders.
Circuit of the Americas has always played host to a diverse set of fans. When I attended my first USGP in 2014, I met as many F1 fans from Mexico as I did from around the U.S., but the crowds were still sparse. For the 2023 Grand Prix of the Americas, I found a crowd whose demographics were fairly similar to that first event I attended, but in much greater numbers. The burgeoning DTS fans were looking for a new way to engage in motorsport — and MotoGP was there to welcome them.