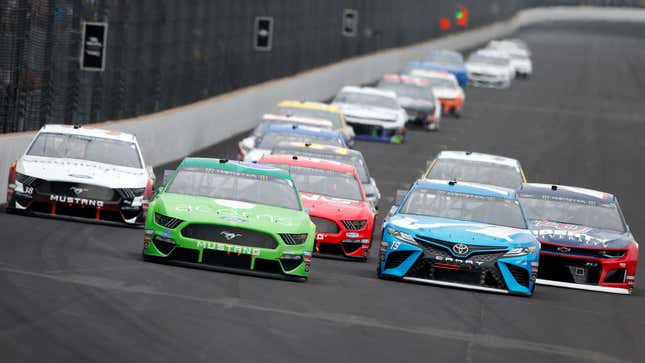 Understanding modern NASCAR can be difficult for anyone trying to get into it. You may be baffled as to why races have premeditated cautions or why they don't just give the trophy to the driver who collects the most points, like in the old days. It gets easier with time, but like anything, it's good to start with the basics—especially with the NASCAR playoffs upon us soon.
Cristo Fernandez Is Playing His First Car In The New 'Transformers: Rise Of The Beasts'
In the top-level NASCAR Cup Series, that kicks off Sunday at Las Vegas Motor Speedway. The playoffs mark the final 10 races of the 36-race Cup Series season, which drivers use to qualify for a spot to run for the title. Of the roughly 40-car fields, 16 drivers make it into the first playoff round, and those not going for the title often use the playoff stretch to get their cars ready for the next season.
All three NASCAR national touring series—the Cup Series, Xfinity Series and the Truck Series—now have stages and playoffs, and the rules details depend from series to series despite working from the same setup. But, again, we're talking about the basics here, so we'll stick to the top level.
Given all of that, let's get to the basics of how this will work.
The Basics Of A Modern NASCAR Cup Series Race
How We Got Here
The Logistics Of The Playoffs
How NASCAR Decides Its Champion
Drivers To Watch This Year
Picking a champion under the current NASCAR rules system is near impossible, as the entire season ends with one race, four drivers on an even field, and the potential for anything to happen. A parachutist could hit a contending race car minutes before the start of the race and cause aerodynamic strain, for example, or the favorite to win could wreck on the first lap.
But while picking a champion is a futile effort, it is easy to assume who will most likely be around at the end.
---
None of that includes the little intricacies in how the championship, like how playoff points differ from regular points or the conundrum of what will happen if all four championship contenders take each other out in the same wreck in the final race of the season.
But, as advertised, this is a very basic guide to the playoffs, and that kind of stuff graduates into the "not very basic" realm. If you want the challenge, there are links below to help you take it up.