Thursday was an interesting day for the Solano County California Highway Patrol, as a tractor trailer rolled onto its side and spilled a load of crushed cars—including that poor Ford Ranger you see above—creating what appeared to be a horrifying crash scene. Here's a closer look at more of the poor twice-crushed automobiles.
"Interstate 80 westbound, east of Manual Campos is closed due to a tractor trailer rollover," CHP-Solano wrote on its Facebook page yesterday afternoon, including this picture of a large truck on its side, and crushed cars strewn on the highway:
Shortly thereafter, the highway patrol posted this video along with a caption saying its officers were cleaning up the spill as quickly as they could, and that there were no injuries:

According to the Sacramento Bee, the CHP said the crash, which occurred around 3 P.M., only involved the truck and no other vehicles—well, other than the 15 to 20 crushed cars it was carrying. But, despite only a single functioning vehicle being involved and no injuries resulting from the crash, this bit from the story made me wonder just how terrified passersby must have been upon rubbernecking at this scene:
When the truck fell over on its passenger side, it spilled out the salvaged cars, making it seem at first that multiple vehicles were involved. 

G/O Media may get a commission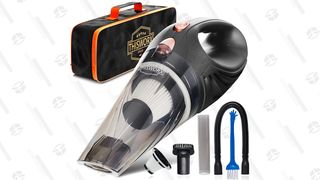 Save 50%
ThisWorx Car Vacuum Cleaner
Yeah, if I'd seen that gray Ford Ranger on the highway, I'd have feared the worst. That thing is as flat as a pancake.