In the midst of all the celebrating going on about Bubba Wallace's historic win, there was a nasty little bit of stupidity towards the end between Kevin Harvick and Ty Dillon. One little shunt from Dillon into Harvick led to a rant about the nature of NASCAR, team-owning dynasties, and racing itself.
We've posted the entire incident above, but as you can see Harvick and Dillon were running pretty close. Dillon bumped Harvick from the back, causing them both to spin out. Instead of just carrying up and moving on and having some thinly-veiled passive-aggressive threats in the press conference later, they proceeded to bash into each other like little kids at the go-kart track. And then the pit crews had to exchange some words.
On the surface this looks like just another hissy fit between drivers, something that we see almost every week. Somebody makes a stupid move, and somebody gets chewed out. Everybody moves on. But this incident was different.
Ty Dillon is actually the grandson of NASCAR Hall of Famer and team owner Richard Childress, who owns Richard Childress Racing. Harvick, who was racing for a different team in the Camping World Truck Series, races for RCR in the Sprint Cup. He's leaving to go to Stewart-Haas racing at the end of the year. Harvick is being replaced by Austin Dillon, Ty's older brother, and Ty is moving up to replace Austin.
G/O Media may get a commission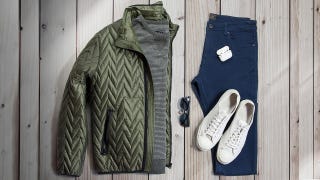 60% off
Jachs NY Fall Sale 60% Off
Again, on the surface, this looks like blatant nepotism, as it appears that the Dillons are getting promotions based on who their granddad is. But on the other hand, Ty Dillon was the 2011 Arca Racing Series Champion and the 2012 Camping World Truck Series Rookie of the Year. He's earned his racing stripes, one way or another.
But Harvick brought up his feelings in an immediate post race interview:
"He just dumped me. It's exactly the reason why I'm leaving RCR because you've got those kids coming up, and they've got no respect for what they do in this sport and they've had everything fed to them with a spoon.

...

It's a shame you've got to get taken out by some rich kid like that."
So which one is right? It's probably a mix of both. Has Dillon been given opportunities most other 21-year olds haven't? Yes. But has he raced and won? Yes. These arguments will always revolve around racing, as racing seems to be the one sport filled with more family dynasties than any other.
The fact of the matter is that racing costs a lot of money. It's possible to do it without your parents being billionaires. You just might have to force doors open that are normally closed. But this tension, between pay-drivers, legacies, and guys doing it out of the back of their truck will always exist.