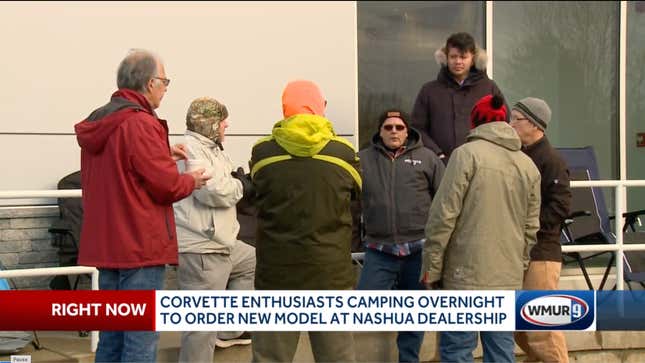 The 2024 Chevrolet Corvette E-Ray certainly isn't for everybody. Some simply have no interest in a Corvette at all. A lot of people who would like one won't be able to afford the six-figure price even before dealers start adding a markup. Others prefer the more track-focused Corvette Z06. But among the people who do want an E-Ray, there are some who were even willing to camp overnight outside their dealership just so they could put down a deposit the moment orders opened.
Best Corvette Generations, According to Bob
WMUR9 reports that on Monday, a group of Corvette enthusiasts showed up at Nashua, New Hampshire's MacMulkin Chevrolet with plans to camp there until Wednesday morning when Chevrolet would begin taking orders. These weren't just people from New Hampshire, either. The folks who lined up had reportedly come in from all across the country.
But why pick a dealership in New Hampshire when Chevrolet has dealerships in much warmer areas? Apparently, MacMulkin Chevrolet is the top Corvette dealership in the country, which earned it the privilege of being the first to take orders for the new E-Ray. So anyone who wanted to be close to the front of the line had to travel to Nashua to do so.
"I've been in the retail auto business for 20 years," sales manager Tony Dillberg told WMUR9. "I've never seen customers wait outside overnight from any vehicle."
But camp they did, and not in fancy RVs. "We brought tents, we brought heaters, air mattresses, blankets, and we just toughed it out," said Tom Biondo, a Corvette enthusiast who came in from Staten Island, New York.
If you're thinking that New Hampshire in late January was probably cold, you would be right. But at least the dealership sounds like it wasn't going to let anyone freeze to death while they waited. "We've got predicted temperatures down in the teens tonight, so we're going to try to have people standing by to help out and make sure everybody's safe," said Dillberg.
But does he think it's crazy to camp out for two nights to get one of the first Corvette E-Rays? "Absolutely," Dillberg said. "But I love 'em."
And you know what? We love them, too. It's easy to make fun of Corvette owners, and yes, a number of people in line look pretty stereotypical, but not many people would be willing to put up with New England winter in a tent for two nights just to reserve a car. That's some serious dedication.