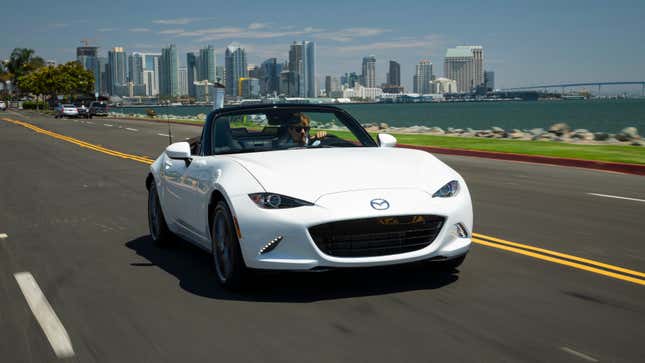 While EVs are on the come-up, not everyone wants to drive them. Many, especially gearheads, still want an old-fashioned internal combustion engine. The problem is pollution, which is what EVs aim to solve. But what if you could have the best of both worlds: no shitty emissions and the ability to still drive a regular engine? Enter synthetic fuel. And Mazda may have proven that trouble-free emissions can be possible with synthetic fuel with no modifications necessary.
Mazda partnered with UK-based synthetic fuel research firm Coryton. Coryton created a synthetic fuel using 100 percent agricultural waste. A stock MX-5 Miata with a 2.0-liter engine was filled up using the fuel before hitting the road on a 1,000-mile road trip around the U.K. What's even more impressive is that the Miata was able to hit four different tracks across the country for laps during the trip: Anglesey in Wales, Oulton Park in England, Knockhill in Scotland and Kirkistown in Northern Ireland. Mazda says the Miata ran exactly how a gas-engined car would with no issues. It was able to get good gas mileage too, averaging a hybrid like 45.6 mpg during the trip.

While ICE engine bans are set to go into effect in the 2030s, those bans only affect the sales of new vehicles; automakers can't manufacture them. The cars people already have aren't going anywhere anytime soon. Mazda says this test shows how synthetic fuel could be used to decarbonize "the many millions of combustion engine cars that will remain on our roads for decades to come."
David Richardson, Coryton's director called the test a success. "As this challenge has shown, sustainable fuel is a real and credible player in our efforts towards net zero. It's a solution that performs incredibly well, works with our existing vehicles and has the potential to significantly reduce the amount of CO2 we currently release compared to traditional fossil fuels."

Mazda isn't the only one working on synthetic fuel. There are five different synthetic fuels that could possibly replace gasoline. Porsche, for instance, invested $75 million into a synthetic fuel startup that made fuel from water and carbon dioxide, built a plant down in South America to make the stuff, and then used it in a 911 with no trouble. If all of this pans out and can actually make existing ICE engines run cleaner with no modifications needed? Screw EVs. Sign me up.