I'm no stranger to road trips, and have a habit of doing them in fun cars. Most of the time they go as planned; other times they go very badly. But a trip from London to Le Mans and back in a 2018 Porsche 911 GT3, one of the most hardcore and extreme Porsches you can buy, was thankfully be one of the smoother ones—and surprisingly more comfortable than anticipated.
(Full Disclosure: Porsche provided a GT3 to get from London to the 24 Hours of Le Mans and paddock and team access, along with a hotel in France, but Jalopnik paid for travel from America to Europe and other expenses.)
Why A GT3?
The 911 GT3 is one of the more sporting variants of the current 911 lineup, which is saying something. It's a lighter, more powerful, nimbler version of an already great sports car. With 500 horsepower on tap from its 4.0 liter flat-6 engine, the GT3 is more than capable of gobbling up miles at a fair rate of knots, whether on the road or around a circuit. And unlike most 911s these days, it eschews turbocharging for old-school natural aspiration. That's nice.
This 991.2 update has a handful of significant improvements, and I can appreciate every single one of them, being someone who gets to play with a 2015 991.1 GT3 on a regular basis. Porsche claims the GT3 can go from 0-60 mph in 3.2 seconds on its way to a top speed near 200 mph. That's sufficient.
My Porsche Great Britatin-provided tester rang up at the GBP to USD conversion rate of $152,000, and it had a few good options.
G/O Media may get a commission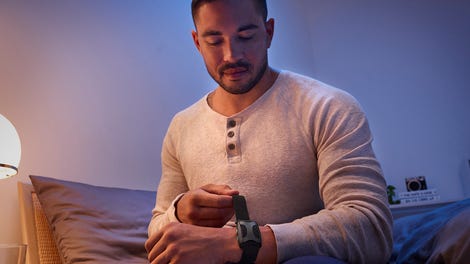 But is it suited to long-distance driving? That's what I had to figure out.
Hit The Road

My flights to London included two long stopovers in Chicago and Dublin, and I wasn't able to get any sleep at all. I also didn't get to have too much fun (aside from a couple pints and a good meal with Jalopnik contributor and longtime friend Alex Goy) in London, as I had to be on the road at 4:30 a.m.
The 400-mile drive to Le Mans had to be done in time for picking up my credentials, checking into my hotel, and getting over to the circuit in time to make a mandatory photo briefing at 4 p.m.

Porsche set me up with a Flexiplus Eurotunnel pass, which gave me priority boarding and lounge access. Taking advantage of the snacks and bottled beverages, I was stocked up for the drive, and took the first spot in queue for the 6:30 train from Folkestone to Calais. A 30-minute ride under the English Channel, and a check through passport control were the only things keeping me from covering a ton of miles in a seriously fast car.
Once you get off the Eurotunnel train at Calais, you remember every horror story you've heard from friends regarding the French police and their love of collecting bribes—err, fines—from GB-plate sporting fast cars speeding on their beloved motorways. So the usual pedal to the metal approach didn't apply here.
Along The French Motorways
Once I was off the train, I was ready to crank out some miles. Not ten miles into my drive, I hit construction traffic. From thinking I'd be taking advantage of the 130 kph (roughly 80 mph) speed limits, and maybe make some ground early, I instead wasted 15 minutes sitting in a single-lane flow that traveled at maybe 15 mph.
On longer highway stretches, once the road opened up, the GT3 was sublime. I played with the suspension in the sportier mode, to sample how stiff the setup would be on the motorway, but had no complaints.
I did keep the suspension in the normal mode for most of the route, as it still offered plenty of grip and response, without sacrificing comfort. I will admit that I kicked on all the sport mode switches including suspension, PDK, and exhaust when I'd get off the motorway to hit the fun turns and roundabouts for any junction or rest stop.
There were times when I'd get into a pack of fun cars also making the trek to Le Mans, and we'd all pick up the pace. The amount of power and torque available at any range from the GT3's flat-six was incredibly impressive. Never did it have trouble finding speeds that could find me paying French police significant fines, and if I needed to get around a slow-moving truck it could go from 60 mph to 90 MPH in less time than it took for the indicator to blink three times.
I was a little pessimistic that the optional carbon fiber cup seats (with no adjustment for recline nor lumbar support) would be a bit harsh on my back over 400 miles in a day. Not the case. Sure they're firm, but not once was I griping about my old bones and back being uncomfortable.
The only thing holding you back is the GT3's smaller 16.9 gallon fuel tank paired with its 15/20 city/highway EPA estimates. The car was provided by Porsche, but Patrick George's gas budget has its limits, so I had to be smart about my pace to not only avoid the traffic cops but to make the most of my fuel range.
Service stations along the motorways are also quite far apart, so you have to be smart about when you decide to stop to fill the tank and to empty your bladder.
When Meeting Fun Bends
I'm glad I ended up in this, and not the GT3RS. It would have been too stiff on the long haul, even though it's a blast on the fun roads. The GT3 is an absolute riot. It's raw when you want it to be, and subtle enough when you're trying to manage traffic.
Yes, there's a big ass wing obstructing much of the space through your rear view mirror, but it comes in handy when you're pushing the car around a tighter corner. It also looks the business when you're headed to the biggest race on the planet, and served nicely as a tray when I took a break for a snack and some caffeine at a service station.
Sticky Michelin Pilot Sport Cup 2 tires wrap around 20-inch wheels, and they're not only grippy, but quieter than I expected on the highway. In a bit of rain outside Rouen, they felt confident, and never gave me the impression they'd lose grip. Porsche's optional carbon ceramic brakes and their flash yellow calipers give the best braking feel in any road car, and make sure you can confidently slow the 911 GT3 in any condition.
Any Disappointments?
Weirdly, right-hand drive 911s cannot get the optional extended range fuel tank that the lefty models can. Going from 16.9 to 23.8 gallons gives you a ton of range, especially with my realized 17.3 mpg for the week I had the car. I would have loved to have been able to go from London to Le Mans on one tank, or the other way around.
Having to jump over the console and passenger seat to pay French toll booths was quite the adventure, but I'll blame the French for not making their stops have setups for both right- and left-hand drive cars.
I wish that the front axle lift option box was ticked on this one, as I had to pull into a few parking lots with angled driveways, and pulling in and out of the Eurotunnel train was anxiety-inducing.
What Pleasantly Surprised Me
Porsche now has Apple CarPlay in its models, and I love this setup. It allowed me to stream Spotify, use the Maps app from my iPhone rather than their nav (as I had a couple points plugged in before I left) seamlessly in their screen, and let me make all the calls and responses to messages with voice commands through the car when needed.
The 991.2 GT3s are equipped with the four-wheel steering system found on the GT3RS, and you really feel it working in the bends. The whole car was comfortable for the long haul, and I wasn't fatigued at all after spending eight hours on the road from London to Le Mans.
When you're in Le Mans, and anywhere along the road trip from London, it gets plenty of nods from fellow motorists. You aren't just driving a 911. You're in a GT3. You wanted the fun one, and you don't care that it's a little less comfortable than the Carrera 4 GTS or a little less of a weekend cruiser than a Cabriolet.
One Awesome Note

On the way back from Le Mans, I made sure to stop at the first rest stop in a town called Valframbert. Knowing many others were making the trek back to Britain this Monday morning, I had a hunch there would be some cool cars to check out, and I was not wrong.
The Verdict
Despite being billed as one of the most track-worthy 911s—and it is—the GT3 happens to also be a perfect road trip car for one or two people who are traveling fairly light, want to have some fun along the way, and don't mind a firmer ride and seat. Just remember to tick the box for the no-cost optional larger fuel tank so you don't have to stop every three hours or less.
Being a track day instructor, I'll take the GT3 over any 911 in the lineup. It's about perfect. You may have the coolest car in any parking lot too—unless you're at the Eurotunnel Flexiplus terminal in Calais, and a guy in a Carrera GT pulls up next to you.
Someone's always gotta be number one.
2018 Porsche 911 Carrera Coupe Specs
Engine type
Twin Turbo Premium Unleaded H-6
Transmission/Drive
Manual w/OD