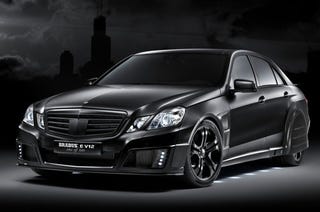 This twin-turbo Brabus E V12 uses 800 HP, 1047 Lb-Ft and 230 MPH to justify a wild bodykit, faired rear wheels and a clear hood. We bet it'd kick a CTS-V's ass around Laguna.
All that, especially the clear hood, makes the E V12 the fastest production sedan in the world. Damn, we wish this had bee around when we threw down our challenge to Bob Lutz last week.

Well, we use the term "production" lightly. While Brabus is an officially certified vehicle manufacturer and this is categorized as a unique model (despite being based on the non-AMG 2010 Mercedes E-Class), there'll only be 10 of these ever made. Still, we bet it'd spank a CTS-V around Laguna.
Press release:
BRABUS E V12 "one of ten"

The World's Most Powerful High-Performance Sedan

800 hp (788 bhp) / 588 kW, 1,420 Nm (1,047 lb-ft) and a Top Speed Over 370 km/h (230 mph)

BRABUS E V12 - The fourth E V12 generation based on the latest Mercedes E-Class once again sets new standards as the world's most powerful high-performance sedan. At the heart of this exclusive small-series-production car is the newly developed BRABUS SV12 R Biturbo 800 twelve-cylinder displacement engine.

With a rated power output of 800 hp (788 bhp) / 588 kW and a peak torque of 1,420 Nm (1,047 lb-ft) this engine catapults the four-door car from rest to 100 km/h (62 mph) in just 3.7 seconds on its way to a top speed of over 370 km/h (230 mph). The exclusively appointed BRABUS E V12 is built in a limited "one of ten" edition and starts at 498,000 Euros MSRP.

BRABUS, recognized by the German Federal Vehicle Registration Agency (Kraftfahrtbundesamt) as a vehicle manufacturer, builds the new E V12 "one of ten" based on the reinforced body of the latest Mercedes E-Class.

The next evolutionary stage of the proven BRABUS SV 12 Biturbo displacement engine is called SV12 R Biturbo 800 and was developed specifically for this vehicle. The engine is implanted into the modified engine bay of the E-Class with almost surgical precision.

Displacement of the twelve-cylinder engine that usually powers the latest Mercedes 600 models is increased from standard 5.5 to 6.3 liters (336 to 384 cu. in.). The increase is affected with a special crankshaft with longer stroke, precision-balanced pistons rods and pistons with a larger diameter and an increased cylinder bore. The inner workings of the BRABUS engine are further modified with special sport camshafts and cylinder heads optimized for mixture flow.

Both the air intake and the BRABUS twin-turbo system were newly developed for this car. The latter features two custom manifolds with integrated high-performance turbochargers and four water-to-air intercoolers. The combustion air is provided by a carbon-fiber RAM-air intake system in the hood. In addition a high-performance exhaust system with free-flow metal catalysts was custom-developed for the platform of the new E-Class.

New engine electronics with specially programmed mapping for injection and ignition ensure not only exemplary power yield but also compliance with the strict EURO IV emission limits. The high-tech lubricants for the entire drivetrain are supplied by technology partner ARAL.

With these modifications the engine of the BRABUS E V12 "one of ten" produces an enormous power output of 800 hp (788 bhp) / 588 kW at 5,500 rpm and an even more impressive peak torque of 1,420 Nm (1,047 lb-ft), available at a low 2,100 rpm. In the car peak torque is limited electronically to 1,100 Nm (811 lb-ft).

Power is transferred to the rear wheels via a reinforced five-speed automatic transmission and a BRABUS high-performance limited-slip differential with a locking rate of 40 percent. The BRABUS E V12 comes standard with state-of-the-art driving stability programs that can be deactivated at the push of a button.

Following the tradition of the first three BRABUS E V12 sedans the 2010 edition once again delivers driving performance normally reserved for only a very few select super sports cars. The sedan, which weighs in at 1,980 kilograms (4,365 lbs), sprints from rest to 100 km/h (62 mph) in just 3.7 seconds. After just 9.9 seconds the four-door car reaches a speed of 200 km/h (124 mph). The 300-km/h (186-mph) mark is reached after just 23.9 seconds. Top speed is more than 370 km/h (230 mph) but is limited electronically for reasons of tire safety to 350 km/h (217 mph).

This extreme performance also places highest demands on the vehicle's aerodynamic properties. The BRABUS designers went into the wind tunnel to develop a body conversion kit made from high-strength yet especially lightweight carbon fiber. It not only adds 36 millimeters (1.4 inches) to the width of the E-Class and gives it an even more striking appearance; it also minimizes aerodynamic lift on front and rear axle.

The BRABUS front was designed to replace the original apron and provides radiators and front brakes with an optimal supply of cooling air. At the same time the sophisticated shape notably reduces aerodynamic lift on the front axle.

Air vents located behind the wheel arches were integrated into the front fenders. They are also vital to the thermal health of all components in the engine bay and help vent the front wheel houses to reduce lift on the front axle.

The rocker panels route the air stream to the rear wheel arches with minimum turbulence. The rear wheel arches of the "one in ten " edition feature special cowlings called 'Speed Spads.'

The striking rear of the new BRABUS E V12 sets itself apart with the four characteristic tailpipes of the BRABUS high-performance exhaust system. Also part of the sophisticated aerodynamic-enhancement concept is the rear wing on the trunk lid and the diffuser integrated into the rear apron.

A wider track means better directional stability at high speeds. The widened fenders front and back make room for BRABUS Monoblock Q wheels in size 9.5Jx19. The high-performance tires so essential for these extreme speeds are supplied by technology partners Pirelli and YOKOHAMA. They are mounted on the front axle in size 255/35 ZR 19 and in size 285/30 ZR 19 in back.

The height-adjustable BRABUS coil-over suspension was also custom-developed for the E V12. The ride height of the suspension can be adjusted to the owner's individual preferences. But that's not all: Compression and rebound rates of the front and rear dampers can be adjusted in ten steps between very comfortable and extremely firm for use on the racetrack. Sport sway bars reduce body roll in fast corners.

The enormous performance of the BRABUS E V12 also places highest demands on the brakes. The high-performance sedan is equipped with 12-piston aluminum fixed calipers and vented and grooved steel brake discs measuring 380 x 37 millimeters (15.0 x 1.5 inches) on the front axle. The rear axle stops on six-piston aluminum fixed calipers gripping discs measuring 360 x 28 millimeters (14.2 x 1.1 inches). The BRABUS high-performance brake system incorporates all functions of the standard Brake Assist system of the Mercedes E-Class.

The interior of the car exudes a feeling of true exclusive luxury. The sporty-contoured custom front seats and the two rear individual seats are covered with a combination of Alcantara and black leather, smooth or perforated, as are dashboard, door trim and headliner. The entire vehicle floor is covered with square-patterned leather. It alone uses several miles of the finest thread, every inch of it sewn with utmost precision.

The ensemble is completed with matte-black carbon-fiber components for dashboard, center console and door panels. The BRABUS E V12 "one of ten" can be optionally equipped with a cell phone from premium manufacturer Vertu. This exclusive cell phone from the "Vertu Ascent Ti Carbon Fibre" limited edition of 1,500 phones features a titanium housing with the sides clad in black carbon fiber. This especially exclusive phone features 3G and quad-band technology as well as an integrated hands-free option, and represents state-of-the-art communication technology.

Only ten BRABUS E V12 sedans of the "one of ten" edition will be built by hand in a small-series production run. Alternatively the BRABUS E V12 is also offered in a version with 750 hp / 552 kW and a pointedly subtle bodywork without cowlings and rear wing.

BRABUS E V12 "one of ten" - Technical Data

Body

4-door sedan based on Mercedes-Benz E-Class, model series W 212.

Unibody, with BRABUS fender flares and steel body widened by 36 millimeters (1.4 inches). BRABUS E V12 "one of ten" carbon-fiber aerodynamic-enhancement kit with front apron, air vents in front fenders, 'speed spads' wheel-house cowlings, rear spoiler lip and rear diffuser. BRABUS hood with integrated RAM-air system.

Dimensions:

Wheelbase 2,760 mm - 108.7 in.

Length 4.891 mm - 192.6 in.

Width 1.908 mm - 75.1 in.

Height 1.422 mm - 56.0 in.

Curb weight 1.980 kg - 4,365 lbs.

Gross vehicle weight 2.390 kg - 5,269 lbs.

Fuel tank/reserve 80 l / 9.0 l - 21.1 gal. / 2.4 gal.

Engine

BRABUS SV12 R Biturbo 800 displacement engine based on Mercedes 600.

V12-cylinder 3-valvel light-alloy engine with two turbochargers

Displacement 6,233 cm³

Compression ratio 9.0 : 1

Rated power output 800 hp (788 bhp) / 588 kW at 5,500 rpm

Torque 1,420 Nm (1,047 lb-ft) from 2,100 rpm (electronically limited to

1,100 Nm / 811 lb-ft)

Fuel Super plus (98 ROZ) / Premium gasoline 98 octane

Motor oil: ARAL

BRABUS SV12 R Biturbo 800 engine conversion consists of:

Displacement increase to 6.3 liters with special crankshaft with longer stroke and larger cylinder bore and corresponding pistons. Inlet and outlet ports of both cylinder heads optimized for mixture flow including installation of special camshafts. BRABUS SV12 R Biturbo 800 system with two high-performance turbochargers and special exhaust manifolds with integrated turbine housings, four water-to-air intercoolers and special air intake tract. BRABUS stainless-steel high-performance exhaust system with free-flow metal catalysts. Newly programmed mapping for engine electronics and on-board diagnostics.

Powertrain

RWD, ESP

Reinforced five-speed automatic transmission

Gear ratios

1st gear 3.59

2nd gear 2.19

3rd gear 1.41

4th gear 1.00

5th gear 0.83

Reverse gear 3.16

BRABUS limited-slip differential with locking rate of 40 percent

Final drive ratio either 2.65 : 1 (V/max 315 km/h / 196 mph) or 2.24 : 1 (V/max more than 370 km/h / 230 mph), electronically limited for use on public roads to 350 km/h / 217 mph).

Suspension

Independent suspension front and back with height-adjustable BRABUS coil-over sport suspension.

Front axle:

Three-link axle, anti-dive geometry. Height-adjustable BRABUS struts with coil springs and gas-pressure shocks with ten selectable settings for compression and rebound, BRABUS sport sway bars.

Rear axle:

Multi-link suspension. Anti-squat and anti-dive geometry. Height-adjustable BRABUS struts with coil springs and gas-pressure shocks with ten selectable settings for compression and rebound, BRABUS sport sway bars.

Wheels:

BRABUS Monoblock Q light-alloy wheels with Pirelli or YOKOHAMA high-performance tires.

Front: 9.5J x 19 H2 with size 255/35 ZR 19 tires

Rear: 9.5J x 19 H2 with size 285/30 ZR 19 tires

Brake system

Dual-circuit brake system with Brake Assist and BRABUS high-performance brakes

Front: BRABUS 12-piston aluminum fixed calipers and vented and grooved steel discs measuring 380 x 37 mm (15.0 x 1.5 inches)

Rear: BRABUS six-piston aluminum fixed calipers with vented and grooved steel discs measuring 360 x 28 mm (14.2 x 1.1 inches)

Performance

0 - 100 km/h (62 mph): 3.7 sec.

0 - 200 km/h (124 mph): 9.9 sec.

0 - 300 km/h (186 mph): 23.9 sec.

Top speed: More than 370 km/h / 230 mph (for tire safety reasons limited electronically for use on public roads to 350 km/h / 217 mph)