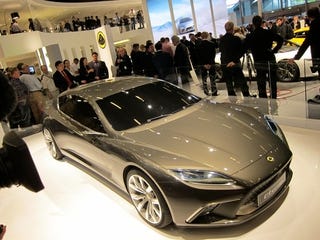 "Simplify, then add lightness," Colin Chapman once said. The 2015 Lotus Eterne is incredibly complicated, but it is pretty light. The 612 HP four-seater won't just reach 195 MPH, it's a hybrid.
Going into production in early 2015, the super saloon will allegedly weigh just 3,968 Lbs, which is pretty light for a big, four-seat luxury car by modern standards. The 5.0-liter forced-induction V8 will kick out 612 HP and 531 Lb-Ft of torque meaning it'll accelerate to 62 MPH in just 4.0 seconds and continue on to that 195 MPH top speed. Amazingly for such a large V8 engine, the redline is pegged at 8,500 RPM.
The hybridization will be an option and maybe an actually good one. The electric motor will be integrated into the gearbox and will use regenerative braking that Lotus ambitiously calls KERS, just like in Formula One, which we suppose is technically accurate, if slightly misleading. We expect nothing more than normal battery storage of electric power, not a fancy flywheel. No word on whether or not the hybrid system will actually add overall power or just reduce city emissions.
Going by current exchange rates, the price for all this is expected to start at $188,000, before the hybrid doodads. Rear-wheel drive will be standard, with an all-wheel drive system available optionally for people who really want to pollute the driving experience.