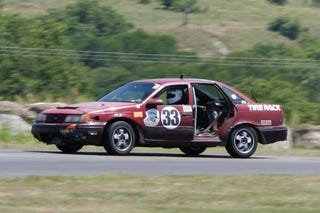 Plenty of action at the first annual North Dallas Hooptie LeMons in Decatur, Texas; while the 200-horse Dauphine was a DNS and the SHO-powered Mustang done blowed up, we've still got a Taurus SHO in the lead.
Yes, the Red Rocket Ratnest SHO, winner of the 2010 Gator-O-Rama LeMons, is leading the race by seven laps. Not only has this car managed to avoid gettin' blowed up (the fate of about 90% of LeMons SHOs, but the Ratnesters tempt fate by driving it to the track. If ever a team deserved multiple LeMons wins...


In second place... what the hail? It's the Index of Effluency-winning LRE Datsun 240Z, captained by LeMons Legend Troy. What's next, peace in the Middle East?


In third place, the Lambacher Foles Racing Integra. Will its head gasket hold together long enough for it to narrow the gap separating it from the first two contenders?


In fourth, the Race Hard Race Ugly #94 BMW E30 hopes to grab some of the glory earned by its partner, the two-time LeMons-winning Race Hard Race Ugly Soot E30. It's 15 laps back, but a lot can happen on Sunday!


Just one lap back of Race Hard Race Ugly is another E30: the Warthog Racing 325e.


While all that was going on, the BP-themed Serious Business Motorsports E30 got black-flagged off the track for a huge fuel leak! We couldn't make this stuff up, folks!


The Pepe Le Pew Renault Le Car, which we last saw upside down at MSR, currently sits in 66th place (out of 85 cars). Check out that tail!


The Duratec-powered Dauphine wasn't ready in time for the race, but we expect to see it in full Franco-Dearborn effect at the Yeehaw It's Texas race.


OK, so dropping a git-blowed-up-prone Yamaha V6 into a Fox Mustang isn't exactly the easiest path to trouble-free racing. Who cares? Sure, the SHO-Stang done blowed up early and often, but it was totally worth it.
Thanks to Nick Pon for the great photos!
Disclosure: Murilee Martin gets paid crazy baksheesh for his work on the LeMons Supreme Court.