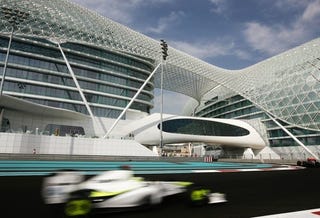 Formula One returns to Arabia this weekend to perform an encore act to the 2009 season on a brand new circuit. World champion Jenson Button and company are set to pop Yas Marina Circuit's cherry this Sunday.
The drivers are already out there. Lewis Hamilton has set the fastest time in Friday morning's free practice. The Abu Dhabi circuit, built on the island of Yas, is as new as circuits get: its Formula One license was granted a mere 23 days ago on October 7. As you can imagine, the track is high Gulf extravaganza, snaking around a harbor and passing beneath the Yas Hotel, the curvy-bubbly building you see on the photos.
German circuit designer Hermann Tilke, responsible for much of the architecture of Formula One during its heavy eastward expansion in the last decade, has given a rare interview to the British magazine Motorsport, published in the November 2009 issue. He points out some features of his latest work:
[There is] the possibility to drive down the elevation at 190 mph into the arena. This creates a special feeling for the drivers and spectators, and the track layout guarantees a lot of action. Secondly, driving alongside the marina and underneath the hotel – this too can be found nowhere else on a permanent track. Third, the start-finish line is kept tight and short which gives a special atmosphere and a good view for the spectators in the first and the last corner.
Tilke is often criticized for his bland designs, at least when compared to classic circuits like the Nürburgring or Spa-Francorchamps, but you have to keep in mind that modern safety regulations are a heavy set of handcuffs bracing the hand of any designer. And Tilke designs can be brilliant, as he knows full well. This is how he describes Turn 8 at Istanbul Park, perhaps his greatest work:
Yes! The idea was not only to make this a very fast turn, but also to make it in the third dimension. It has waves – first it's up, then down, up, then down. This makes it very difficult to drive. The race engineers want the cars to lay as deep as possible to achieve more downforce, but with this turn they have to lay the cars a bit higher. So it is really tricky and it influences the whole circuit.
One of the people already trackside is Tamara Ecclestone, daugher of Bernie and Slavica Ecclestone. Her features make you wonder how a British man and a Croatian woman can produce someone with such classic Levantine features.
The race will commence at 7 AM EST on Sunday.
Photo Credit: Paul Gilham/Getty Images, Ker Robertson/Getty Images, Clive Mason/Getty Images