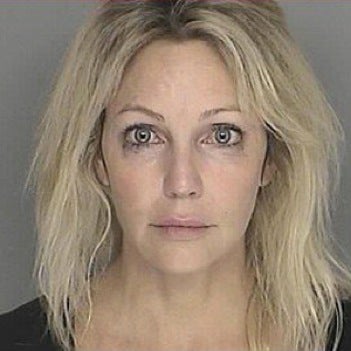 Gaze into the glazed eyes of Heather Locklear, taken after she was arrested around 5 p.m. Saturday evening when CHP officers found the actress in her parked car blocking traffic in Montecito, Calif. Exciting, yes, but the best part of the story's the police report, especially where a "concerned citizen" called police after witnessing Locklear "driving forwards and backwards over a pair of sunglasses and revving her engine" in a parking lot. Except, she wasn't drunk. Yup, you read that right. More after the jump. The report goes on:
"The citizen became concerned when Ms. Locklear exited her vehicle and stumbled into the traffic lane...the citizen called 911 and reported the entire incident to CHP Ventura Dispatch."
The report goes on to state when officers arrived Locklear appeared disoriented, and after giving her a DUI test they determined it was not alcohol.
"Although obvious impairment was exhibited during the tests, alcohol was ruled out as a factor."
Locklear was arrested for suspicion of driving under the influence and taken to the Santa Barbara CHP office.
"She was evaluated by a drug recognition expert, who concluded Ms. Locklear was under the influence of a controlled substance, and could not safely operate a motor vehicle."