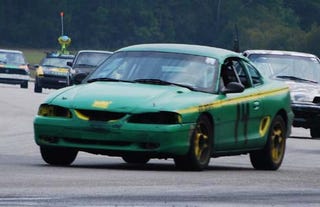 When you get a bunch of car freaks together and introduce them to the concept of the 24 Hours of LeMons, you always hear a lot of talk about what low-budget car should be the fastest. After all, it's all about being quickest around the track, right? The reality generally doesn't work out that way, however; while the winning Krider Racing Integra did in fact have the best lap time at the LeMons SF event, most of the time there's little correlation (for example, my team's Volvo had the fourth-fastest lap time at Altamont, yet finished 15th). It's consistency and reliability that'll get you the checkered flag at LeMons. This was made vividly clear in Kershaw last weekend, when only one of the five quickest cars even cracked the Top 20 places. Still, we should honor the teams who managed to build such fast machines on such a tiny budget.


The car with the overall quickest lap of the entire race was the 50th-place Superkak Racing '94 Mustang GT, with a time of 1:06.610. While there's some dispute about the legitimacy of their sub-$500 build (I believed their paperwork, my colleague on the LeMons Supreme Court didn't), you can't deny that this car was fast. Black-flag penalties brought Superkak Racing down to earth.



The Kudzu Kommandos' BMW 325e had the second-fastest lap, with a blazing 1:06.728. They finished 54th overall.



Third-fastest time was the Honda Civic raced by Team We-Todd. Time: 1:06.931, 28th place overall.



The anti-Obama-themed Hong Norr Racing CRX made it around CMP's track in 1:07.266, for the fourth-best time. They finished 30th.



The car known in the pits as "the rusty Miata," run by Team Hammer Down, scored the fifth-best time, at 1:08.160. Hammer Down finished 17th.