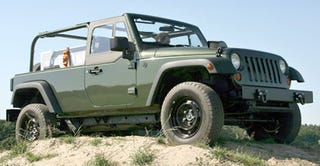 The production version of the Jeep Wrangler J8 made it's Euro debut at Jeep Camp 2008 in Germany this week. While not in itself news — we've already covered its officially official return — news of its Euro reveal got us to lusting after the new military-spec off-roader. Since we can't get it and you can't get it, we thought we could all spend a moment wallowing in our sorrow together.


If you'll remember, the J8 gets manufacturer-supplied upgrades us civilians could only wish to find order form check boxes for: a beefed-up frame, heavy duty axles, brakes and suspension, and a hood mounted snorkel/filter system capable of fording 30 inches of water while in a five hour long sandstorm — though in our experience those needs are usually mutually exclusive. The latest Jeep you can't buy but have always wanted will be fitted with a five-speed auto hooked up to a 2.8-liter turbodiesel good for 158 HP and 295 lb-ft of torque. Awesome, but that's not the big news here. No, the big news is the truck version.
Most important is the J8 will be offered in a variety of body styles including a two door with a long cargo box in the back. Yes, they've finally made a new Scrambler, and you can't buy it. If you're wondering about that high-pitched wailing in your ears — it's the sound of thousands of off-road and trail-rated geeks crying into their breakfast burritos.
Mostly what's coming to our mind is the Jeep curse — you know, the one where every corporate owner of the Jeep brand starts from scratch at making cool stuff, and just as it starts to arrive, their owner goes bankrupt, leaving Jeep alive, profitable and ready to start the cycle again.
Yes, sweet military contracts, a production partner in Egypt, close to conflict zones, and a relatively cheap mil-spec product, sounds like a plan for success — for Jeep. [MotorAuthority]