Aptera announced today that it would be producing both an all-electric and hybrid version of the 300 MPG prototype we told you about in July. The Aptera Typ-1 plug-in hybrid uses an all-electric drive train coupled to a small diesel gas engine and will achieve 300 MPG, while the all-electric version has a total range of 120 miles. The company claims that the car (categorized as a motorcycle by the Dept. of Transportation) in either form will be available for under $30,000! Aptera is Greek for "Wingless Flight," so let's hope this isn't a flight-of-fancy. The company will take a $500 reservation deposit if you live in Southern California (and has taken 400 already), with the rest of us SOL for now. Full press release below.

300 Miles Per Gallon! Aptera Motors Unveils Ultra Efficient All-Electric and Plug-In Hybrid Vehicles for Under $30K
300 Miles Per Gallon! Aptera Motors Unveils Ultra Efficient All-Electric and Plug-In Hybrid Vehicles for Under $30KCARLSBAD, Calif.CA-APTERA
Today, Aptera officially unveiled two vehicles that could change the Future of automotive design. Aptera's Typ-1 is a radically different vehicle designed to marry advanced aerodynamics with light-weight composite technology creating an incredibly powerful, yet extremely safe vehicle that is a joy to drive — even for the most performance-minded individuals. The Aptera Typ-1 will be available in all-electric and hybrid models for less than $30,000, the electric version slated for delivery in 2008 with the hybrid model to follow.
The all-electric model has a range of 120 miles. The plug-in series hybrid has achieved more than 300 miles per gallon with a range of more than 600 miles. Both versions are loaded with safety features.
G/O Media may get a commission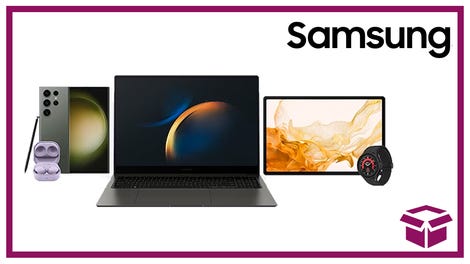 24 hour deals
Discover Samsung - Daily Deal
?Unveiling the Aptera Typ-1 represents a pivotal point in automotive history as we mark the transition from research and development to manufacturing the most energy efficient vehicle with a price tag to fit almost any budget,? said Co-Founder & CEO, Steve Fambro.
Through extensive fluid dynamics modeling and materials engineering, the Aptera team has created the most efficient, lowest-drag shape that can surround two occupants side-by-side, and has made safety a priority in the design. Additionally, the car features three wheels, making it eligible for most carpool lanes, even with only one person in the vehicle.
The car has "two plus one" seating offering ample room for driver and passenger while an infant seat (for newborns to age three) can be located in the middle behind them. Storage room is also generous with enough space to fit 15 bags of groceries, two full-size golf club bags or even a couple of seven foot surf boards with the infant seat removed.
The Aptera Typ-1 is loaded with safety features. They include a front crumple zone, a front end that re-directs crash energy in a frontal impact, steel and composite side and rollover protection as well as driver and passenger side airbags.
The Aptera Typ-1 is available in two models:
All Electric - This model is powered exclusively with batteries and will get someone around town for approximately 120 miles depending on driving conditions. At night, simply plug the Aptera into any standard 110-volt outlet, and in just a few hours, the vehicle will be fully charged and ready for another 120 miles.
Plug-In Hybrid - The Aptera hybrid is powered by an electric drive train but is also assisted by a fuel-efficient gasoline-powered generator, which stretches the range considerably. In typical driving, the hybrid Aptera may achieve over 300 miles per gallon, a range far beyond any other passenger vehicle available today.
The Aptera Typ-1 also offers features that typically are not found on any vehicle, much less a hybrid or all-electric model. Solar cells embedded under the roof operate an always-on climate control system, ensuring the interior never gets too hot or too cold. The dashboard display and infotainment system is controlled by an in-vehicle computer, which also controls the ?Eyes Forward? vision system. By replacing the side mirrors with embedded cameras that display a 180-degree rear view in the front of the instrument panel, Eyes Forward gives the driver complete situational awareness without taking their eyes off of the road.
Other standard features include:
* Driver and passenger side airbags

* Energy absorbing and impact deflecting passenger safety cell

* Advanced drive computer with GPS navigation, CD/MP3/DVD player, XM satellite radio

* Large rear view camera and complete vehicle diagnostic system

* LED interior and exterior lighting for maximum energy efficiency

* An RFID (Radio Frequency ID) ? an automatic identification method so a driver never has to pull out their keys to enter or start their Aptera

* USB port for powering a laptop or charging an MP3 player and other mobile devices
Fully refundable reservation deposits of $500 are now being accepted from California residents on the Aptera website (http://www.aptera.com). The company will initially deliver vehicles in Southern California, then in northern California and to other regions nationwide.
Initial response has been tremendous; validating our belief that future-minded consumers want a vehicle that is sleek, safe, eco-conscious and affordable. Through word-of-mouth alone, we?ve already received more than 400 pre-sale deposits,? added Fambro.
Aptera is backed by Idealab and Esenjay Investments with initial financing allocated to building the Typ-1 all-electric and plug-in hybrid prototypes. Aptera is currently raising additional capital to begin manufacturing.
About Aptera
Aptera, Greek for ?Wingless Flight,? delivers on its name with a radically different vehicle designed to marry advanced aerodynamics with light-weight composite technology to create an incredibly powerful, yet extremely safe vehicle that is a joy to drive. The Aptera Typ-1 will be available in all-electric and hybrid models for less than $30,000. The all-electric model has a range of about 120 miles. The plug-in series hybrid has achieved more than 300 miles per gallon with a range of more than 600 miles. Both versions are loaded with safety features. Aptera is backed by Idealab and Esenjay Petroleum and is headquartered in Carlsbad, California. www.aptera.com