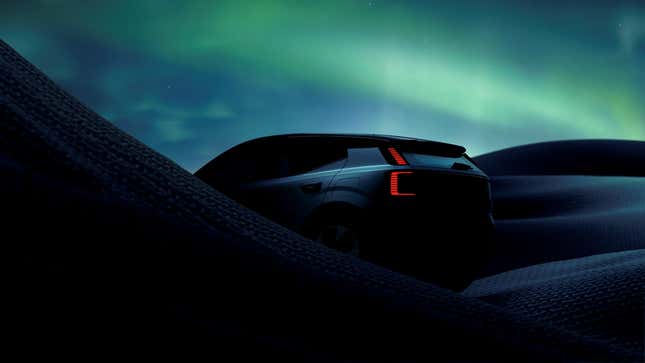 The EX30, Volvo's imminent compact, electric SUV, will attempt to do what no Volvo has before: attract driving teens and 20-somethings. Ostensibly through a subscription model because how else are the youths to afford a new car, especially a Volvo, in 2023? The interior sure does look pretty though, in that classically thoughtful-but-discreet-about-it way that Scandinavian-designed things typically do, and that's what we're gathered here to discuss today.
Volvo's shared the first image of the EX30's interior ahead of the car's full reveal on June 7. Two things immediately jump out. First, yes — that is a giant Harman Kardon soundbar extending across the entirety of the dashboard, where the interior meets the windshield. That means it's at least three times the width of the soundbar I have underneath my TV. And second, Volvo has indeed gone for the vertical-iPad-grafted-to-the-dash approach to infotainment, a growing trend.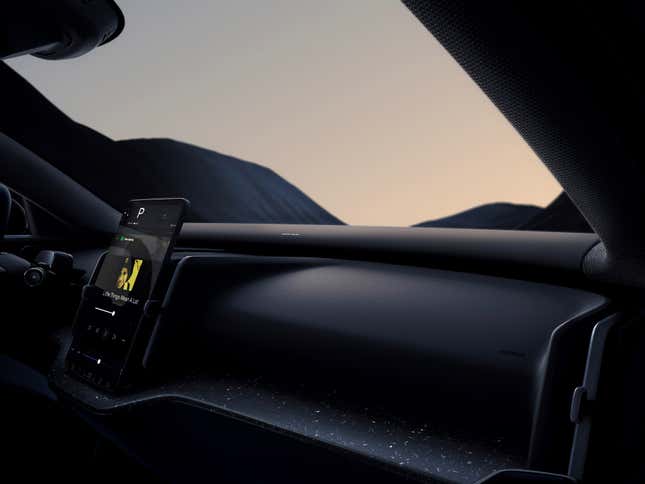 Normally, I'm not much for this look. There's a trend with certain luxury makes now where less is advertised as more, and it kind of falls apart if you consider even for a second, once again, how much the average new car costs. I, too, would like some physical buttons. Here's the thing though: the EX30 is intended to be the entry point for Volvo's electric range, and in the interest of keeping costs down, I somewhat understand the minimalism. I'm also frankly smitten with the speckled material of the lower dash, which looks a little like granite but is recycled and seems to have a soft-touch sheen to it.
As with all current Volvos, the infotainment system runs on the brand's customized version of Google's Android Automotive operating system. It looks nice, but impressions from those who have used it and its Polestar-themed cousin are mixed, so hopefully improvements have been made.
But back to the soundbar, because it is somewhat clever. Stashing all of the speakers in that strip makes wiring simpler and also returns some storage space to occupants, as the company explains:
The soundbar is a great instance of smart design, by clustering speakers together within one component and reducing the amount of wiring and material. At first you might not even notice it, located under the windshield and seamlessly integrated into the cockpit design. But with no need for speakers in the doors, we can give you a lot more storage space. In the same vein, we've moved the window switches to the center console, easy to reach for both driver and passenger.
How will it sound? You'd assume worse with the drivers all in a row like that, though modern 3D audio post-processing can do a lot with a given space, if tuned correctly. Volvo's also proud of its center console design, which incorporates a sliding design with pop-out cupholders and not one but two possible places to put your smartphone. Also, the window switches are both in the middle.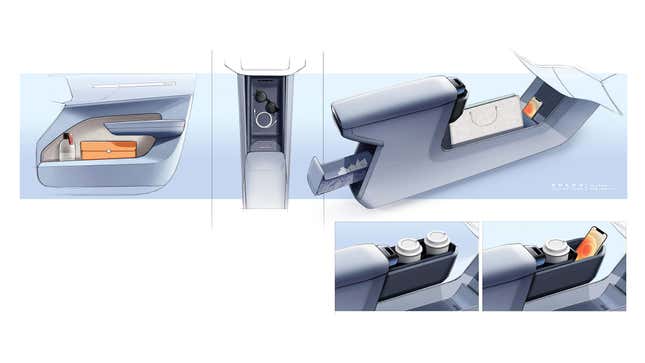 The tailgate contains a "handy size guide," per the release, which Volvo says is useful for measuring out "flat-pack furniture," further driving home the theme of Swedish pride. It's unclear exactly what form this guide takes — if it's a glorified ruler etched into the plastic or floor or what — but it sounds like a win for practicality. This is the final teaser before we see the EX30 in full next week, so let's hope the interior is jam packed with even more useful eccentricities. Just like Ikea furniture.