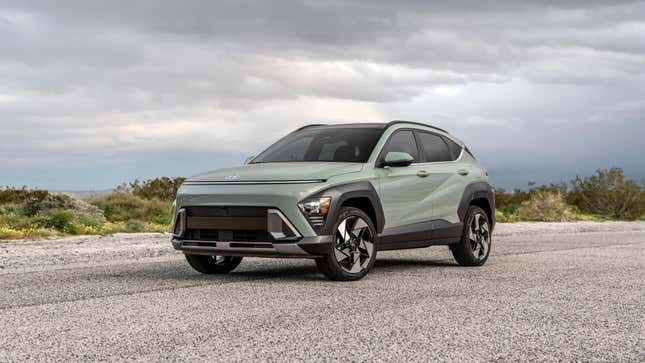 Hyundai wants you to pay for stuff ahead of time while you're still in your vehicle. While that may not sound so far fetched given techy payment options like Apple Pay, Hyundai could be onto something. Maybe. That's why Hyundai is going ahead with the launch of its new in-car payment system called Hyundai Pay.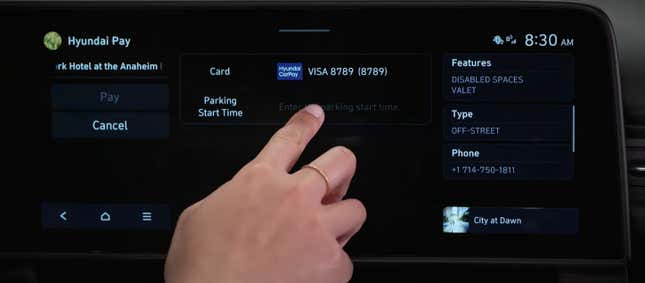 Hyundai Pay will be available on the all-new 2024 Hyundai Kona. Drivers will be able to store their card information and pay for things by using the center touchscreen. The first service available to be used with the payment system is something called Parkopedia. It's a service that allows users to reserve and pay for parking spaces at over 6,000 locations.

Hyundai says this partnership between Hyundai Pay and Parkopedia will remove "the stress of finding and paying for off-street garage parking, with on-street curbside services to be provided in a future update." Drivers will also be able to use Hyundai's Bluelink telematics system to use Hyundai Pay as well.

Hyundai's vice president of product planning and mobility strategy Olabisi Boyle said Hyundai Pay will elevate the customer experience. "With Hyundai Pay's scalable e-commerce platform, we can elevate customer convenience and extend their digital reach by making every day needs — like finding and paying for parking — easier, swifter and safer via our connected-car, integrated-cockpit and secure-transaction technology."

Hyundai Pay will expand to nine Hyundai models and will grow to include EV-specific services and features as well as other services that can be paid for, the brand says. It'll also have features like payment options built into navigation routes. And for anyone worried this all isn't secure, Hyundai says Hyundai Pay uses tokenization which uses unique digital tokens for transactions to keep data secure. Whether or not that's actually going to work is something we'll have to wait to find out.

If all of this looks familiar to you, it should, and it's a gamble for Hyundai. I'm sure that subscription-based features will soon find their way into this payment platform, something that most buyers have said multiple times that they don't want. GM also tried and failed when it attempted to do something similar with its in-vehicle marketplace. But with the advent of subscription based features, expect Hyundai to do anything they can to make this digital payment platform work.