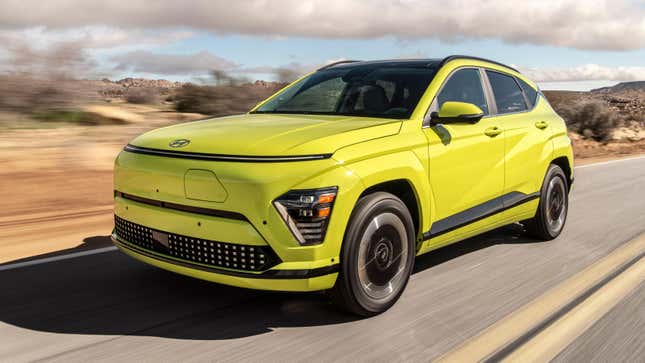 Last month, Hyundai revealed specs on the 2024 Kona Electric, and at the time, the press release said the long-range version would have more than 300 miles of range. But that was on the European test cycle. Because the EPA is more conservative in its estimates than Europe is, we did some quick back-of-the-napkin math and guessed that when the range was announced for the U.S., it would be more like 260 miles. Turns out, we were right on the money.
At the New York International Auto Show this week, Hyundai finally released the U.S. specs for the Kona Electric. The version with the most power and the longest range will make 201 hp and 188 lb-ft of torque, and Hyundai says the 64.8-kWh battery should be good for 260 miles on a single charge (EPA numbers have not yet been reported). But if you're willing to sacrifice range to presumably save a little money, there's also going to be a less-powerful version that makes 133 hp and 188 lb-ft of torque. That version comes with a smaller 48.6-kWh battery that Hyundai says will give you 197 miles of range. Both will be front-wheel-drive only.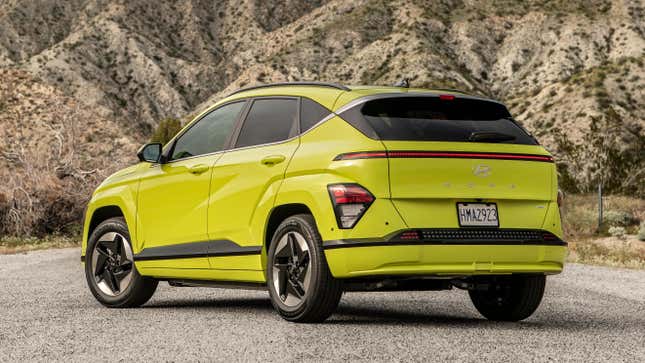 So the Kona EV isn't something you'll want to take on long road trips, but it should make a solid daily-driver. And the long-range version beats other popular semi-affordable EVs, like the Chevrolet Bolt EUV with 247 miles of range, or the Nissan Leaf SV with 212 miles. Hyundai also estimates that with 400-volt fast-charging you'll be able to recharge from 10 to 80 percent in a little less than 45 minutes. Oh, and the Kona EV also gets one-pedal driving.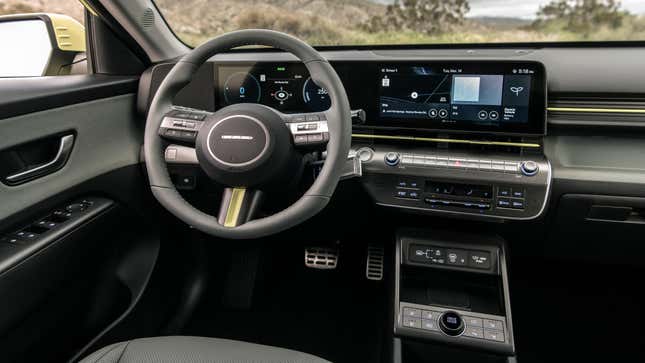 The Kona isn't electric-only, though. If you like the Kona but don't want an EV, there will also be two internal-combustion engine options. You'll be able to pick between a 2.0-liter four-cylinder that makes 147 hp and 132 lb-ft of torque, or a 1.6-liter turbo four-cylinder good for 190 hp and 195 lb-ft. And while the base engine uses a CVT, the turbo is paired with a more traditional eight-speed automatic. And unlike the electric version, all-wheel drive will be optional on gasoline-powered Konas.
Sadly, at least for now, there's no new Kona N. You'll still be able to order an N-Line version, but that's essentially just an appearance package. Pricing also has yet to be announced, but we shouldn't have to wait long to learn that. Hyundai says the gas version will go on sale this summer, and the electric version will be available later this fall.