Readers of Jalopnik, I want you to join me for a brief thought experiment. I want you to ask yourself: how much car do I really need? I want you to emphasize the "need" and ignore all the things you might want but could do without. Strip away the excess horsepower, the excess space, and the excess options. I can guarantee that most of us, if we're being honest with ourselves, will end up with a vehicle pretty damn similar to the 2024 Chevrolet Trax — an economy SUV I had the pleasure of driving last month.
Let me run you through the specs quickly: I had the 2024 Chevy Trax Activ, which is the top-of-the-line trim. A base model Trax starts at around $21,500, but the Activ trim kicks off at just under $25,000. With $1,940 in options (in the form of the sunroof package, 'driver confidence package,' and zesty paint job) and a $1,095 destination fee, my test vehicle clocked in at $26,935.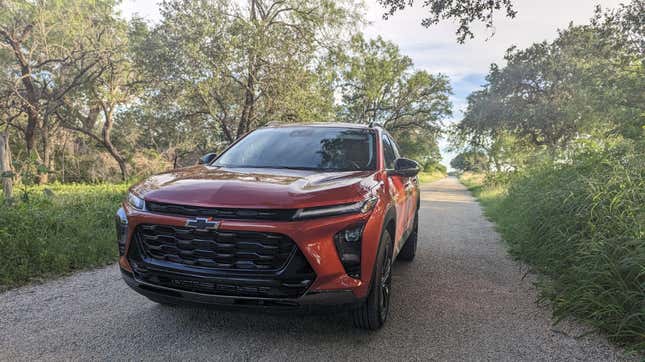 Maybe it's the "grew up poor in Michigan" in me, but I generally find myself supremely out of my depth in luxury cars. I swapped out an Alfa Romeo Stelvio for my Chevy Trax, and getting in the cockpit of the domestic crossover was like a breath of fresh air. It was simple. It was relaxed. I didn't have to navigate through countless infotainment menus hoping to find the setting I needed to direct airflow; it was a quick turn of a knob and a press of a button. I turned heads largely thanks to the Cayenne Orange paint job, but no one was assuming things about me because of the the badge on the trunk.
Our intrepid reporter José Rodriguez Jr. tested the Trax before I had my press car, and I'll leave it to him to give you more details about the crossover's big refresh and share his impressions. But I do have some more to add, since I had my loan vehicle for about six more days than he had his first-drive machine.
I put the 2024 Trax through the Elizabeth Blackstock paces, which is to say I took it for a cruise on some of rural Texas' most poorly maintained roads, loaded it up with groceries, squeezed it into a parking lot in downtown San Antonio, left it at the airport, and asked everyone in my entire life to ride with me so I could get their thoughts. And I was impressed.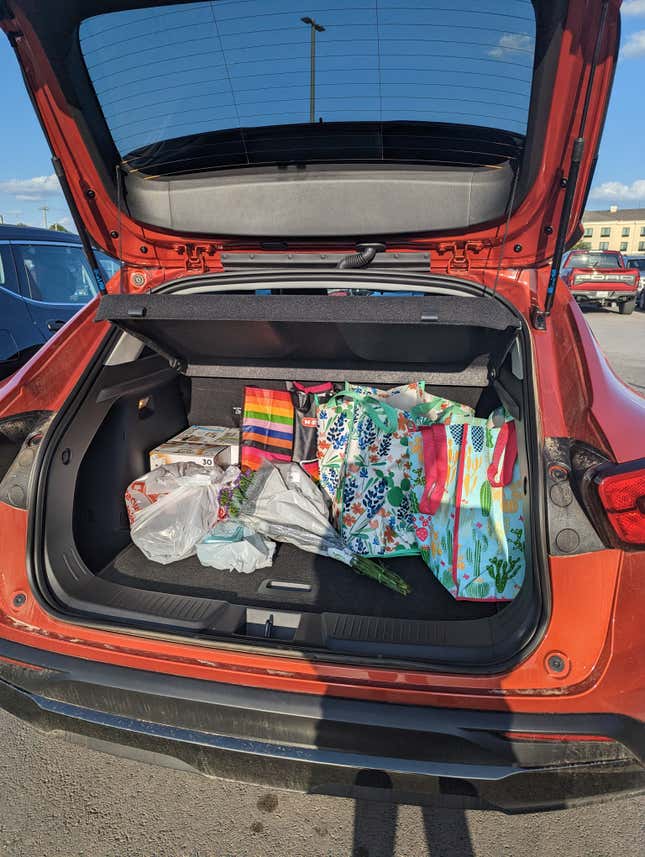 I love the auto industry's wholehearted commitment to innovation on all fronts, but I have to be honest: it's so nice to get behind the wheel of something that feels familiar and intuitive. The first 90 minutes I spend with any press car is spent getting a sense of it before I even press the throttle. Can I connect Android Auto with ease? Can I find the climate controls, or do I need to hunt down a menu for that? Is the infotainment system jam-packed with menus and submenus and layers and screens? Can I navigate through my options and return back home in a pinch? Do I even know what some of these automaker-specific feature names even mean?
Depending on the vehicle, all of the above can be a little tedious, and I almost always talk my husband through it out loud to get a feel for the car and its controls. I've learned that actually speaking these cues to myself (i.e. "the temperature is controlled by a knob, but the fan is controlled by those buttons underneath it; I'm still not sure how to change over from heating to cooling") helps me make a mental map. And sometimes, even that isn't enough.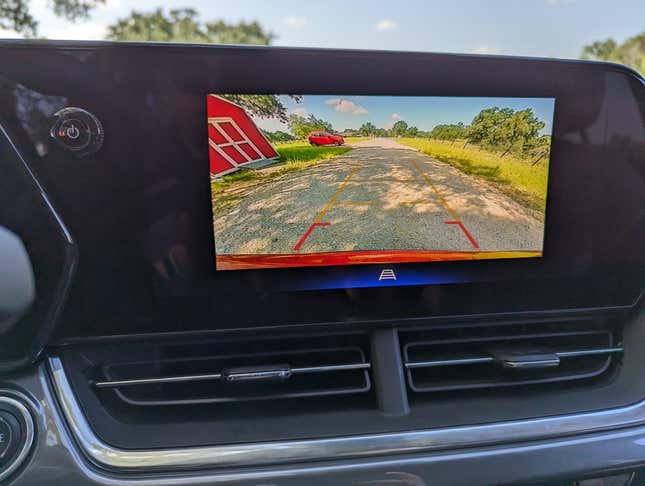 The Trax, though, isn't fussy. Within five minutes of getting behind the wheel, I felt confident that muscle memory alone would enable me to take care of any business I'd need to take care of while driving. Part of that is, of course, because I've reviewed my fair share of General Motors products, so I've seen how the controls and screen menus have evolved — but that's why I like to ask my family or my neighbors to come for a cruise. If they can figure out the controls without much struggle, I can feel confident saying others can do the same.
And that was the case here. My neighbors quickly came to grips with the technology despite being a Ford-only family. My parents were able to do the same despite learning the nuance of infotainment systems in Toyotas. The interior felt a little cheap to everyone, but when I told them the price, my test subjects changed their opinion and felt that it was more in line with their expectations.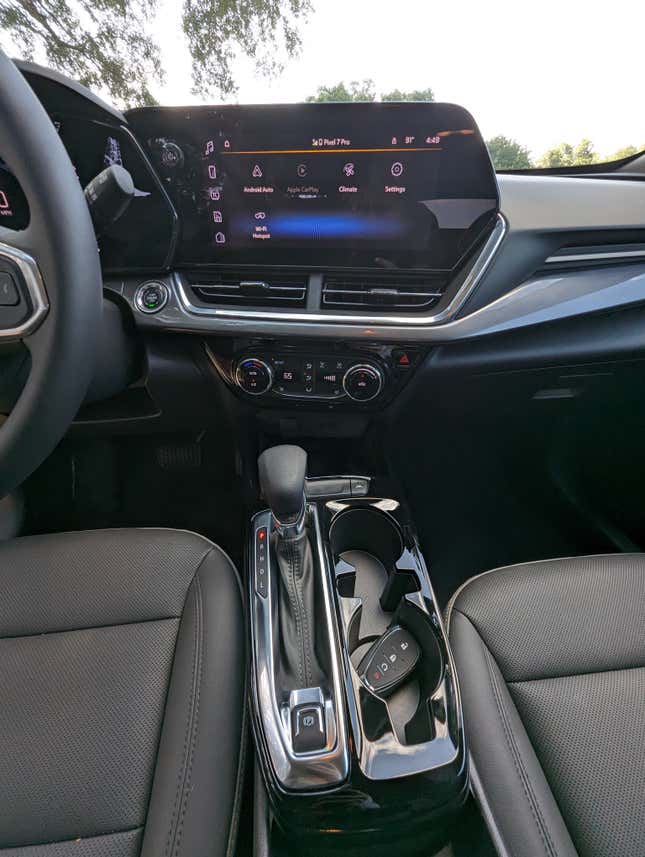 When I was driving it, too, I was pretty content. Was it the greatest ride of my life? No. But it was pretty damn good. The seating position was low enough that it felt like I was driving a car (which is a welcome change for someone as short as me simply trying to exist in this era of massive SUVs). On rough rural roads, the Trax was softly sprung enough to absorb many of the gnarly potholes and bumpy surfaces, but I also felt like I had full control when I was taking a tight turn on the highway. I had enough safety technology, like lane keep assist and automatic braking, to feel well protected, but I also wasn't flipping through countless screens to figure out how to activate some weird-ass form of climate control. I was a little sad giving the Trax back to the fleet company, it was just a perfectly sound all-around daily driver that was also pretty fun.
A few weeks ago, a UK survey noted that brand loyalty is dropping rapidly as consumers begin to see cars more as "white goods," like dishwashers and refrigerators, than coveted brand-name objects. People just need a car, so they buy one that fits their needs and budget.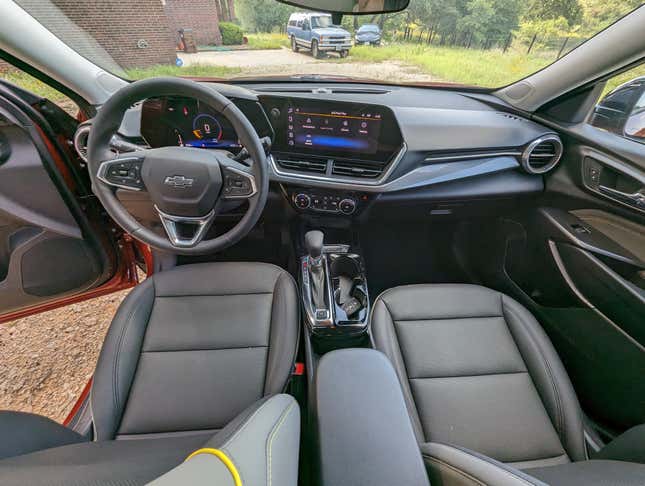 It's probably sacrilege for an automotive journalist to admit it, but I put a lot of credence in that mindset. Yes, I've spent my money on some "fun" cars, but my primary motivation has been functionality. I needed a small car to park in Austin, TX, so I bought a Mazda 2. I needed something capable of hauling shit and letting me live out of it, so I bought a Chevy Suburban. I needed a way to learn stick on my own time, so I bought a Pontiac Firebird. I let aesthetic taste and driving joy guide my ultimate purchase, but I was, primarily, looking for function within a budget. There's nothing wrong with that.
And that's exactly what I love about the 2024 Chevy Trax. It's a great vehicle for highway cruising, and it's also going to get you through bumpy dirt roads with ease. It would make a great commuter car, or a shuttle for trucking the kids to school, or a spacious-but-compact vehicle for anyone who finds themselves hauling things like luggage or sports equipment.
Sure, it might not be luxurious enough to detect your mood based on your body temperature. It might not be the best off-roader you've ever seen. It might not be decked out in innumerable, loaded screens designed to monopolize the full attention of your passengers. But for $26,935, the Chevy Trax is a damn good car — and there's no shame in wanting nothing more than that.