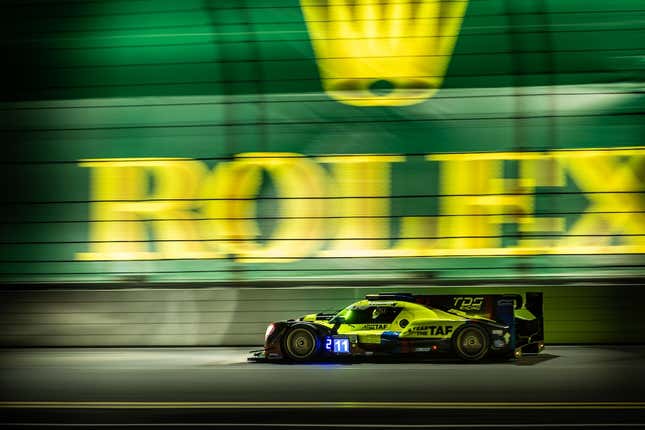 I love racing. I grew up around vintage sports car racing, going to events with my dad, who managed radios for the corner workers and other track personnel. That love of vintage racing never went away, but it grew to include modern GT and prototype series. I've been lucky enough to see big-time races at places like Laguna Seca and Long Beach, but I had yet to check a 24-hour race off my bucket list. That finally changed last weekend, when I went to the 2023 Rolex 24 at Daytona.
Top Gear America Sneak Peek: Dax Drives a McLaren 765LT
The idea of a 24-hour race is fascinating. Not only do you have to build a race car that can withstand a full day of running at peak performance, but you have to get a team of drivers to work together with pit crews and engineers. You have to deal with changing weather and track conditions, daylight and nighttime, as well as a full field of other drivers. The intensity of a 24-hour race cannot be understated.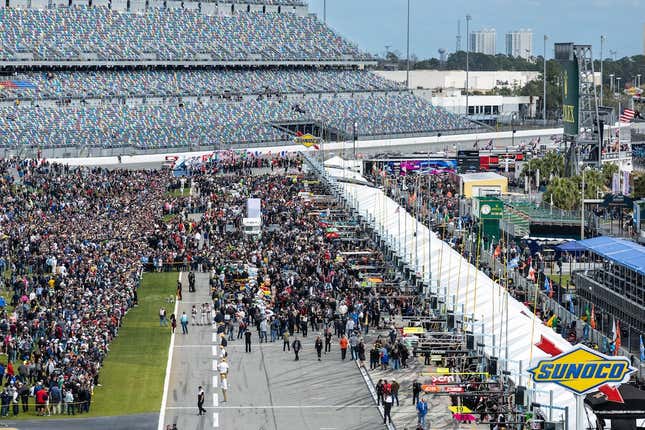 I went to the Daytona 24 with Rolex, which has been the title sponsor of the race since 1992, and has served as the official timekeeper of the Daytona International Speedway since 1962, predating the 24-hour event. One of Rolex's most beloved watches is named after this race (though it predates the 24 by three years), and the company gives out the now-unobtanium watches as prizes for the event's class winners.

G/O Media may get a commission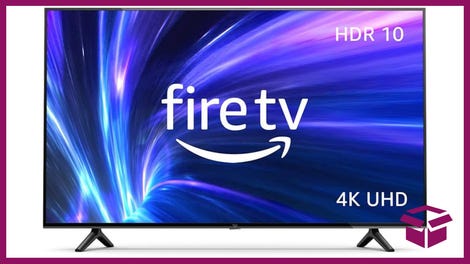 42% Off
Amazon Fire TV 50" 4K Smart TV
Now, I enjoy racing, but it's not something that I typically watch on TV. There's a marked difference being there in person, seeing/hearing/smelling the cars, the sights and the sounds. The racing action is generally less interesting in person, given your lack of ability to see the entire track, but for me, my interest in the sport has always been about the engineering behind it and, indeed, the vibes.
Pre-Race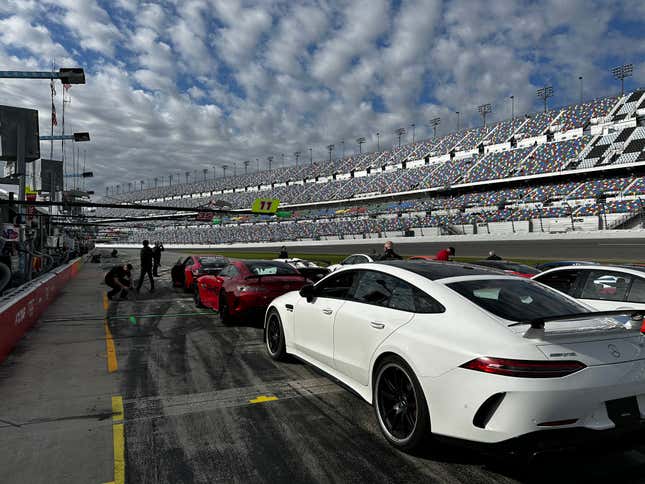 The Rolex 24 doesn't start until the early afternoon – 1:40 p.m. ET, to be specific – so there's a lot of time to kill on the first day. Rolex set up a few incredible experiences to get things started, including a passenger hot lap around the circuit in one of a handful of very fast cars. Being a colossal Porsche nerd, I basically sprinted to ride shotgun in a 911, and I was ready to throw elbows had anyone tried to snake it out from under me.
Being driven around a world-class race track by a professional driver is a blast, but doing it in your favorite car is even better. It also showcased the almost unreal capability of the new Porsche 911 Carrera GTS. It's always said that nothing leaves a corner like a Porsche 911, and that's even more evident on a race track. The forces exerted on my body as the driver matted the throttle leaving a corner or standing on the 911's incredible brakes as we slowed for a chicane were violent, but I found myself laughing the entire time. Being a passenger in a fast car where the driver is both skilled and has zero mechanical sympathies is something I highly recommend.

Even cooler than that was my chance to walk through the pits with iconic racing driver (and super nice guy) Hurley Haywood. If you're not familiar with Hurley, he's got the most overall wins at the Rolex 24 at Daytona (five, to be specific), three overall wins at Le Mans and two at the 12 Hours of Sebring. The man is a legend, and hearing him talk about the demands the new prototype cars put on their drivers was fascinating.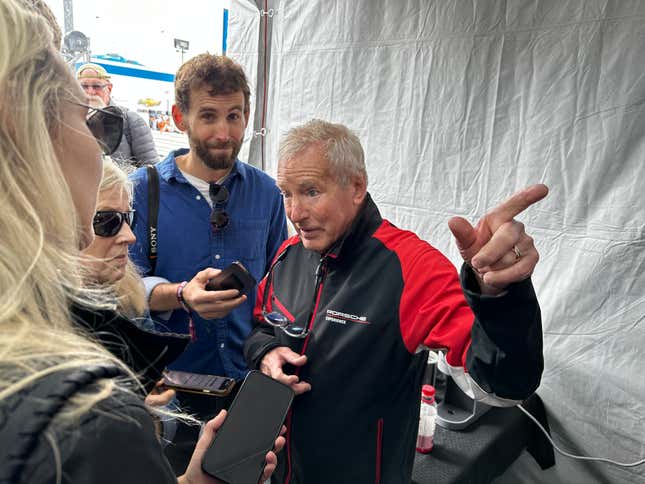 He talked about the number of screens, buttons and knobs inside the car, how the drivers are in constant contact with the pits and how he wouldn't feel comfortable racing one. Mind you, this was coming from a man for whom safety equipment included little more than an open-face helmet and fire-resistant balaclava, and who raced cars that were little more than a gas tank with a roll cage and wheels.

Go Time
Once a 24-hour race starts, it turns out there's plenty of time to kill. So for me, that meant finding new and interesting places from which to watch the race. My home base was the Champions Club, which is very near the Rolex arch leading out to pit row. After hanging out here for a bit, I posted up by the Le Mans Chicane, aka the "bus stop" at the end of the back straight before you get to the second banked section, aka turns 7 and 7A.
While it's a haul through the infield and outside the track to get to the little lot at the chicane, it's worth it. Here, I got a view of the cars coming in from the back straight, hauling themselves down from speeds of more than 180 mph, maneuvering through the bus stop and roaring out onto the track's banking. People can camp here, which is awesome, and takes you away from the much more packed infield camping, though trying to catch some sleep anywhere while a 24-hour race is happening around you seems like a futile effort.
The vibe totally changes as the sun sets, and night racing is a huge draw for a 24-hour event. I've been watching videos and television coverage and ogling photos of glowing brake discs and brightly lit race cars pounding around Daytona for decades, and seeing it in person was an incredible experience. It makes me want to experience the 24 Hours of Le Mans and the Nurburgring 24 even more.

Some folks go for the gold and stay up all night to watch the race, but more often than not, people retreat to their hotels for a few hours of shut-eye. When I returned to the track the next morning, It was surreal to see the cars still going, knowing this was still the same race I'd been watching the day before. Everything and everyone looked a little worse for wear, but beyond that, a new sense of excitement was building as the clock wound down. The various team strategies began to make themselves known, with the leaders trying to keep the cars together and away from traffic, while the backmarkers started to take more risks to improve their positions.
Heading up into the grandstands for the first time revealed an almost complete view of Daytona International Speedway, making the whole experience seem more like a video game than something I was watching live. But that still wasn't the best view of the race.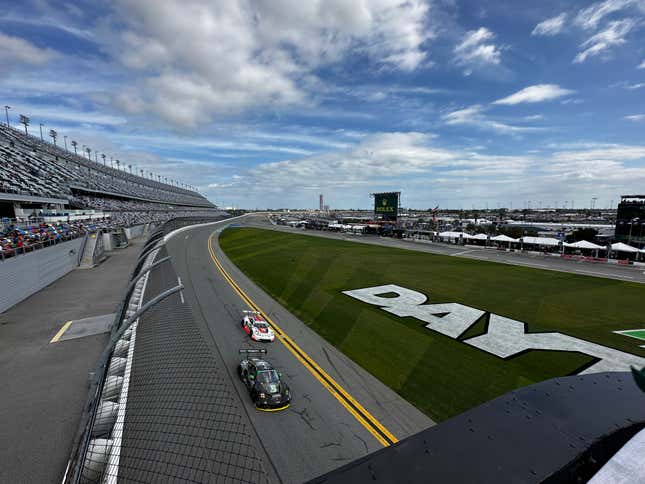 When Rolex told me I could watch the action from the starting stand, I kind of lost my mind. This is the sort of thing that I've always dreamed of doing but never thought would happen. Climbing the ladder to watch the race next to the flaggers (after being told to take off my red and black flannel overshirt, for obvious reasons) felt like the culmination of so many things, both personal and professional. Feeling the race cars thunder by underneath my feet and hearing their exhaust notes echo off the banking wall is something I'll keep with me forever.

The rest of the morning was a blur of visiting friends and drinking mimosas while laughing, half-watching the race, and, weirdly, playing Jenga. That camaraderie is among the best things about attending races for me. While my weekend was fairly busy with amazing activities, having time to bullshit with friends and colleagues felt important, and the backdrop of world-class racing made it all better.
Checkered Flag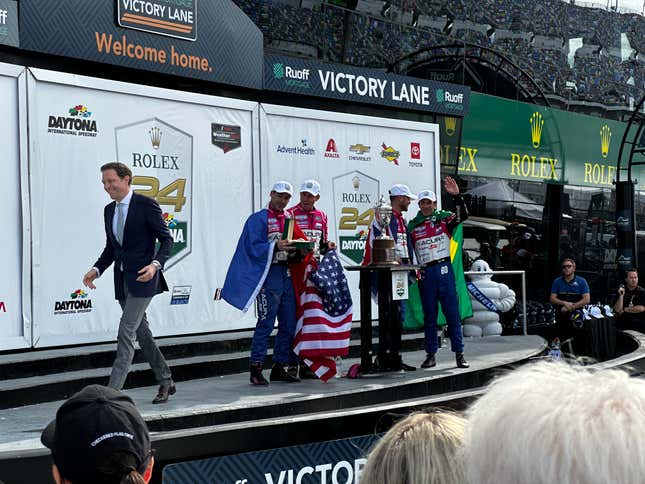 I watched the last part of the race from the Champions Club, and feeling the tension build as the clock showed just 1 minute remaining, then 30 seconds, then 10 seconds was incredible. Finally, seeing the checkered flag wave from the place I'd been standing only hours before was exhilarating.
Less exhilarating was the whole victory-lane rigamarole. It's interminably long, and you're watching drivers change hats repeatedly, spraying champagne everywhere that bakes in the afternoon sun, smelling awful. Seeing the winners presented with their watches, though, was a pretty special thing, especially if they've never won at Daytona. Watching their faces as they looked down at a watch that you can only get by winning was amazing. Those drivers were now part of a very special club, one that includes members like Hurley Haywood, Scott Pruitt, Peter Gregg and Ken Miles. That has to be a heavy experience.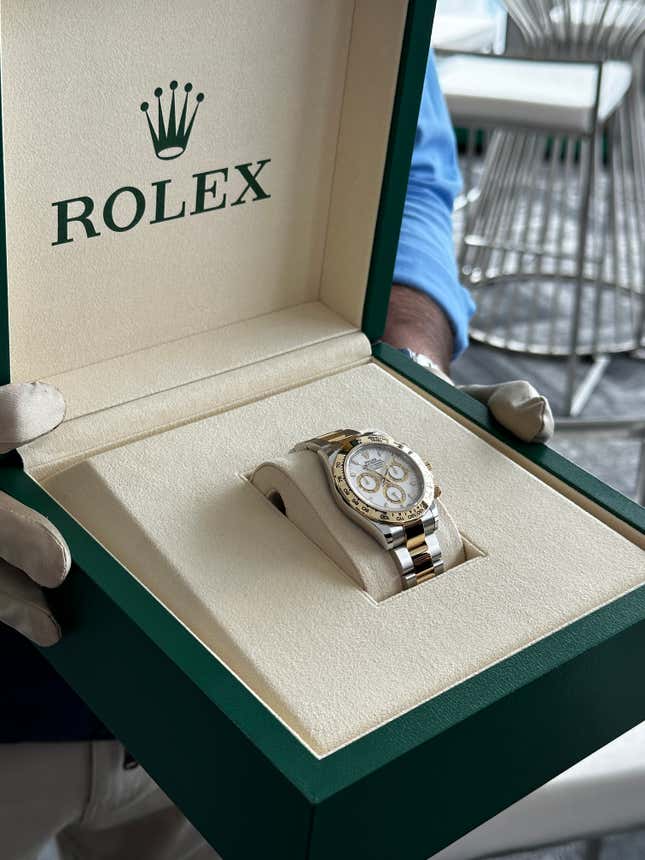 Imagine what it's like to be one of those drivers, in a howling, vibrating carbon-fiber coffin for lap after lap in the dead of night. Knowing that at any time something could happen, whether it's a slight error in your driving or someone else's. Imagine the stress of knowing that if a tiny part fails it can either cause a crash or make the car die. Imagine hoping you'll make it 'til the end of your stint and that nothing happens when the next driver takes over. Imagine making it through the night and the morning to the final seconds of the race, then standing on the winners' podium knowing you're about to take one of those watches home.

Attending a 24-hour race is incredible. Actually winning one has to be a hell of a feeling.