When I told my parents that I'd happily play chauffeur for a weekend in exchange for their unflinching thoughts on a press car, they grimaced, because they knew what I was driving: a hated Jeep. My stepdad seemed so miserable about the prospect that I wasn't even sure he'd deign to get in the damn thing. But by the end of the weekend, he was asking me what he'd have to pay if he wanted this exact vehicle. That's because I was driving a 2023 Jeep Grand Cherokee L.
A little backstory: When my brother graduated high school and was preparing for college, he got a Jeep Wrangler. He intentionally bought a shitty one because, per his reasoning, he wanted something he could tinker with. As you might already have guessed, he was generally too busy to ever have time to tinker, and so that Wrangler sat abandoned in my parents' driveway as he commandeered one of their vehicles to drive to school. It took a considerable sum to get the thing into sellable shape — tasks that all fell to my parents. I couldn't blame them for holding onto their negative perception of Jeeps as expensive, unreliable and uncomfortable vehicles. Up until I showed them the Grand Cherokee L, that Wrangler was their only experience with the brand.
Full disclosure: Stellantis sent me this beautiful blue Jeep Grand Cherokee L to drive around in for a week. Of course, I decided to cart my family around in it. All opinions are my own.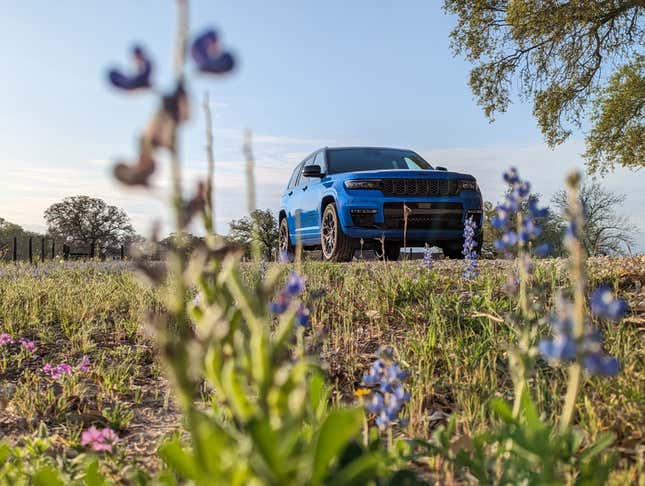 What Jeep Grand Cherokee L Was I Driving?
My family got the best Jeep experience you could imagine because I was driving the top-of-the-line Summit Reserve 4x4 trim. Not only that, it was loaded up with extra features like the optional Customer Preferred Package, which adds a screen for the front passenger, ventilated rear seats and swanky speakers for an additional $4,480. They were also impressed by some of the neat tech details, like the interior kid camera and a night vision screen on the driver's display that can help you detect animals in the dark — another $2,380. Combined with the Hydro Blue paint ($495), the High Altitude Package ($1,540), and Luxury Tech Group V ($420 for, literally, nothing but manual second row window shades), this Jeep had a final price of $76,820, which includes $1,795 for destination.
For that price, you'd definitely hope to be firmly within luxury SUV territory, and we absolutely were. My family hasn't shied away from purchasing mostly-new vehicles, but they're more likely to opt for a middle-of-the-line Toyota or Nissan; a swanky Jeep never would have crossed their radar. My mom just wants a decent car with three rows, and my stepdad wants something reliable but with a little bit of zip to make his drive to work more exciting. But
I think this experience taught them to appreciate the finer things in (automotive) life.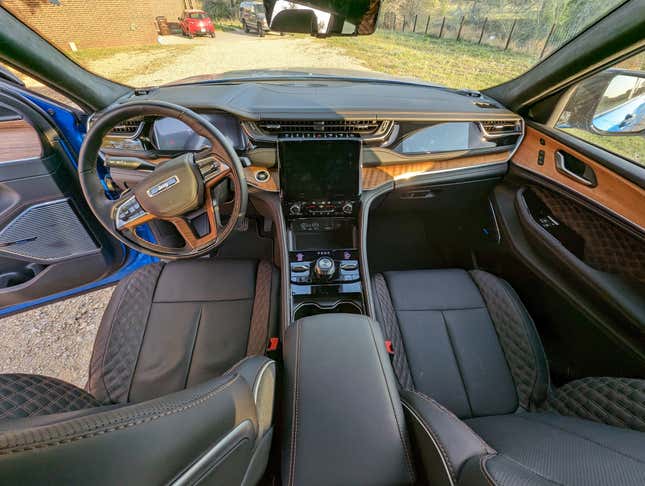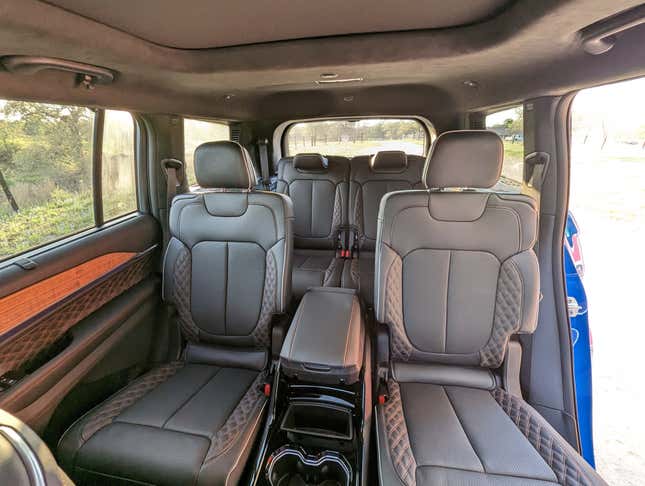 What Is the 2023 Jeep Grand Cherokee L?
The Jeep Grand Cherokee L is, at its core, a pretty solid three-row SUV that can be customized to suit your family's needs. If you just need legroom and aren't terribly bothered by amenities, the Laredo package starts at just over $44,000 with delivery fees included. If you want to ride in style and have the money to spend, bump on up to the Summit Reserve trim and luxuriate in all your options. And if you're reading this review and thinking that you don't really need that third row, never fear — if you drop the L and opt instead for a standard Grand Cherokee, you'll find a similarly equipped machine with just two rows.
We've reviewed the Jeep Grand Cherokee L before on Jalopnik, and there have been very few changes since the all-new model was introduced in 2021.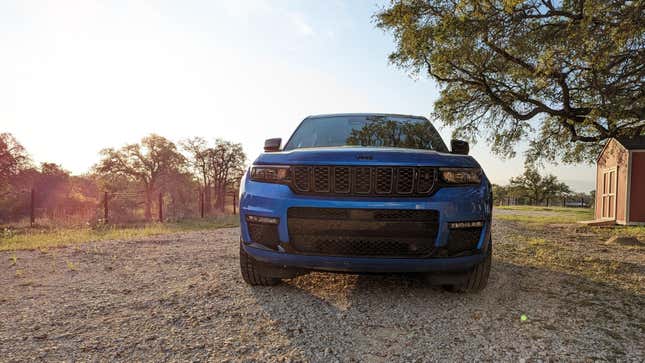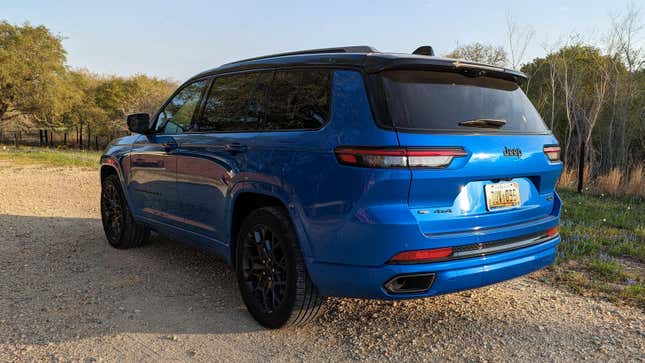 What's Good About the 2023 Jeep Grand Cherokee L?
The Grand Cherokee L felt like it bridged the gap between a conventional SUV and one from a luxury manufacturer. My mom praised the family-friendliness of the Jeep Grand Cherokee L, noting that she would have loved to have a camera that could peer into the third row when she was regularly toting around hordes of children. She liked that the adjustable air suspension meant she could lower the vehicle to give her easier access to hypothetical car seats in the second row (or to just climb into the vehicle in general). She also appreciated that the second row had its own climate control system and a ton of different ways to charge devices: two USB ports, two USB-C ports, and one outlet plug.
My sister, meanwhile, is hypersensitive to changes in temperature, so she was immensely thankful for the ability to turn on the "breezy" ventilated seats in the second row after spending some time walking around in the sunshine — only to immediately be able to swap to the heated seat once she got cold. She's also one of those kids who sneezes every time the sun touches her, so having a screen in the back to shade the windows came in handy. (It also allegedly made her feel like a celebrity, which I presume to be a good thing.)
And then there was my stepdad, who was bowled over by so many different elements of the SUV but especially loved some of the smaller touches. The wireless charger actually fit and successfully charged his phone, case and all. He fawned over the illuminated cup holders and door handles, and the way that the headlights also project beams to the side of the vehicle when you're turning. He enjoyed the dedicated front passenger screen (which has a privacy tint to it so that I couldn't even see that the screen had been turned on), and he was especially jazzed about the fact that his seat was both heated and equipped with a massage function. I had to let him sit in the driveway with the SUV running just to let him get his fill of that comfy seat after we had come home from rock climbing.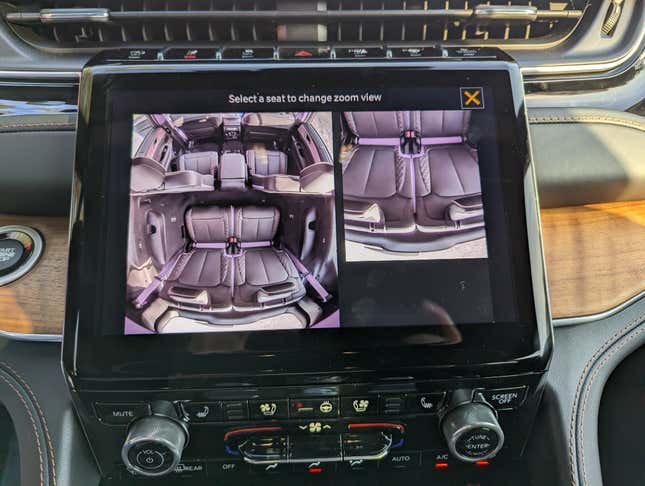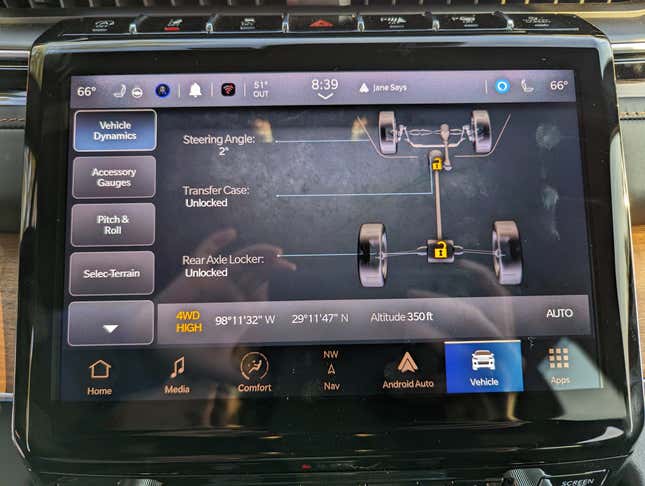 How Does the 2023 Jeep Grand Cherokee L Drive?
I had a Jeep Grand Cherokee L with the 3.6-liter Pentastar V6 engine that puts out 293 hp and 260 lb-ft of torque. Tasked with moving 5,086 pounds of SUV, the V6 unfortunately makes for mediocre acceleration. The V6 engine also limits the Grand Cherokee L's towing capacity to 6,000 pounds compared to 7,200 pounds if you opt for Jeep's more powerful V8.
But in terms of actual driving dynamics, I was mostly impressed. The optional air suspension improved an already comfortable drive by soaking up all the bumps and rumbles of an unpaved rural road. My mom particularly oohed and ahhed as I crossed through a notoriously obnoxious highway construction zone. She told me that she's used to that section of road "trying to grab the steering wheel" from her hands thanks to the deep ruts and chunked-out asphalt. As a passenger in the Jeep, she said she felt assured of the vehicle's stability. The air suspension isn't going to make those ruts disappear, but it's not going to rattle your teeth quite as badly.
Another win: My stepsister, who is overly prone to motion sickness, said the Jeep "didn't make me want to throw up." High praise, indeed.
As far as regular ol' highway cruising, the Jeep is great at that as well. The steering is responsive, stable and precise. The pedals are comfortably firm, where it takes a little pressure to get them moving without it feeling like you're in the throes of a leg workout at the gym – though I'll note the brakes themselves aren't that strong, and stopping this huge SUV takes longer than expected.
I was a little sad I didn't get a chance to take the Jeep Grand Cherokee L out for a more comprehensive off-road adventure, but I don't feel like it would be a reach to say it would have been a treat. My tester was outfitted with Jeep's Quadra-Trac II 4WD system, an electronic limited-slip differential and several different drive modes (sport, auto, snow, sand/mud, and rock). This Jeep also had 21-inch rims with standard all-season tires, which are the only option available for the Summit Reserve model. In the infotainment menu, you can monitor everything about your off-roading experience, from your steering angle to the pitch of the vehicle and even the altitude — all but guaranteeing you'll be ready to take on whatever life throws at you. If you're a more hardcore off-roader, you'll be a bit disappointed to know there's no Trailhawk trim for the Grand Cherokee L.
This is where that higher price tag justifies itself. This kind of do-it-all and customizable behavior just isn't present in, say, a Kia Telluride, and certainly not with the level of luxury you're getting inside the cabin.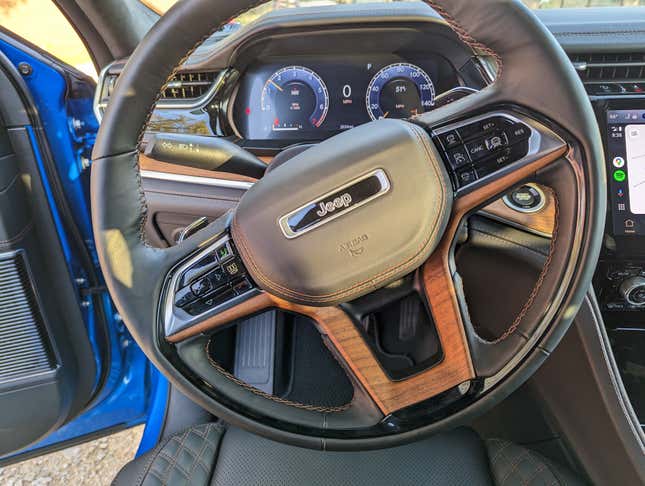 What Are the Downsides of the 2023 Jeep Grand Cherokee L?
My criticisms of this vehicle are pretty minimal, but I do think those problems seem magnified when you take the price into consideration. Yes, this is a great and luxurious SUV, but its $44,000 starting price sets it several thousand dollars above similarly equipped competition, like the $37,000 Kia Telluride or the $37,000 Ford Explorer. And I think it's pretty telling that when my family had a critique, it was almost always prefaced with, "If I'm paying this much money, I wish…"
For my mom, it was the complexity of the infotainment system and layout; she joked that the extra cost obviously wasn't being channeled into making the Jeep's layout more ergonomic. In her eyes, a luxury price should connote ease and simplicity when accessing things like climate control screens — something that she mentioned she found easier to do in the Kia Telluride she test drove before opting for her current Toyota.
For my stepdad, it was the sheer amount of stuff. Yes, he enjoyed the Jeep Grand Cherokee L, but when he sat in the driver's seat and imagined himself cruising down the road, he quickly pointed out that the cockpit almost felt cramped because the field of vision is limited. There's not much to be done about the massive hood and thick front pillars, but he was particularly put off by the radar and cameras that also vie for windshield space. In his mind, near-luxury pricing should come with more thought paid to visibility. He compared it to his desk; when my parents were furnishing their office, he opted for a cheaper desk than my mom because, as he put it, he lives in a constant state of disorganization, with stacks of papers and books all over the place. It wouldn't matter if he had a solid oak desk, then, if he maintained the organization level of a college kid left in charge of cleaning their own room for the first time. It would make more sense to buy a cheaper particle board desk from Ikea and use the extra funds to get my mom a desk that she's able to flaunt through meticulous organization.
I had my own critiques, too. There are plenty of buttons in this vehicle, but the layout doesn't always make sense. It took me a good four days before I figured out how to activate things like the passenger seat screen or the lane-keep assist feature because those buttons are laid out on an angle at the top of the infotainment screen, and I couldn't see them. I felt like I needed a booster seat to actually be able to tell what I was pressing. I mentioned the slow acceleration and long braking distance, and the fuel economy is also not super ideal (18 mpg city / 25 highway / 21 combined).
You can find vehicles with more intuitive settings and better fuel economy in the segment, but you will likely be compromising elsewhere.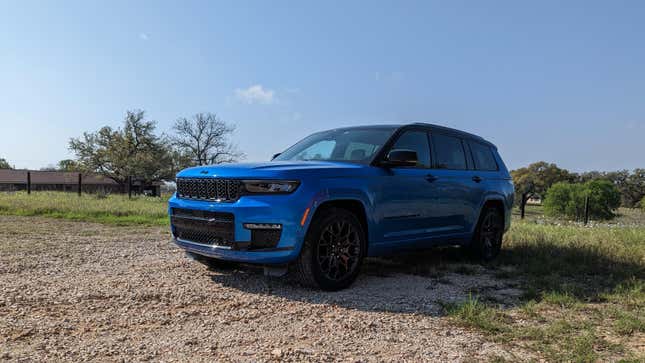 2023 Jeep Grand Cherokee L: The Verdict
My family just upgraded their vehicles last year, so there's no way they'll be splurging on a Jeep Grand Cherokee L any time soon — but it was fascinating to watch their perspective change. First, they were grimacing because they had to ride in a godforsaken Jeep. Then, they were grimacing because they had to wave goodbye to it as I pulled out of the driveway.
The Grand Cherokee L's price tag may be a little steep compared to its competitors, but it genuinely feels like a more expensive vehicle. It's a spacious luxury SUV that can transport a whole family in comfort and style, and it's just as capable of a highway cruise as it is a jaunt down a rough dirt road. The Jeep Grand Cherokee L was more than enough to change my family's deep-seated impression of an entire brand, and that alone made it a truly impressive vehicle.