More roadblocks to fully autonomous cars and robo-taxis, the story of Carlos Ghosn's arrest, Elon Musk is going to China eventually and more for this, the final Morning Shift of 2018. Let's get this over with, shall we?
1st Gear: More Reasons To Be Skeptical
CES is next week, and in many ways it's become more important than the Detroit Auto Show that follows it, because it's the big showcase of autonomous car technology from legacy players and startups alike. But even as the world learns to get real about autonomous cars, "the profit potential is too great and the existential threat too serious for carmakers and tech companies to give up," as this Bloomberg story puts it.
Still, here are more reasons to expect that 2019 won't bring any great revolution in driverless cars. For one, while the ride-hailing companies are rushing into the game because they're desperate to eliminate human labor costs, even conventional ridership isn't booming at present:
But a study from Deloitte suggests things will move more slowly than expected. Half of the 25,000 consumers Deloitte surveyed globally said they didn't believe autonomous vehicles would be safe, up slightly from 47 percent a year ago. Just 39 percent of them trust automakers to bring the technology to market. Most surprising: Only 12 percent of U.S. consumers reported using services such as Uber and Lyft once a week, half the rate of a year ago.
G/O Media may get a commission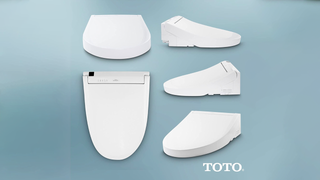 44% off
Toto Washlet Electronic Bidet Toilet Seat
Or how Google's Waymo is still only doing super-limited testing with human-monitored cars in Phoenix, or how Ford is waiting until 2021 to deploy its autonomous people and cargo-moving service, or how Uber is just now getting back to testing after the pedestrian fatality earlier this year.
Also, while there's that existential dread from car companies and tech companies—we had better do this because if we don't we could be left in the dust—there's an even bigger question of how this stuff is supposed to even make money. Again from Bloomberg:
As with the dot-com bust or other early hiccups for emerging technologies, the outstanding challenges aren't going to keep driverless cars off the roads forever. The profit potential is too great and the existential threat too serious for carmakers and tech companies to give up. Yet the present "trough of disillusionment" should prompt the industry to take a more realistic look at just how far off the driverless future may be, says Mike Ramsey, an automotive consultant with researcher Gartner Inc. "People have had this really unrealistic view of how fast this really groundbreaking technology can be implemented," he says. "It's going to be painfully slow."
In the meantime, perhaps we can all work to remind people that driving can be fun.
2nd Gear: How Carlos Ghosn Got Arrested

I still need to finish this story in full, but the New York Times has a big deep dive on the fall of Nissan-Renault boss Carlos Ghosn, including the story of how he was arrested in a surprise move by Japanese authorities.
Last month, just before Thanksgiving weekend, Mr. Ghosn headed to Tokyo to meet his youngest daughter and her boyfriend and attend a board meeting. He was scheduled to land at Haneda Airport at 4 p.m.

The daughter, Maya Ghosn, 26, had spent most of her childhood in Japan and wanted to introduce her boyfriend, Patrick, to her favorite places. Bringing a boyfriend home is a common rite of passage, but a particularly intimidating prospect when growing up Ghosn — a child of one of the most romanticized and ruthless chief executives the global business community has ever seen.

Ms. Ghosn had made a 7:30 dinner reservation at Jiro, the Michelin-starred sushi counter hidden in a basement in the city's Ginza district.

On the tarmac in Beirut, Lebanon, Mr. Ghosn opened WhatsApp and texted his four children on a group chain labeled "Game of Ghosns," for his favorite TV show, "Game of Thrones," the bloody HBO drama about dynasties under siege. "On my way to Tokyo! Love you guys!" Mr. Ghosn texted as his jet lifted off.

He never made it to dinner.

On Nov. 19, Japanese prosecutors surrounded Mr. Ghosn's Gulfstream after its arrival and arrested him on allegations that for years he had withheld millions of dollars in income from Nissan's financial filings.
Both of Ghosn's daughters say he's being treated pretty harshly in jail because he is a foreigner and that they believe he was taken down for trying to arrange a full merger between Nissan and Renault—something reportedly opposed by the Nissan camp and something that brought plenty of headaches on the French side too.
Also, there's apparently been a lot of gripes within Nissan for some time, including over the company's somewhat lackluster lineup and propensity for fleet sales:
One former executive, who spoke on the condition of anonymity, summed up the new sentiment spreading inside the company as "What have you done for us lately?"

Midway through a plan known as Power 88, which Mr. Ghosn unveiled to much fanfare in 2011, it became clear that Nissan would fall short of the ambitious targets he had set. He wanted Nissan to reach 8 percent profit margins and 8 percent market share in the countries where it operated. Dealers complained that they were losing money and that Mr. Ghosn's big incentives to buyers to meet his targets were eating into their margins. They also grumbled that Nissan was selling too many vehicles to rental companies that then would flood the secondary buyers' market.

"They would sell cars in any manner and in any way without any regard for what the long-term implications were," said Steve Kalafer, chief executive of a chain of auto dealerships in New Jersey. After 36 years of owning a Nissan dealership, Mr. Kalafer said, he sold it two years ago because he objected to Mr. Ghosn's policies.
None of that surprises me. Anyway, read the story here.
3rd Gear: Elon Gets Ready For China
One thing that's going to be a huge deal in 2019 is Tesla's Gigafactory 3 in Shanghai, which will help it establish a major foothold in the world's largest car market—and one on the verge of a major electric car revolution.

Via Bloomberg:
The China plant would be a significant milestone for the battery-car manufacturer as it pushes harder into the world's largest automobile market with its first factory outside U.S. The plant — dubbed Gigafactory 3 — will be the biggest foreign-invested manufacturing project in Shanghai. The Palo Alto, California-based company has secured more than 200 acres of land for the China factory, which is expected to cost several billion dollars to build.
4th Gear: How Japan Stays Ahead In Manufacturing
As you might expect on a Monday before the year ends, the news is pretty slow today. So take some time to read this insightful Automotive News piece on karakuri kaizen at Japan's automakers—the use of mechanical innovations to make manufacturing more efficient.
President Akio Toyoda is cracking down on cost like never before in what he calls a "life or death" struggle to ensure the company's future. In addition to cutting costs and improving efficiency, karakuri save energy, a key goal of Toyota's longer-term ambition to eliminate carbon dioxide emissions from manufacturing by 2050.

Crucially, they also help the automaker squeeze additional output from plants humming at top capacity, without costly investments in new lines, employees or equipment.

"Every little bit helps," said Norm Bafunno, senior vice president for powertrain manufacturing and engineering at Toyota Motor North America, who was trolling for ideas at the karakuri expo. "The competition is very strong, and our very survival depends on getting better every day."
Here's an example at Mazda:
For 22 years, the Japan Institute of Plant Maintenance has hosted an annual karakuri contest, handing out prizes across a swath of industries, from petrochemicals to metal-making. But the automakers and their suppliers rule the roost when it comes to creative karakuri.

Along the trim line of Mazda Motor Corp.'s assembly plant in Hiroshima, for instance, plastic tea and pop bottles filled with old bolts bob up and down alongside the conveyor. They act as jury-rigged counterweights that pull equipment back in place after use. By shaving just a few seconds on each car built, Mazda figures it saves ¥720,000 ($6,400) a year. That is not a lot in itself, but the effect is multiplied across dozens of different karakuri implemented throughout the company.

"Western automakers are more in favor of computers and electronics because it makes them look better, even though they don't always work better," said Christoph Roser, a professor of production management at Germany's Karlsruhe University of Applied Sciences and author of the blog AllAboutLean.com. "Karakuri, by definition, has no computers, so it's the exact opposite. It's extremely simple, but it works. It's well-entrenched throughout Japanese industry."
Automakers like Toyota have at times struggled to spread these practices at their factories overseas, but they're getting there. In one instance at the truck plant in San Antonio, Texas, workers devised a spring mechanism to send 72-pound carts of tools back to the start of the assembly line, so humans didn't have to do it themselves. It's all about finding little innovations to make work easier.
Anyway, it's a good story, read it here.
5th Gear: Trade War? We'll Know In January
Finally, we look forward to what's in store with President Trump's trade agenda, and next month is a pivotal one as the White House will decide whether or not to impose the long-reported tariffs on import cars. There's also a vote on the NAFTA replacement coming in the first quarter.
Here's a list of key dates from Bloomberg.
Reverse: Soviets Beat The Concorde
Neutral: What Car Stuff Are You Looking Forward To In 2019?
We should close things out on a positive note. What news or new cars are you excited about? I'm psyched for more EVs in general, but specifically the Porsche Taycan.