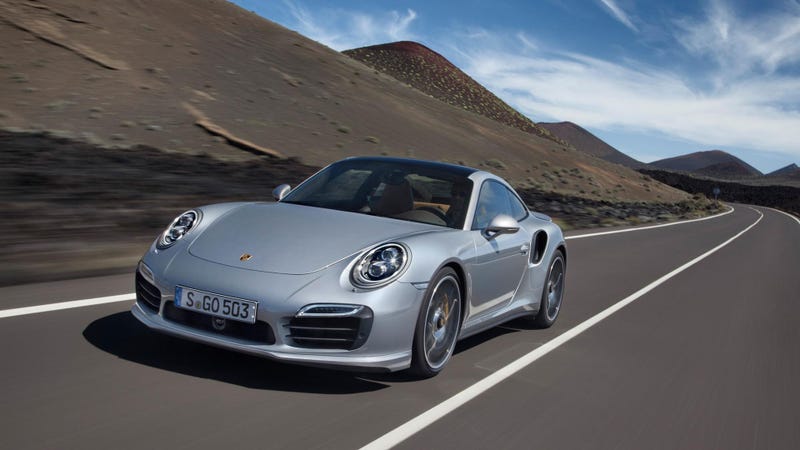 The 911 Turbo celebrates its 40th birthday this year, so it's only natural that Stuttgart made a new one. As you know already, the 991 Turbo won't have a manual option, but comes with 560 horsepower in the S (520 in the Turbo), longer wheelbase, rear axle steering and all-wheel drive.
The 3.8-liter flat-six with variable geometry twin-turbocharging and direct injection packs 45 horsepower more in the Turbo than what you get from the naturally-aspirated 2014 911 GT3 for the $149,250. The top of the range Turbo S has 85 more horses for $182,050, so expect it to do "well under 7 min 30 sec" on the Nurburgring on standard street tires.
That has a lot to do with the fact that the steering angle of the rear wheels can be varied by up to 2.8 degrees, depending on vehicle speed. Porsche puts it this way:
Instead of conventional control arms, the system consists of two electro-mechanical actuators on the left and right of the rear axle. The steering angle of the rear wheels can be varied by up to 2.8 degrees, depending on vehicle speed. At speeds up to 31 mph (50 km/h), when the front wheels are turned the system steers the rear wheels in the opposite direction. This actually corresponds to a virtual shortening of the wheelbase by 250 mm, which gives the 911 Turbo unrivalled cornering agility. The system lets the car turn faster into the bend and offers more dynamic steering responses. Furthermore, this noticeably simplifies low speed manoeuvring and parking.

At speeds above 50 mph (80 km/h), the system steers the rear wheels parallel to the turned front wheels. This is equivalent to a virtual lengthening of the wheelbase by a significant 500 mm and gives the sports car tremendous stability, especially at high speeds.
The all-wheel drive system is also new, with an electronically controlled and activated multi-plate clutch and a water cooling function. This, and the standard seven-speed dual-clutch transmission, improves the Turbo's acceleration to 3.2 seconds (with the optional Sport Chrono Package Plus), while the S is one tenth faster. Top speed is just under 200 mph. We will see what the 2015 McLaren P13 can say to those figures.
Apart from the full LED headlamps (optional on the Turbo), the two-tone 20-inch wheels (with central locking hubs on the S) and the usual widened body panels, the 991 Turbo features active aerodynamics thanks to the retractable three-stage front spoiler and a deployable rear wing which also has three settings depending on the conditions.
In case you were wondering, the new generation is "up to 16 percent" more fuel efficient than before.
Sounds nice, but can you forgive for the lack of manual?