The 2014 Dodge Durango R/T is a bit of a poor man's Jeep Grand Cherokee SRT— and that's exactly what makes it great. Sure, that 470-horse Jeep can dust a Durango off a stoplight but Dodge's "lite performance" SUV offers almost as much delightful rambunctiousness with a lot more usefulness for much less money.
(Disclosure: I was allowed to borrow a Durango for a week if I promised to take care of it. I tried, I really did, but some asshole decided to smash into it anyway.)
I'll be real with you; I didn't expect much of the Dodge Durango. I hated the styling of the previous generations and am still bitter over the demise its small pickup sister (the Dakota).
G/O Media may get a commission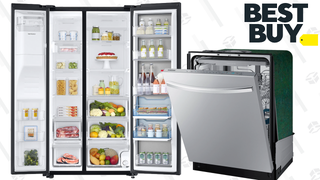 Up to 50% off
Best Buy - Samsung Major Appliance Sale
Even as I climbed into the 2014 R/T, I thought "nah." Some interior materials looked like they'd been passed over by McDonald's for use in Happy Meal toys, the window sill felt exactly like a styrofoam cooler, and there was no shifter to rest my right hand on.
But the seats felt good, and the headliner felt nice enough for me to forgive the absence of a sunroof.
I turned the key and was greeted with adorable Dodge animations which transitioned to a customizable gauge cluster and infotainment interface. Everything was easy to jump into; including alien-looking the rotary shifter.
I hit the throttle and, yeeeah, the exhaust had an absolutely awesome raspy bark to it that stayed subdued at low RPM. After stewing with rage for a couple hours in New York traffic, I was able to get my smile back as soon as traffic gave me room to click through the paddle-controlled eight speed transmission and listening to the engine clear its throat.
Driving Notes
• Exhaust note is just noisy enough to be enjoyable, subtle enough to avoid dirty looks. I mean, if you accelerate gently.
• The Durango is clearly the best argument for Dodge's corporate face. It works on the Dart, it's okay on the Charger, it just looks awesome here.
• Crappy materials inside are initially disappointing, but the ergonomics are good enough to let me get over it.
• Dodge went heavy on the gimmicky features, and I love it.
• This feels like a muscle car. Not a really fast one... but with the windows down and a burbling V8 ambiance, yeah, you feel it.
Exterior
You feel a real emotional transition as you walk from the front to the back of this SUV; first you're staring down the snarling snout of a hungry bull. Like "yikes dude, of course I'll pull over just don't eat me."
As you work your way to the side, it's as though the beast is massaged into composure. The crease down the gunwales retains some grizzliness but you become aware you're looking at a family hauler. From the third quarter, aggressive haunches are smoothly blended into the musculature of the SUV hinting again at an animalism ready to erupt at a moment's notice.
As previously mentioned, the Durango owns Dodge's corporate crossed-grille. The giant bars of taillight are a little off-putting at first, but I really think they work with this vehicle. Dodge's decision to illuminate thin accent bars as opposed to the whole light cluster was a good one; it modernizes the classic nod to the massive asslights of the vehicle's muscle-car predecessors.
Interior
Ergonomically the Durango is spot-on. The buttons you need quickly are physical, almost everything else is accessed through Chrysler's Uconnect system which is has a pretty interface that's easy to learn. Blue Tron-style accent lights are all over the place and a little cheesy, but add a good flavor of fun.
Unfortunately, there's no way around the fact that Dodge used some crappy-ass materials to build this thing. I already complained about the dashboard and upper door sills, the center console is straight out of Toys R' Us too.
That said, plenty of parts are really quite nice. The steering wheel, shifter paddles, door handles, seats, buttons, headliner, rear seat controls were great to touch and those are the parts you actually put your hands on all the time.
As for the rear center console at floor level; I think it's an excellent way to provide between-seat storage and cupholders for second row passengers will keeping access to the way-back easy.
Audio, Infotainment, Gadgets
Sound quality from the stereo, despite a sizable Alpine amp in the truck, was lackluster... no amount of fiddling with the equalizer gave me a tone I was truly satisfied with.
I do love generally love Chrysler's Uconnect infotainment software for ease of use and appearance (there are illustrations of the Durango integrated in menus!) There's room for improvement in the customizable digital gauge cluster, but I mostly just want to see Dodge go further with what they're already doing. I want more things to adjust, more personalization... and I bet that's coming.
Adaptive cruise control works as advertised; pulling you back when you get all up on whoever you're following, and "automatic high beam dimming" is a nice courtesy feature for fellow motorists.
RCA inputs in the side of the seats look a little aftermarket (not good), but you can't argue with simplicity. Unfortunately the OEM power inverter doesn't crank out quite enough electricity to run an XBox 360 once you start a game so you're limited to, what, portable DVD player?
Engine
I can't tell you how this thing hyper-miles; when I wasn't stuck in traffic I could never resist provoking that wide-open soundtrack for an entire drive. But I was able to hit mid-18's in what I consider combined driving; though the EPA rates it at 16. They put the highway max at 22 MPG.
You'll have trouble keeping the revs down too when you're behind the wheel of this thing, especially with the windows open. And if you really put your heart into it you will be pushed back into your seat when you hit the gas.
Gearbox & Transfer Case
It's been a long time since I've driven a real performance vehicle with paddle shifters, so I'm perennially suspicious when I see them peeking out from behind the steering wheel. But the eight-speed's reaction to driver input is satisfyingly quick, and the paddles have a nice snick to them.
As for driving in the letter gears, I grew surprisingly fond of the rotary-selection shifter. It operates smoothly and creates a lot of extra storage in the center console. Only thing not to like is the lack of a right-hand resting place, if that's your thing.
AWD Durangos like this one have low range, which is electronically activated pretty quickly. The reduction didn't feel too dramatic.
Braking
Big ol' discs get the job done, even in the wet or rough granular. I found stopping power to be consistently adequate to counteract the "overzealous" behavior incited by the sound of the engine.
Ride & Handling
The embroidered seats, exhaust note, and acceleration make the Durango more exciting than a six-seat SUV has a right to be, but when you get to the limit you'll start remembering just how heavy the thing is. Brake going into a corner too hot and the back end will start heading for the trees. But once you get a feel for where the weight is and limits are, you can keep it pretty planted.
In normal driving, it's very comfortable and plenty responsive for emergency course corrections.
Hauling, Towing, Cargo Management
Nobody would lend me a trailer, but a 7,200 pound towing capacity should be more than enough for your boat or squadron of horses.
Third-row seats fold flat, but the Durango offers reasonable accommodation for gear behind them. Captain's chairs in the second row are plenty comfortable, and while the third row seats are on the stiff side there's more leg room back there than you usually get.
A particularly awesome feature I almost overlooked is a second set of cargo-cover mounting points, so the rear can be concealed even if you've got the seats folded down. Nice touch! I also liked the little flashlight tucked into the cargo compartment. Why not?
Off-Road & Maneuverability
Parking sensors making managing the Durango fairly easily, though steering is on the heavy side which can get annoying in long stints of low-speed driving.
This vehicle has no off-road pretenses, but I bet you could power through mud with the right tires fitted.
Value
I was able to configure my dream Durango, a RWD R/T with minimal toys, for around $40,000. That only gets you about two-thirds of the way to a Grand Cherokee SRT, and obviously doesn't come close to an X5 M, any AMG Mercedes SUV, or a supercharged Range Rover. So yeah, I'd say the price right in spite of a few weak material choices.
Verdict
Truck Yeah! If you like the idea of all those sporty-SUVs I just mentioned but don't want the obscene running costs, ostentatiousness, or inability to fit winter tires the Durango R/T is your ride. You'll even convince the V8-hatingest of significant others with the carrying capacity and fuel economy. Just keep the revs low during the test-drive.
That Ron Burgundy knows what he's talking about. (Uh, or does he?)
Specifications As Tested
2014 Dodge Durango R/T V8
MSRP: $38,995 ($48,065 as tested)
Engine: 5.7-Liter V8 HEMI® MDS VVT
Transmission: 8-Speed 8HP70 Automatic Transmission
Output: 360 horsepower / 390 lb-ft
Fuel Economy: 14 City/16 Combined/ 22 Highway claimed (18.3 average observed)
Curb Weight: 5331 lbs.
Length: 201.2"
Width: 75.8"
Height: 70.9"
Towing Capacity: 7,200 pounds (7,400 in RWD)
Cargo Capacity: 17.2 cubic feet (seats in place)
Interior Volume: 151.1 cubic feet
Approach Angle: 16.3º
Departure Angle: 21.5º
2014 Dodge Durango 2WD 4dr SXT Specs
Engine type
Regular Unleaded V-6
Transmission/Drive
Automatic w/OD