GM's brand that goes Outback every night has released details on the 2012 Holden Volt, the right-hand and Aussie-flavored version of GM's bow-tied branded EREV, the Chevy Volt.
G/O Media may get a commission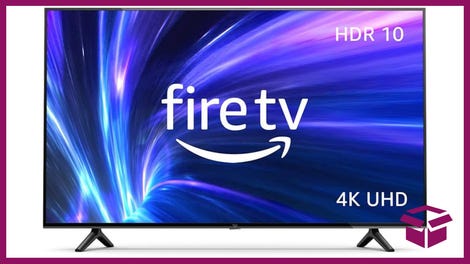 42% Off
Amazon Fire TV 50" 4K Smart TV
HOLDEN VOLT PROVIDES GLIMPSE OF AUSTRALIA'S DRIVING FUTURE

GM Holden has released the first images of the highly anticipated Volt extended range electric vehicle as it will appear on Australian roads.

The images, which show a right-hand-drive version of Volt sporting Holden badges on its aerodynamic front and rear, were released as part of Holden's presentation at the Melbourne International Motor Show.

It is a local take on the vehicle that has won widespread acclaim for its ability to travel up to 64 kilometres on electricity before using petrol or producing exhaust pipe emissions.

GM Holden Chairman and Managing Director Mark Reuss said the company had been overwhelmed by public interest in Volt since announcing it would launch in Australia in 2012.

"We think Volt has the potential to change the game in Australian motoring," Mr Reuss said.

"Since we announced our plans to introduce Volt to Australia, we have been overwhelmed by public interest in the car and the technology that makes it work.

"There is no doubt that Volt's advanced propulsion systems represent some of the most exciting alternative fuel developments in motoring.

"At Holden, we believe Volt will play an incredibly important role in our efforts to make motoring better for the environment," he said.

General Motors estimates that compared to similar sized petrol-powered vehicles, Volt will save motorists up to 1892 litres of fuel a year. This is based on US research that identifies 75 per cent of commuters travel an average daily distance of less than 40 miles (64 kilometres).

When Volt's battery energy is depleted, a small petrol engine generates enough electricity to power the vehicle for hundreds of additional kilometres.

GM also calculates that charging the vehicle at night through a standard power outlet will use less electricity annually than an average household refrigerator.

Volt is planned for manufacture at GM's Detroit-Hamtramck Assembly and is scheduled for launch in the US in late 2010. The right-hand-drive version will launch later.

Volt – How The Technology Works

Volt is an Extended-Range Electric Vehicle (E-REV). In a significant advance from conventional hybrids , it uses electricity to move its wheels at all times and speeds.
For trips of up to 64 kilometres, Volt is powered solely by the electricity stored in its battery without using petrol or producing exhaust pipe emissions.
When the battery's energy is depleted, a small petrol-powered engine generates electric power for the vehicle to travel hundreds of additional kilometres .
Advanced technology enables the vehicle's battery to be charged in less than three hours on a standard 240v power outlet. Charge times are reduced if the battery has not been fully depleted.
GM estimates that compared to petrol-powered vehicles that average 7.8 litres of fuel per 100 kilometres, Volt will save motorists up to 1892 litres of fuel a year.

Volt – Vehicle Details

The design of the Volt production car has evolved from an original concept that was unveiled at the 2007 North American International Auto Show in Detroit.
General Motors created an energy efficient design for the production vehicle, resulting in one of the most aerodynamic cars in the company's history.
Many of the design cues from the concept car have been carried over in the production Volt, including the closed front grille, athletic stance and rear design graphics.
Inside, Volt will offer the space, comfort, convenience and safety features that customers expect in a four-passenger sedan.

Volt – Battery Details

GM will establish the first lithium-ion battery pack manufacturing facility operated by a major automaker in the United States to produce the Volt's battery pack system.
It consists of lithium-ion cells that are grouped into modules, along with other key battery components.
The plant will be located in Michigan, subject to negotiations with state and local government authorities. Facility preparation will begin in early 2009, with production tooling to be installed mid-year and output starting in 2010.