This is the 2011 Subaru WRX STI sedan. It's a four-door version of Subaru's legendary rally rocket, and it marks a return to the form factor that made the model famous. Is it any different from its hatchback sibling?
Full Disclosure: Subaru flew us to Aspen, Colorado and put us up in a very nice ski lodge so that we could bring you this review. While in Aspen, we saw a Porsche 959 parked on the street, looked at real-estate listings for $20-million-dollar winter cottages, and counted 50 (yes, 50) private jets parked at the airport. Who says the rich are different from you and me?
When I was little, I had a pet hamster. For reasons that are lost to history, I named this hamster Squish. Like most hamsters, Squish was a laid-back, goal-oriented dude; his life resembled mine in many ways, only with more time spent burrowing.
G/O Media may get a commission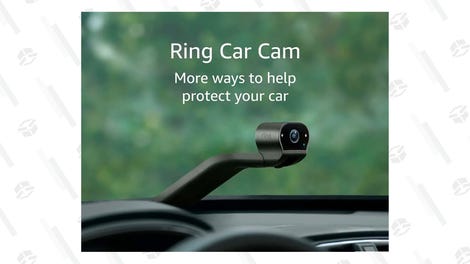 Squish and I were happy largely because we knew what we liked. I liked building Squish houses out of paper-towel tubes and watching him eat them, and he liked playing hide-and-seek with the family dog. He was small. He was nimble. He had a surprising talent for on-the-spot poop production that worked well as a diversionary tactic. His diminutive size allowed him to move quickly, which meant that he was able to beat some rather tremendous odds and stay alive.
In many ways, Subaru reminds me of Squish. Fuji Heavy Industries, Subaru's parent company, is a Japanese industrial giant, but by most standards, the brand itself is pretty small. Its cars account for just a 2.2% market share in America, and while that number is twice what it was five years ago, it's not going to put the fear of God into Toyota or General Motors. Clobbering volume is not what keeps Subaru alive; the brand thrives largely because it is small enough to move quickly and cater to the whims of both the market and its enthusiast-oriented customer base.
That, in a nutshell, is how we have the 2011 Impreza WRX and WRX STI. Both models have undergone a significant amount of evolution in the past decade, changing for reasons both obvious and subtle. The process is fairly simple: If Subaru releases a model that its customers like, it stays the same. If people don't, the company's engineers screw with it until they do. This is not the time or place to chart the WRX's changes, but suffice it to say that they are both numerous and market-specific.
On that note, three main things are changed for 2011: The WRX now sports STI-like fender flares and a wider track; the STI boasts sharper, retuned suspension; and we are once again gifted with a four-door STI sedan.
Much Different, Much the Same
Because we are dealing with well-known cars here, it's probably best to rattle off what hasn't changed. Neither the WRX nor the STI gain any real powertrain or interior improvements for the upcoming model year; both models continue with Subaru's familiar 2.5-liter turbocharged flat four, 5- (WRX) and 6-speed (STI) manual transmissions, and standard all-wheel drive. Power is unchanged — the WRX produces 265 hp at 6000 rpm and 244 lb-ft of torque at 4000 rpm, and the STI makes 305 hp and 290 lb-ft at the same engine speeds.
What is different? Glad you asked! Here, in lazy handy list form, are each model's respective changes:
2011 Impreza WRX: The aforementioned fat-fendered four-door body, which is now cosmetically similar to that of the STI. (The five-door sedan continues and also shares the STI's looks.) A 1.5-inch track increase front and rear. Stiffer rear subframe bushings. An increase in wheel (17 x 8 inches versus last year's 17 x 7) and tire width (235/45 versus 225/45) and a 1.5-pound reduction in wheel weight. Minor trim changes. An updated stereo with Bluetooth and iPod connectivity.
2011 Impreza WRX STI: The four-door body mentioned above, along with a big, fat, have-a-picnic-on-the-sucker rear wing. (Again, the five-door is still offered, albeit without the funky wing.) Updated suspension tuning, which includes new front balljoints — more on that in a moment — and stiffer springs, dampers, rear subframe bushings, and anti-roll bars. New polished 18-inch wheels. Minor trim changes, and the same stereo as the WRX.
Pricing: Four-door/five-door WRX: $25,495. Four-door STI: $33,995. Five-door STI: $35,995.
Additional Random Tidbits: As before, neither the WRX or the STI share a body structure with the ordinary Impreza, and both benefit from unseen body reinforcements to cope with greater cornering loads. Also, leather and a moonroof are now available on the STI. Woo!
This is Your Fat-Fendered Fun
All things considered, that's a fairly small list. As you might expect, the WRX and STI feel a lot like they did last year. Yes, you can now buy a four-door version of either, which is nice, though the car drives exactly like the five-door upon which it is based. No, the WRX's wider track isn't really noticeable behind the wheel — the steering might be a tiny bit heavier, but we didn't get enough back-to-back seat time to truly judge. And yes, the STI's suspension updates make a significant difference — cornering stability and overall grip are up, as is dumbass-driver error forgiveness at the limit, and both steering feel and precision are mildly improved. Turn-in is slightly sharper.
But cold, hard road-test pablum driving impressions don't tell the whole Oversteer My Bagel story. (Didn't think I'd bring that up? Ha! Click here if you have no idea what I'm talking about. And no, we can't sell you a T-shirt. Yet.) The STI is still the most approachable and user-friendly all-wheel-drive speed demon on the market, a go-anywhere, do-anything piece of all-weather genius that wants to be your friend in a million different ways. The suspension updates merely sharpen the knife.
Bushings: Geek Tidbit
Let's get one thing straight: Bushings are not sexy.
Actually, wait. Let's get one more thing straight: Bushings are kind of sexy.
Strike that: I have conflicted feelings about bushings. (Doesn't everybody?) I am possibly a dork.
Attention, people who feel similarly about suspension componentry: The front suspension on the 2011 STI is different from the suspension on the 2010 STI. The chief culprit is something that the company's Japanese engineers call a "pillow ball" bushing, but that we know as a simple rubber-isolated ball joint.
For 2011, the rear mount on the STI's front lower control arm — an L-shaped aluminum piece that helps locate the bottom of the strut — is new. What once was a rubber bushing is now a bushing-slash-ball joint, a change made in the interest of increased steering precision and minimized toe and camber change. You can see the difference in the gallery below: The old bushing looks like the black piece of rubber that it is, and the new piece (shorn of its grease boot for photographic purposes) incorporates a nice bit of shiny in its middle.
OK, so I don't find bushings sexy. It's ball joints. Glad we've cleared that up.
Also, There Was Dirt
As vehicle launches go, this one was pretty entertaining. Subaru offered journalists the chance to drive both the WRX and STI on road, track, and private-road gravel. While there wasn't a great deal to be learned — like I said, the WRX feels the same, the STI corners a little flatter and is slightly easier to drive at the limit — I did get the chance to hammer across some nasty two-track and make a sloppy-hands fool of myself in front of God and everybody. Two STIs were on hand, both riding on rally tires and equipped with competition-spec brake pads and skid plates, and they snarfed up dirt like nobody's business. (I would tell you more, but we only got a few minutes of unpaved seat time, which was just enough time to remind the world that I am neither Petter Solberg or someone whose name ends in "kkonnënkakkünaínênleinën.")
One thing was apparent: Unlike a lot of manufacturers, Subaru knows its customer base. You can buy cars with more style (re: the WRX and STI sedans, woo, can you ever), you can buy cars that are more comfortable, and you can buy cars that handle better and make your hair stand more on end (hello, Mitsubishi Lancer Evolution). But the WRX and STI's brand of quirky, well-rounded talent doesn't live anywhere else.
Ultimately, this is what we love about Subarus. The cars from Fuji Heavy aren't as focused or refined as they could be, but the imperfection is part of the charm. The company's size and focus allows it to do some pretty neat stuff with its niche models, and the STI sedan — a car that isn't necessary for mass-market appeal but that is offered largely due to enthusiast demand — is part of that. I had a hamster once. Maybe I need a Subaru.
Photo Credits: Top image, dirt gallery: Greg Jarem/Subaru; all others, Sam Smith/Jalopnik