Andrew Stoy is wrong. (No, I'm not. —A.S.) The 2008 Mitsubishi Lancer Evolution MR makes a much better everyday car than the 2009 Mitsubishi Lancer Ralliart. And I should know: I've only driven it in rush hour traffic.


Driving sucks in New York. Not only are the roads pot-holed, third-world battlefields, but local drivers treat them as such, doing everything possible to kill their fellow commuters. All this is made worse by the cops; their numbers swollen post-9/11, they prowl the streets like sharks, looking for anyone that stands out to punish with the full force of the law. You'd think driving a bright red Evo here would be a bad idea, but the thing is, it's not.
In MR trim, the Evo gains sound deadening, higher-quality suspension and bunch of toys like a decent stereo and satellite navigation. Then there's the gearbox. Called Twin-Clutch SST, it's Mitsubishi's version of a dual-clutch automated manual, and it's probably the best I've ever used.
Those features combine to create a car that's smooth-riding, well-controlled, quiet inside and that makes carving through gaps in heavy traffic completely fuss-free. None of that should sacrifice performance, while the suspension and gearbox will actually work to improve it.
G/O Media may get a commission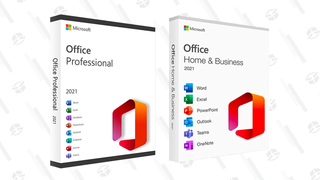 89% off
Microsoft Office Professional 2021 Lifetime License
Swipe the shifter that looks like it belongs in a manual over to the left, and you're in full-manual mode. No computerized brain tells it when to shift, leaving you in complete control. Well, at least once you've pulled away. The lack of a clutch to dump keeps take-off (and attempted donuts) wheelspin-free while high-rev launches require the use of a special launch control only available in Super-Sport automatic mode. Shifts are immediate and come when called for, never once beeping in protest instead of delivering the downshift required.
Cruising along slowly through the overcrowded suburban roadways, the MR's promise is ever-present in its immediate direction changes and ability to leap out of merge lanes. Its classier, toned-down looks don't draw attention the way the carbon-clad Evo IX I pass does, maybe due to the proliferation of down-market models like the Ralliart that share near-identical body addenda. The rear wing remains huge, but too many wannabes mean that, now, wings no longer signify performance. Cops we pass hardly take a second glance, more upset by Mitsubishi's manufacturer plate than the car's intent to speed.
Inside the MR you feel like an escaped convict, the car's promised performance making itself evident through the aggressive shifting, fierce acceleration and immediate responsiveness, but conveying those experiences in a manner that's positively refined. Cover up the plasticky interior, and this combination could spell M3.
It's really hard to write a remarkable review about an unremarkable drive. But maybe that's the most remarkable thing about the MR. Not only did it make the shittiest roads in the world tolerable, but it did so in a package supposedly capable of rivaling cars like the Porsche 911 GT3 RS or Ferrari F430 once the going gets more glamorous. To that ability I can't attest, but stuck in rush hour, I know which car I'd rather be in, and I'm excited about the possibility of owning a car of this caliber that's equally capable in the everyday grind.
Photography: Björn Schütrumpf