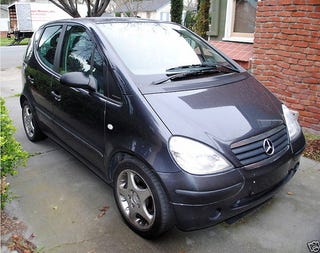 Nice Price Or Crack Pipe
Is this used car a good deal? You decide!
They say that, to make an omelet, you're going to have to break some eggs. Well, today Nice Price or Crack Pipe has an egg-shaped Mercedes, and if you want to make it, you'll need to break out twelve grand.
Small, turbo'd and phone booth-thin ruled the day yesterday, as, in a 60/40 split, we finally had our first nice price win this week. That Honda City Turbo II Bulldog has a name longer than the car, but it's still so cute you want to pick it up and squeeze it 'til its little headlights pop out. Equally adorable, and similarly not from around here, comes our current contender, and like the Volvo from earlier this week- it's a diesel.
When Mercedes Benz jumped on the white pony that was the then nascent, and VW-abandoned, Swatch Car project, they became addicted to one-box cars. Recognizing that the world didn't just need V12 two-seaters and OPEC-enriching sedans, they embarked on the development of a product that would be sized between the Southwest Airlines single seat-approved Smart - which is so small it could conceivably be lost in Kevin Smith's butt crack - and the C-Class, which might be modestly affected by Smith's gravitational field, but would not be eclipsed by his trenchcoated presence.
That effort resulted in the A-Class, an example of which is today's gray market special. Originally sold in Der Fatherland, this 2001 A170 CDI Elegance was brought over in 2005 to a nation bereft of low-sulfur diesel and road signs that spoke its speedo's language. Today, that sweet diesel, so common in its birthplace, is available at many domestic gas stations, ready to quench its super-model thirst. Pumping that black gold into the tank feeds a 1,689-cc turbo diesel four cylinder that cranks out 88-bhp and 133 ft-lbs of twist. The 5-speed manumatic helps the 2,460-lb car get to sixty from a standstill in about 12 seconds, and all the way up to a rev-limited 112-mph top speed. That uber-efficient drivetrain should let the one-box four seater get mileage in the 40s and 50s, which ain't half bad. And while you're getting that great mileage you'll be wrapped in some of the same kind of MB luxury as the big boys- although the dash is kinda' crappy.
Not only is this a one-box car, but it's one of the one-boxiest. In fact, rocking a drag coefficient of just .30, you could paint it white and it would look like something that dropped from the nether regions of chickenzilla. Thankfully, this A170 is blue, and, seeing as it's nearly ten years old, is showing some signs of wear and tear- a scraped fender here, a cracked windscreen there - but nothing that would necessarily keep it off the road. Of course, if you chose to take it on that same road, you'd need to figure out how to keep it there, as your friendly neighborhood MB dealer would react to seeing it in it in a similar fashion to a burning bag of butt nuggets left on the service department's doorstep. But there must be somebody around who can fix these things, after all it's rocking Cali plates, meaning somebody's been driving it around here for a while. And in that while, they likely added to the miles, which presently total 67,000.
Much like yesterday's Honda, it's hard to grasp just how small this baby benz is from the pictures, but the A-Class is tiny. At less that 150-inches long, it comes in 10 inches shy of a VW Golf, a good two-feet less than the contemporary C-Class, and dwarfed by the corpulent Smith.
So, you get it- it's incredibly tiny for a benz, and Kevin Smith now wants to beat the crap out of me, but what does it cost? Well, the seller has put a By-It-Now of $12,000 on the car, and looking around, it's about the only one for sale right now in the states. Over the pond where they use that money with girls on it, one of these - in better shape - will set you back less than half that. Of course, what you're paying for here is the convenience- this car is already here and licensed, so you don't have to go through the hassle and cost of doing either of those.
But is it worth that? What do you think, does $12,000 make this Mercedes an egg over easy? Or, would buying it for that make the yolk on you?
You decide!
eBay or go here if the ad disappears.
Help me out with NPOCP. Click here to send a me a tip, and remember to include your commenter handle.