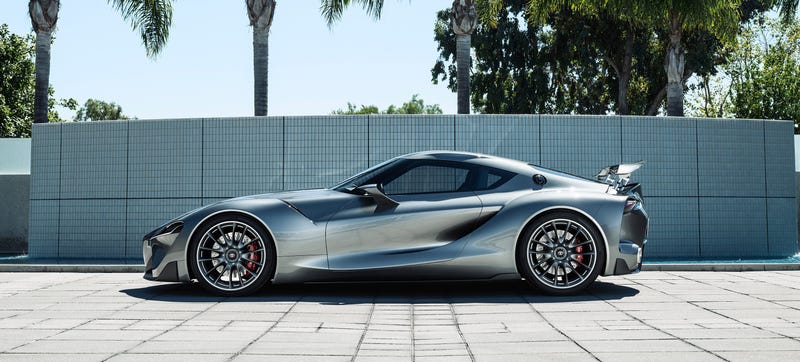 There may be a new Toyota Supra! There may always be a new Supra around, in fact, something we've been dreaming about ever since the last one rolled off the Motomachi line in 1998, a rumor with as much lasting power as the one of a mid-engined Corvette. Someday these two majestic creatures will arise from our fevered dreams of automotive perfection, and do battle at the shores of Avalon, the legendary floating island of Arthurian legend, though Corona works too.

Autoguide and other outlets report the rumor this time is that Toyota is developing a twin-turbocharged V6 for the Supra, and it will have more than 400 horsepower and 300 lb-ft of torque. (Incidentally, the much-lauded FT-1 Concept, shown above, was said to have 485 horsepower.)
A Japanese magazine with the fantastic name of Mag-X published the rumor from Toyota insiders, who supposedly also revealed that the internal engine designation is 943F and that if said engine exists, it will also power the next-generation Lexus GS and LS models. Which makes sense—one has to imagine Toyota's current crop of naturally aspirated V6s and V8s won't stick around forever.
So far we've heard that the next Supra will be 1.) a plug-in hybrid, a 2.) four-cylinder turbo, a 3.) 400-horsepower hybrid GT86, a 4.) new BMW Z4, and 5.) entirely nonexistent.