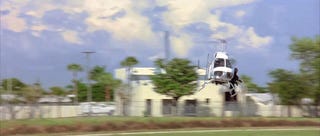 Thanks to these ten new technologies (and ignoring all of your privacy complaints), the authorities can practically have you in handcuffs before you realize you even broke the law.
---
10.) Advanced sirens
Woop-woop, that's the sound of the police. Even at low frequency:
No more loud sirens (although they can still be utilized as shown in the clip) only a "boom" of sorts, as it comes closer (akin to a minor earthquake). That way, it doesn't wake anyone up, or frighten the elderly. It also helps distracted drivers pay attention to emergency personnel on route.
Suggested By: TokyoBayAquaLine