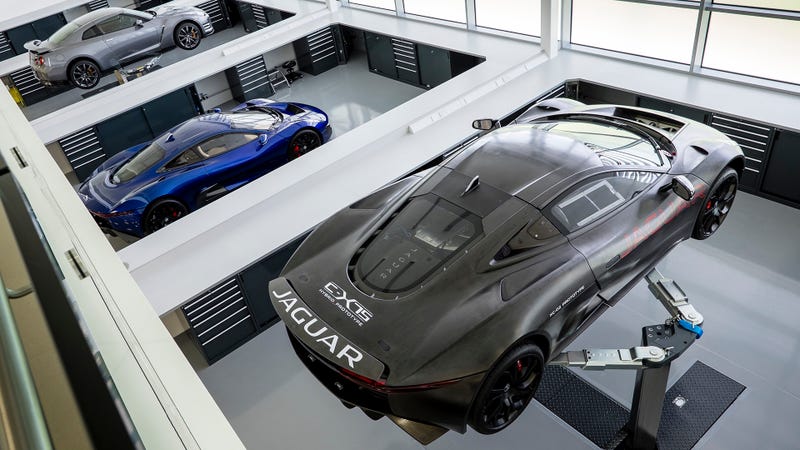 I stepped into Sir Frank Williams' complex expecting to see Felipe Massa's Formula One car in bits and pieces, but my visit revealed that their engineering department would make Tony Stark run for his money.
I knew Williams Advanced Engineering built the C-X75 for Jaguar. What I didn't know is that despite getting target numbers that still seem pretty impossible to reach today, it only took them eighteen month to go from a blank piece of paper to the first working prototype. All in all, they built five four-cylinder hybrids before Jaguar decided to bin the project—at least two of which are still parked at home. The blue one in their lobby reminds everybody that Advanced Engineering was originally set up in 2010 to produce the C-X75 road cars.
They knew where to look for a team. Williams employs a whopping 650 engineers, 150 of whom work for Advanced Engineering on 34 different projects at the moment. Only 15 of those projects are in the automotive sector. The rest are in energy, aerospace and defense. Just like in Iron Man.
Next to Jaguar, one of their publicly known customers is Nissan. Williams tuned up their Nürburgring-recorder Time Attack GT-R back in 2013, and although they remained under wraps during my visit, Advanced Engineering still has a few fast Nissans coming up. They include the Patrol Nismo SUV, a ridiculously powerful V8 seven-seater designed to please the Middle-East, and reportedly the next GT-R, which is said to feature a high-performance Williams hybrid system.
One must talk about the Bond cars as well. Williams got to build another five Jaguar C-X75s for SPECTRE, only this time, they had to use a space frame and a supercharged V8 instead of a carbon tub and their twin-charged hybrid powertrain. It took them 10 weeks to design and build the first car, and sixteen for the total run. Five powersliding stunt cars in four month is not rapid prototyping; it's pretty much black magic.