A James Bond flick is all about great cars and SPECTRE doesn't look like it will disappoint. On a visit to Williams Advanced Engineering, I got to speak to the people who built the stunt Jaguar C-X75s that might just be the most beautiful villain car ever made. Here's everything you should know.
Williams Advanced Engineering only built five C-X75 prototypes for Jaguar, but those complex four-cylinder hybrids obviously weren't meant to be the ones chasing Mr. Bond in his fancy Aston Martin. You need something closer to an axe in complexity for a movie job.

While Aston Martin built ten DB10s in all, Williams was commissioned to come up with just five stunt C-X75s for SPECTRE. And the cars Mr. Hinx drives are radically different to the originals.
G/O Media may get a commission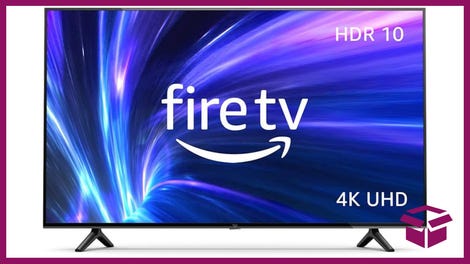 42% Off
Amazon Fire TV 50" 4K Smart TV
Instead of a carbon fiber tub, they are built around a steel speceframe with an integrated roll cage. And while the C-X75 had a twin-charged four cylinder and a pair of electric motors with a combined output of almost 1,000 horsepower, the five orange cars are a bit more conventional. They're powered by Jag's supercharged V8, good for about 575 horsepower in Project 7 tune.
Dimensions remained the same and the body panels were made out of composites as well, but the interiors got stripped to the bare minimum in most cars, except for the one with the seat on its roof, which they used for the cabin shots.
The stunt car's instrument panel has the following features:
BUTTONS: Start, Neutral, Page, Horn, EMERGENCY STOP.
TOGGLE SWITCHES: E-brake, Ignition, Fail, Lights, Demist, Wiper.

Unfortunately, I can't show you a picture of that yet. But what I can tell you - and what's probably the most amazing fact about the stunt cars - is that Williams designed them and built the first one in just 10 weeks, with the remaining four being ready by the end of week 16. As in, just four month.
The cars were back at Williams in a million pieces getting a massage for the SPECTRE tour after getting melted and scratched until they were well past showroom condition. Because James Bond had to win. He always does.
But I still believe he drove the wrong car.
Photo credit: Sony Pictures/JLR

---
Contact the author at mate@jalopnik.com.