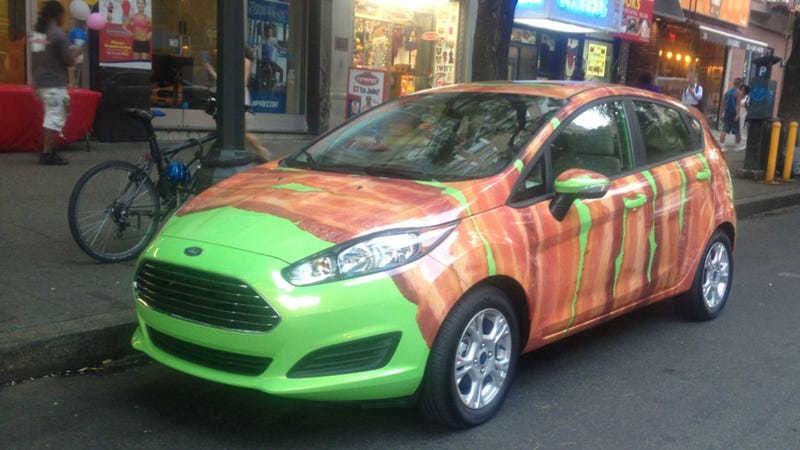 Today is International Bacon Day, and what better way to celebrate than to go on a bacon tour of New York in a car wrapped in bacon? There were four stops, a billion milligrams of sodium, and way too many bacon-topped cupcakes, but it was just OH SO DELICIOUS.
(Full Disclosure: Ford wanted me to see their bacon-wrapped Fiesta so bad that they took me on a bacon tour of New York. I wasn't joking when I said it was delicious. They fed me bacon from Crif Dogs, Prohibition Bakery, Mission Chinese, and The Wayland. Did I mention it was delicious? Also, I wasn't allowed to drive the car because it was a pre-production model, and thus not representative of the offerings that will be on sale, as something was off with the transmission. So there's that. I really wanted to drive that car.)
The purpose of the tour was ostensibly to promote Ford's new vinyl wrapping program. Ford, in partnership with 3M, will basically wrap your Fiesta in anything you want. Dan Mazei, the Ford PR guy that took me on the Bacon Tour, said that Ford came up with the bacon idea because who doesn't love bacon, and the company expects most people to actually just go with some bacon racing stripes or some bacon strips on the side and call it a day.
Oh, and to fully wrap your 2014 Ford Fiesta in bacon will set you back about $3,000, so there's that.