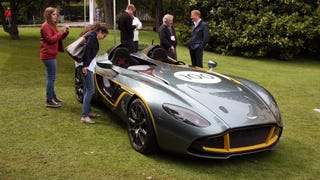 Aston Martin made the CC100 Speedster to celebrate 100 years of success, and the car looks like it. It's a sensational V12 speed machine.
I'm crouched in the footwell of an Aston Martin V12 Vantage hammering across a dry lakebed at 140 mph, wondering why I'm not a Top Gear presenter, which, I can now confirm, is the greatest job... in the world.
The 2010 Aston Martin V12 Vantage packs a 6.0-liter 510-horsepower V12 punch in one of the sexiest designs in recent times. Driver's Republic got a chance for a first drive. Here's what they had to say about this production-spec sex-machine.
Aston Martin continues to tease us with the V12 Vantage RS. This time, it's been spied testing with its 6.0-liter V12 at the Nurburgring. Gone are the bling-bling rims and pop-up rear wing. This tester wears a set of blacked-out wheels and a taller fixed rear spoiler. We're not yet sure when the V12 Vantage will hit…
Things have been good in the world of Aston Martin enthusiasts since breaking free from Ford, as exemplified by the Vantage RS V12 Concept, which is going to be a reality according to Dutch car mag Autovisie. The word comes from Dr. Ulrich Bez, Aston Martin CEO, who said the fastest Aston Martin will go on sale next…
The newly independent automaker by the name of Aston Martin just revealed their new concept car, the V12 Vantage RS. The concept is based on the V8 Vantage coupe — but the engine's based on Aston's big 600bhp 6-liter racing V12. Aston claims the new performance concept achieves peak power output at 6250 rpm and peak…