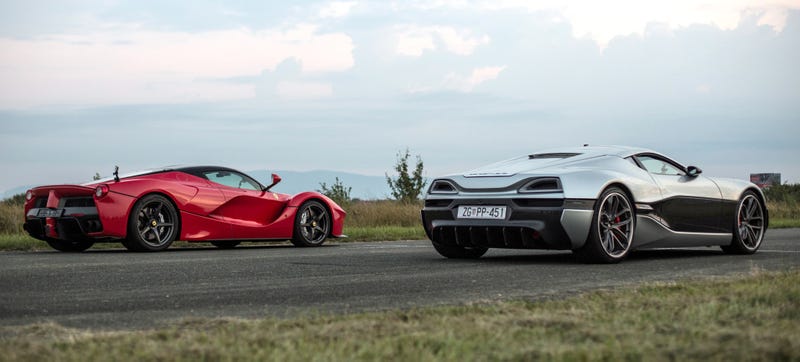 You'll remember Rimac as the Croatian startup that built the mad and all-electric supercar, the Concept One. Remember that it has four motors and four gearboxes at each corner and makes 1073 horsepower and 1180 lb-ft of torque. So, clearly, the next logical thing to do is to pit it against two of the fastest cars on…
When Croatian electric supercar startup Rimac presented its first prototype, it had eight employees. Today, Rimac is a team of 150, with clients like world-beating hypercar company Koenigsegg, and products like the Concept One, a 1,088 horsepower electric supercar retailing for $1 million. Yet their confidential…
Rimac Automobili, an upstart Croatian supercar and battery engineering firm, just took the wraps off of two 1000-plus horsepower all-wheel drive electric vehicles. They're absolutely gorgeous, and they each come with four motors and four gearboxes—one at each corner.

That's right. The 1,500 horsepower Koenigsegg Regera, almost certainly the world's fastest GT, has no gearbox at all. Meet the new era of direct drive.
We've written about Croatia's planned $980,000 electric Rimac Concept One supercar before, but with the same elbow-in-the-ribs skepticism rightly reserved for these endlessly rendered-yet-never built custom supercars. In our experience, about 1-in-600 ever gets made and the other 599 end up being part of some massive…
When a 23 year old introduces an electric super car to the world with a claimed 1,088 hp, 2,802 lb-ft of torque and a top speed of 189 MPH, people are going to listen—very suspiciously. That is exactly what Croatian designer Mate Rimac did at the Frankfurt Auto Show when he introduced the "Concept One".
Rimac Automobili, the Croatian car builder that brought us the blisteringly fast electric BMW E30, is planning to show their first electric vehicle concept to the world at this week's Frankfurt Motor Show. According to the manufacturer their all electric supercar will produce 1088 horsepower and 2800 ft/lbs of…